Monster DNA Headphones Preview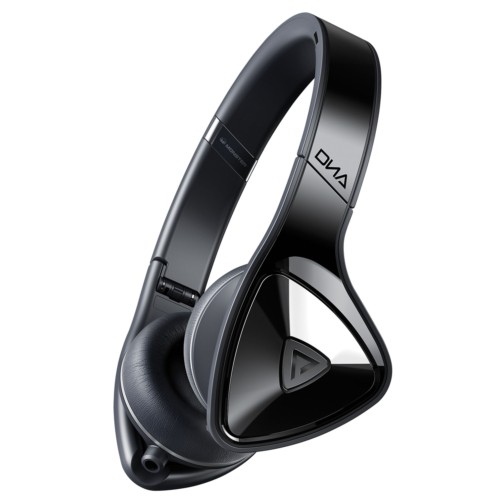 Monster DNA Headphones
Summary
Executive Overview
Are you tired of every new set of headphones trying to look like Beats by Dr. Dre? We are. Apparently Monster, the company that unleashed Beats on us, is sick of it too. They're coming out with a new set of cans that, while resembling the Beats design, are triangular instead of round. Hopefully, this won't spawn a whole new wave of copycats.
Say what you want about Monster but they know marketing. Their brand and their products have so many imitators that it is practically an epidemic. There new headphone, the DNA, is a partnership with Viacom. We're not exactly sure how that partnership helps Monster except in maybe a bit of a discount when advertising but they have partnered nonetheless. From the press release:
With Monster's latest advancement in sound engineering, Monster DNA headphones bring music listeners a new sound that is as powerful and striking as the bold design of the headphone itself. More than a headphone, Monster DNA will look to serve today's music listener and music artists with a focus on music sharing, music community, and social awareness reaching the music entertainment community globally through an exclusive integrated campaign across Viacom music and entertainment brands worldwide including CMT, COMEDY CENTRAL, Logo, MTV, MTV2, mtvU, SPIKE, Tr3s, VH1 and VH1 Classic.
A headphone that focuses on music sharing, music community, and social awareness? Those are some pretty lofty goals for a set of headphones. Hopefully, Monster didn't forget to have some of that focus on playing music. For Viacom's part, they are: "...plugging Monster in to the deep connection we have with our young audiences, and giving our fans a new way to experience sound and express originality." That's code for "everyone on every show will be wearing them."
Are these new DNA headphones from Monster destined to be popular? We'd put money on it. Viacom is promising that the new DNA headphones will advance important pro-social causes. They'll be officially launching at the MTV Video Music Awards where some stars will be presented with special chrome versions of the new headphones. While the on-ear (we're guessing by the looks of them) model are being featured, there will also be an in-ear version for slightly less money.
All in all, the new Monster DNA headphones aren't looking too expensive. Depending on the source, the on-ear models will run either $199.95 or $229.95 and the in-ear model will be $99.95 or $119.95. Either way, we've seen heaphones that cost much, much more. If you are wondering about the specs and performance of the new Monster DNA headphones, welcome to the club. We don't know much more than their color (Black, White, Cobalt Blue, and Perfect Teal for the on-ear, Black or White for the in-ear). But that doesn't matter. The product placement on MTV and other stations not to mention that the music artists and celebrities that receive the chrome versions are sure to want to show them off will easily sell these headphones by the millions.
Conclusion
We don't know what they sound like, we're not exactly sure of the pricing, but we are sure of one thing - the new Monster DNA headphones are going to be a hit. With a partnership with Viacom for placement at the MTV Video Music Awards plus a commitment for much more, these headphones are designed to encourage music sharing, music community, and social awareness. All we care about is how they sound. Hopefully, when these headphones are done saving music and the world, they'll still have time to sound good. We'll let you know when (if) we get a pair in for review.
For more information, please visit www.monstercable.com.

Unless otherwise indicated, this is a preview article for the featured product. A formal review may or may not follow in the future.