Denon DVD-A1UDCI 'Universal' BD Player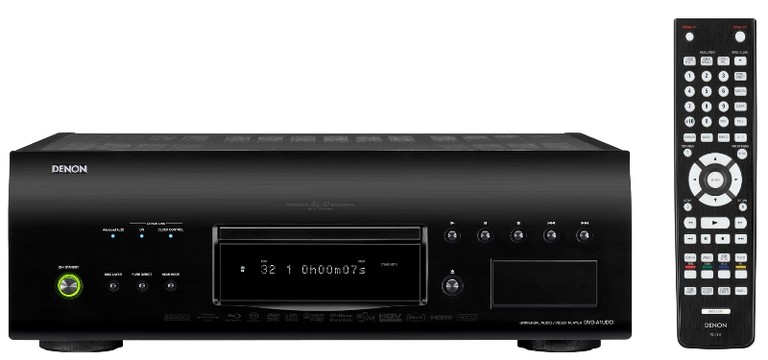 Denon DVD-A1UDCI 'Universal' BD Player
Summary
Advanced features

• The world's first Universal disc player that also plays Super Audio CD and DVD-Audio(*1)
• Use of DENON LINK to achieve the world's first jitter-free transmission of digital audio via HDMI(*1)
• The world's first fully balanced transmission of 2-channel analog sound in a universal player with Blu-ray(*1)

Features

Construction
• Thoroughly vibration-resistant design with Direct Mechanical Ground Construction
• Advanced S.V.H. Mechanism featuring quiet, vibration-free environment for extreme accuracy in reading signals from disc
• 7-block structure for thorough protection from mutual interference caused by electricity or magnetic fields.

Quality Audio
• Discrete Devices for ultimate performance in each circuit block (Dynamic Discrete Surround Circuit-HD)
• Advanced AL32 Processing Multi Channel, to bring out the optimum performance of HD Audio
• 32 bit/192 kHz D/A Converter
• Multi-channel support from Denon's proprietary Compressed Audio Restorer function (DVD: Dolby Digital, DTS / CD: MP3, WMA)
• "AV Pure Direct", for separated output of audio and video from the HDMI port (Equipped with 2 HDMI output ports)(*1)
• Dolby Pro Logic IIx and DTS Neo:6 decoding, in addition to Dolby TrueHD and DTS-HD Master Audio
• Supports HDCD decoding

Quality Video
• Denon's High Picture Quality Circuitry, to enhance enjoyment of existing DVDs (REALTA)
• Digital Noise Reduction, to optimize effects for both SD and HD content
• 1080/24p output, to bring out the full quality of film
• Denon Pixel Image Correction (D.P.I.C.), for more natural correction of curved lines
• "Dual HD Video Circuit", capable of outputting HD Video through both HDMI and Component output
• The world's first player equipped with "Vertical Stretch" function (supporting Cinema Scope Aspect)(*1), (*2)
• "Source Direct", for faithful output of disc content resolution
• HDMI output for HD video and audio signal transmission (Ver.1.3a with Deep Color, High Bit-Rate Audio Output)




User Friendly
• Easy, uniform operation with A/V Receiver via GUI (Graphical User Interface)
• "BONUSVIEW" function
• Supports "BD-Live" ready
• Supports HDMI Control (Consumer Electronics Control)
• Comes with remote control unit with backlit buttons for easy operation in the dark

Other Features
• Supports DivX file playback (Ver. 6)
• Supported memory cards and playback files



Main Specifications

Playable discs: BD-ROM (BD-Video, BDMV), DVD-Audio, DVD-Video, DVD-R, DVD-RW, Super Audio CD, CD, CD-R, CD-RW

Playable discs for PC file: CD-R, CD-RW, DVD-R, DVD-RW

Playable file: WMA/MP3/JPEG/DivX 6
Applicable memory cards: SD memory card, SDHC memory card

Output video resolution: 480/60i, 480/60p, 720/60p, 1080/60i, 1080/60p, 1080/24p

Video Signal system NTSC

Audio
S/N: 125 dB
Total harmonic distortion: 0.0008%
Dynamic range: 110 dB
General Power supply: 120 V, 60 Hz
Power consumption: 88 W (Standby: 0.4 W)
Dimensions: W x H x D (incl. protrusions) 17-3/32" x 5-15/16" x 16-9/64"
Weight: 41 lbs 11 oz, 18.9 kg

Ports
Video HDMI output x 2
Component output x 1
Composite output x 1
S-video output x 1
Audio DENON LINK x 1
Optical digital output x 1
Coaxial digital output x 1
Balanced analog output (2-ch, L/R) x 1 (XLR)
7.1-ch (FL/FR/C/SL/SR/SBR/SBL/SW) output x 1
Control Ethernet x 1
SD Slot x 1
RS-232C x 1
Remote control (IN/OUT) x 1 / x 1
17541108 A
Executive Overview

Check out our comprehensive review of the Denon DVD-A1UDCI Universal Blu-ray Player
Since Blu-ray hit the scene, one question has been on the lips of every serious Audioholics - When are we going to see a true universal player? Denon has the answer - February 2009. The DVD-A1UDCI 'Universal' BD Player not only plays DVDs and Blu-ray, but also SACD and DVD-A. Finally, you can get rid of all your other transports while retaining access to your entire content library. Except for those HD DVD discs of course. At $3800 a pop, this is definitely not your father's Blu-ray player (if it is, can he adopt me?) but it might just be for you.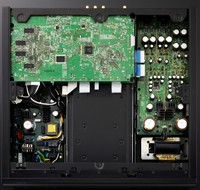 So what does $3800 get you? Blu-ray 2.0 ready, SACD and DVD-A playback (a first in combination with a Blu-ray player), and just about any other format you can think of. Of course, you're going to be interesting in 1080p upconversion and Denon's got you covered with the 10-bit Silicon Optix Realta chipset famous for providing the highest resolution high-definition video available today via HDMI connection. The DVD-A1UDCI has dual HD video output scalers so images can be output in HD resolution quality via both the HDMI output and component output ports. On the audio side, you've got Advanced AL32 Processing, allowing digital upsampling of 16- and 24-bit digital signals to 32-bits. The player offers full on-board HD Audio decoding from Denon's DDSC-HD branded circuitry, as well as allowing for Bit Stream Bypass to HDMI for Dolby Digital Plus, Dolby TrueHD, DTS-HD High Resolution and DTS-HD Master Audio digital transmission to an AVR/AVP for decoding.
For those of you that have never heard of Denon Link (or DLink), it is a proprietary connection between Denon transports and receivers. It allows the transmission of all audio formats. The real advantage was when the only option for SACD and DVD-A audio was 5.1 analogue RCA connections. The single DLink cable was much less expensive and cumbersome solution. Those advantages have pretty much dried up with the advent of HDMI, except for arguably superior jitter reduction to HDMI ver 1.2. Denon is bringing back the DLink with it's new 4th edition which works in conjunction with the HDMI connection. It still carries only audio but it utilizes Denon Flow Control which takes over the Master Clock and Jitter control. Why do you care? According to Denon, "With the new advanced DENON LINK 4th used in an HDMI connection, as well as for HD audio read from Blu-ray discs, the master clock that operates the D/A converter of the A/V surround amplifier is transmitted to the player, enabling the circuitry to be operated while sharing the same clock, thereby achieving digital audio transmission with virtually no jitter."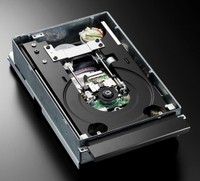 Denon has some other benefits namely Virtually Vibration-Less construction (i.e. heavy, though I wonder which subwoofer they tested that with), fully balanced transmission of 2-channel analog sound (i.e. resistant to external noise and interference - another first in a Blu-ray player), and a Vertical Stretch feature that eliminates the black bars at the top and bottom of a 2.35:1 image without adding distortion, or artifacts, for HD displays (most beneficial for those users of Cinema Scope screens and projectors with anamorphoric lenses, as the processing is done in the digital domain). Basically, this is, without a doubt, the most advanced, feature packed, and powerful Blu-ray player to ever hit the market. It has everything you want and more, everything you need plus a lot of stuff you don't. It is unlikely that anyone will make a better transport in the foreseeable future (at least, not until they come out with a new format). Sure, it's expensive but when you are on the bleeding edge of technology, you expect as much. Plus, you don't have to look to hard to find CD players that cost much more. To make sure our eyes weren't deceiving us, we did a quick interview with Jeff over at Denon (below).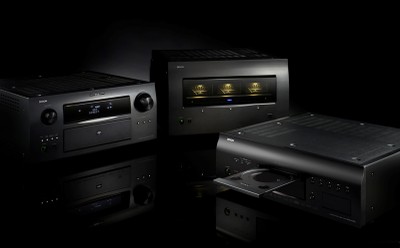 Denon AVP-A1HDCI, POA-A1HDCI and DVD-A1UDCI
Are we looking at 3 of a perfect pair?
Brief Denon Interview on the DVD-A1UDCI:

What is the retail price and availability?

$3,800 and February

How does the DVD-A1UDCI compare to the venerable DVD-5910CI with respect to DVD-A, SACD and CD playback?

The DVD-AUDCI offers the absolute best playback for audio since our S-Series seperates for CD and higher performance the DVD-5910 for SACD and better than the DVD-9000 for DVD-A...

What makes this product so heavy and expensive?

You have to ask? The transport alone weighs 5+lbs, add in the over sized power supplied, latest A/V processing and decoding, and no holds bar construction and you quickly understand why ...

What is Dlink 4 and why do we need it?

Denon Link 4 adds Denon Flow Control, when used with HDMI, it handles jitter and Master Clock Control with the AVR or AVP it is connected to.   This allows for the best possible transmission of digital audio sources from the player to the DLink 4 capable Denon processor or receiver...

Will the AVP-A1HDCI support Dlink 4?

Yes with future upgrade TBA..

Does Dlink4 also improve TrueHD and DTS HD or just DVD-A/SACD and CD?

No HD, but every other format, yes
This is one review we are really looking forward to so stay tuned as more info comes in on this new super (and world's first) truly Universal Blu-ray player.
For more information, visit:  http://www.usa.denon.com

Unless otherwise indicated, this is a preview article for the featured product. A formal review may or may not follow in the future.
Confused about what AV Gear to buy or how to set it up? Join our Exclusive Audioholics E-Book Membership Program!