Impact Acoustics Announces 6x2 HD Component Selector Switch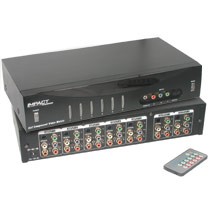 6x2 Component Video Matrix Selector Switch
Dayton, Ohio, July 10, 2007 – Impact Acoustics, a leading manufacturer of high performance audio/video connectivity solutions, is proud to introduce its new 6x2 Component Video Matrix Selector Switch. This controller device enables six HDTV source devices to be plugged into one selector switch which can then be simultaneously distributed for viewing to two separate high definition televisions and monitors.
Unlike traditional distribution methods with just one output, the 6x2 Component Video Matrix Selector Switch provides two outputs for distribution of the HD source devices. A user can route any of the six HD devices, such as DVD players, satellite receivers, cable set-top boxes, and gaming systems, to two separate plasma, CRT, LCD, or projection televisions. Through this setup, one user can view any of the source devices on one HD television/monitor while another user views a separate source device on another HD television/monitor. The switcher also is able to split a signal to two TV/monitors, allowing the same source to be concurrently viewed on both.
This switcher contains six HD component video inputs, six stereo audio inputs, and six optical digital audio TOSLINK inputs, with two outputs for each of these signal types. It has a video bandwidth of 300MHz and is compatible with all interlaced or progressive scan analog HD component video signals. To make switching between source devices quick and simple, the device comes complete with an infrared remote control. The remote features discrete commands to make programming complex macros into a universal remote control system easy. Front panel buttons also allow a user to easily switch between source devices should the remote become misplaced.
The 6x2 Component Video Matrix Selector Switch is an ideal solution for custom home theater installations, as well as for businesses, educational facilities, restaurants, bars, clubs, retail stores and anywhere else multiple high definition source displays and televisions are used. It is protected by a 1-year warranty against defects of materials and workmanship. This device is available, as are all Impact Acoustics products, through various Impact Acoustics distributors and resellers, as well as online at www.impactacoustics.com
About Impact Acoustics:
Impact Acoustics is a division of Dayton, Ohio-based Lastar, Inc., a leader in the computer connectivity industry since 1984. In 2002 Lastar created Impact Acoustics in order to deliver its expertise in computer and data connectivity products to the consumer and commercial communications electronics industry. For information regarding Impact Acoustics visit www.impactacoustics.com or contact us, toll free, at 1-877-AV.EXPERT.
Recent Forum Posts:
avaserfi posts on July 11, 2007 19:32
Right now there is 20% off for all members if you click the link from the homepage.
ned posts on July 11, 2007 19:09
This is great! Any discount for members?
Post Reply