Westlake Audio BBSM-10VNF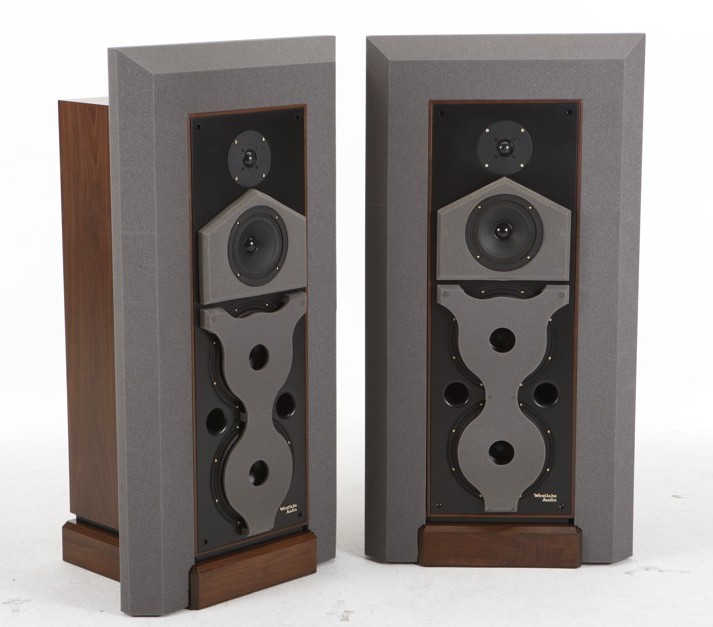 Westlake Audio BBSM-10VNF
Summary
Product Name:

BBSM-10VNF

Manufacturer:

Westlake Audio

Review Date:

January 06, 2009 22:00

MSRP: $16,990/pair
First Impression:

Mildly Interesting
MODEL NUMBER: BBSM-10VNF WITH ADJUSTABLE ISOLATION BASE
TYPE: 3 WAY FLOOR STANDING SYSTEM
ENCLOSURE TYPE: BASS-REFLEX
DRIVERS: DUAL 10* WOOFERS & 6 1/2* MIDRANGE & 1 1/4* DOME TWEETER
TECHNICAL FEATURES: EXTENSIVE DYNAMIC ELECTRO-MECHANICAL-ACOUSTICAL DAMPENING, INTEGRATED ULTRA LOW DISTORTION, 109 PART PRECISION HIGH LEVEL PASSIVE CROSSOVER FOR SINGLE OR BI AMP OPERATION, HI & LOW FREQUENCY *P.E.* BUS
INPUTS: HEAVY DUTY TERMINAL STRIP
USER FEATURES: BI-WIRE OR PASSIVE BI-AMP CAPABILITY
ACCESSORIES SUPPLIED: INTEGRAL *MID & WOOFER MUFFS*
ACCESSORIES AVAILABLE AT ADDITIONAL COST: SPEAKER MUFFS, SUPERFLEX LOW *P.E. DISTORTION** SPEAKER CABLES
SPECIFICATIONS:
POWER HANDLING: 120W
FREQUENCY RESPONSE: 40-18K
IMPEDANCE: 4 OHMS NOMINAL 2 OHMS MINIMUM
SENSITIVITY: 95 DB @ 1M FOR 2.83V INPUT
COSMETIC FINISH: SATIN WALNUT VENEER
WARRANTY: 5 YEAR
DIMENSIONS: 46 X 14 1/2 X 19 1/2
WEIGHT: 198 LBS.
Executive Overview

The Westlake Audio BBSM-10VNF is a floor standing version of the classic BBSM-10 monitor. The 3-way system uses dual 10" woofers, a 6 1/2" cone midrange and 1 1/4" soft dome tweeter in a ported enclosure. The frequency response is spec'ed at 40-18K which is surprisingly honest for a speaker at this price point. For that alone Westlake Audio has piqued our interest. Of course, all the foam stuff turned us off. Fortunately, it is optional. The North American Walnut cabinet features extensive internal bracing with proprietary sound dampening materials that virtually eliminate any cabinet distortions. All crossover components including hand wound coils; capacitors and resistors are matched within a 1% tolerance to ensure balanced response.
BBSM-10VNF Specs
3-WAY Floor Standing System
Dual 10* Woofers, 6.5* Midrange, 1.25* Tweeter
Isolation Base with Integral Top Adjust Isolation (Preferred) or Spike Feet
Integral Woofer and Mid Muffs
Compact Speaker Muff
ISO Crossover Assembly with Integral Isolated L.F. & H.F. *P.E.* Buses
New Tweeter Mounting with Low *P.E.* Wiring
Low *P.E.* Distortion Driver Units
For more information, please visit www.westlakeaudio.com.

Confused about what AV Gear to buy or how to set it up? Join our Exclusive Audioholics E-Book Membership Program!
Recent Forum Posts:
irishtom posts on January 07, 2009 11:12
We talked about the foam over at the Lansing Heritage forum and some of us thought it was for dispersion control, some foams can act as a lens.
Back in the 70s and 80s EV used a foam lens that covered a large dome tweeter (Superdome) leaving a small hole in the center, it looked like a foam bagel. The lower frequencies from the dome passed through the foam but they higher frequencies came only through the small hole thus making for wider dispersion than a dome that size would normally have. This device allowed EV to use a larger than normal dome (and thus get higher output and a lower crossover than most domes) and still have wide dispersion.
The working of the lens is explained in this sheet from the EV archives.
http://archives.telex.com/archives/EV/Speakers/EDS/Interface%20C%20EDS.pdf
Post Reply