Meridian G95 DVD Surround Receiver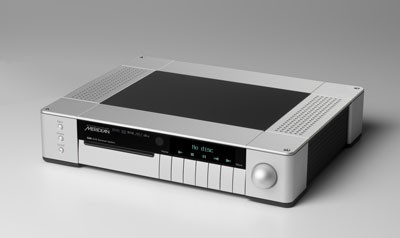 Meridian G95 DVD Surround Receiver
Cambridgeshire, England, June 2007—Meridian Audio, the creator of digital home theater, is pleased to announce the US launch of the G95 DVD Surround Receiver. The G95 is a high performance audio and video component that plays CD, DVD, and AM/FM radio, and produces 5.1-channel surround sound using Meridian's latest digital amplifier technology. Consumers know they're getting something special in the G95, which is rich in craftsmanship and packed with the latest digital technology. The hand-built G95 is designed and manufactured entirely by Meridian at its facility in Cambridgeshire, UK, and bears the stamp of Meridian cofounder Bob Stuart both inside and out.
This year, Meridian will celebrate its 30th anniversary—three decades of delivering to market innovative, beautifully crafted products. Meridian introduced the first audiophile CD player in 1984, and today remains the acknowledged leader in digital audio; the G95 is the culmination of over two decades of reference-quality digital design. Listening to music or watching movies via the G95 will reveal transparency, ambience, and detail that most consumers have never before experienced. Meridian's proprietary processing, world-renowned for its subtle, organic reproduction of natural-acoustic music, is the "heart" of the G95.
The G95 processes video images using both Meridian and Faroudja technology, and outputs them via HDMI, the latest, all-digital audio/video connection format. From the HDMI output, the G95's video processing can deliver 1080p images as well as the full range of video resolutions, including 1080i, 720p, and 480p, and convert/scale signals from any of its analog-video inputs for maximum resolution. The G95 also uses a single HDMI cable to link to the display device—a simple digital path. (For systems lacking HDMI display connectivity, the Meridian routes upscaled signals, as well as pass-through 1080i, through its analog component-video output.)
The Meridian G95 outputs five channels of superb, dynamically robust, high-current amplification carefully engineered to power a 5.1-channel surround system to the highest standard of sound quality. The G95 delivers 100 watts to all channels, individually or simultaneously, in any combination. It also includes line-level outputs for all channels, permitting outboard power amplifiers to contribute higher power, or the user to expand a surround system beyond 5.1 channels.
The Meridian G95 DVD Surround Receiver is assembled on an all-metal chassis using the finest components available, and finished in Meridian's elegant black-and-silver design. It is supplied with Meridian's proprietary MSR+ tabletop system remote controller. The Meridian G95 is now shipping at a manufacturer's suggested retail price of $8,495.
For more information please visit www.meridian-audio.com.
Meridian Audio Limited is based in Huntingdon, near Cambridge, UK, and was founded in 1977 by Allen
Boothroyd and Robert Stuart. With a 30-year history of innovation and development of the highest quality consumer audio systems, the award-winning company is widely recognized as a world leader in digital and analog audio reproduction. Meridian developed the world's first audiophile CD player, the world's first consumer digital surround controller, developed the MLP lossless packing systems mandated for use in DVD-Audio and included in emerging high-definition disc formats, and is the only UK audio hardware manufacturer to be a member of the DVD Forum. The company's optical disc players, DSP-based loudspeakers and Digital Theater systems are unique in the industry, maintaining a super-quality digital audio signal throughout the path from the source to the amplifier, and using digital signal processing to generate advanced crossover characteristics that would be impossible with conventional passive analog systems. Meridian is also the exclusive manufacturer and distributor of Faroudja High-Definition video processors and projectors.
autoboy posts on June 29, 2007 13:39
Ok, so I get what you are saying about the 5.1 output. Chances are, only 1% of the users would actually use it. To work properly, you would need to set crossovers, set line level, and set distances. Ideally you would have a mic that connected to the TV for these novices to autosetup. This would be costly to set up and can be done easily with a cheap reciever. None of these settings are required for stereo pre-outs. Most of these folks wouldn't even set that up properly.

Ok, i guess I will stick to harmony 890s. The main problem I have with my other remotes is that folks don't point them at the TV long enough for everything to switch properly. RF solves that problem. Another thing I can do is set up my reciever to route all the signals over a single HDMI cable to the TV. This would eliminate having the change any TV inputs and now all you need is to power up the TV. Anytime I can eliminate a complexity I'm happy and they can learn the system better. Sorry, to ninja this thread.
Rock&Roll Ninja posts on June 28, 2007 21:45
Now if the device had a built-in cable card slot + 250gig HD, and used an HD-DVD and/orBRD drive instead of plain old DVD they'll be on the right track. Add MultiEQ for even more fun.

Then put big easy to use buttons on the front: 1. Power 2.'TV' 3.HD 4. Volume knob. (Real tiny button behind fold-down plate, next to mic input: 'Run Speaker Calibration'). And add a relay for Monitor power.

Then a customer can power unit up, select source, and play with the volume…. So easy my dad could use it after only six weeks of phone calls (from his rotary-dial phone).
obscbyclouds posts on June 28, 2007 20:33
MDS, post: 279994
Non technical people easily get how to use a well designed universal remote. Maybe YOU have to program it for them, as I do for my family and friends, but once you do it they are perfectly capable of using it.

It's really not hard for totally inexperienced users to understand 'Press and hold the ON button for 1 second to turn everything On'.
This is exactly what I was trying to say!
MDS posts on June 28, 2007 19:59
Non technical people easily get how to use a well designed universal remote. Maybe YOU have to program it for them, as I do for my family and friends, but once you do it they are perfectly capable of using it.

It's really not hard for totally inexperienced users to understand 'Press and hold the ON button for 1 second to turn everything On'.
autoboy posts on June 28, 2007 19:40
avaserfi, post: 279960
That honestly sounds more like user error and refusal to spend 10 minutes learning than the need for a whole new product. Receivers are not that hard to use especially ones that come with a HTiB they literally need the speaker wires connected where they say and some have one input and that one input is for the dvd player that comes with them thats it. You turn the receiver on and adjust the volume and thats all it really does. Next time your well off folks want something simple to watch dvds with tell them to get blose all their stuff is very simple and shouldn't confuse them.
You still don't get 5.1 sound for Digital TV without switching inputs on the reciever and the TV! They don't want a crappy HTiB. They want something better that is even simpler. Ugg, where is the bash your head against a wall smilely when you really need it. Ok, so the revceiver in the TV was a bad idea, but all I ask is for 5.1 pre-outs instead of stereo. I knew this would be an uphill battle amoung audio guys, but come on, someone here has to see some benefit to this, or they need to convince me with a better arguement than non-technical people are dumb and can rot in hell.
Post Reply