Sanus Foundations CFR535 HDpro AV Rack First Look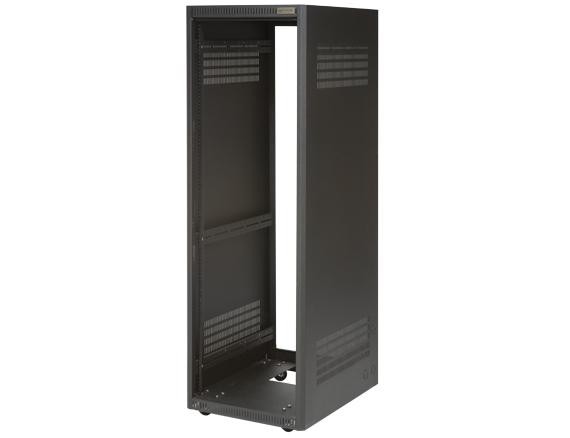 Sanus Foundations CFR535 Rack
Summary
CFR535
Price:
$849.99
UPC Code:
CFR535-B1-793795520845-Wrinkle Black

Product Specifications
Product Width:
22.00" / 55.88 cm
Product Depth:
28.00" / 71.12 cm
Overall Height With Casters:
67.25" / 170.82 cm
Overall Height Without Casters:
66.23" / 168.22 cm
Product Weight:
105.00 lb / 47.73 kg
Weight Capacity:
1000.00 lb / 454.55 kg
Rack Spaces:
35U
CFR524
Price:
$749.99
UPC Code:
CFR524-793795520838-Wrinkle Black

Product Specifications
Product Width:
22.00" / 55.88 cm
Product Depth:
28.00" / 71.12 cm
Overall Height With Casters:
47.80" / 121.41 cm
Overall Height Without Casters:
46.98" / 119.33 cm
Product Weight:
85.00 lb / 38.64 kg
Weight Capacity:
1000.00 lb / 454.55 kg
Rack Spaces:
24U
CFR518
Price:
$699.99
UPC Code:
CFR518-B1-793795520821-Wrinkle Black

Product Specifications
Product Width:
22.00" / 55.88 cm
Product Depth:
23.25" / 59.06 cm
Overall Height With Casters:
37.50" / 95.25 cm
Overall Height Without Casters:
36.48" / 92.66 cm
Product Weight:
75.00 lb / 34.09 kg
Weight Capacity:
1000.00 lb / 454.55 kg
Rack Spaces:
18U
Executive Overview
When you think of beautiful but functional AV furniture, you often come across the name Sanus. Their offerings have long been wowing Audioholics and their spouses alike. But there is a type of client out there that is interested more in function than in form. This type of client doesn't care if their rack is veneered in rosewood, doesn't care if their room treatments compliment the decor, and they certainly don't care that they already had an amp so why should they need another? They care about one thing - function. And function is often hard to put in a pretty box.
Sanus has long been known for their function within the confines of form. Our experience with them has been "Make it pretty but make it work." Well, there is only so much you can do with a pretty box. Our experience with their racks has often had us wishing for a bit more function. We'd like things like casters so that we can get behind our gear better, fans to cool off some of our amps (and Xbox 360's for that matter), and more flexibility within the cabinets. With the new 500 series, Sanus is looking to address all of these issues.
The new Foundations 500 series of racks looks towards function much more than form. This racks are the ultimate in flexibility - not in its construction, the heavy-gauge welded steel takes care of that. No, these racks are designed with the custom installer in mind. Now, this doesn't mean that all you DIYers can stop reading, not at all. Instead, if you are up to a little bit of planning, you can design a 500 series rack that will be perfect for your needs. First, let's start off with the basics.
The 500 series racks is headlined by the CFR535. The moniker gives you more information than you'd think. First the 5 tells you that it is in the 500 series with the two following number letting you know how many rack units it has. With the CRF535, it has 35 rack units. A rack unit is 1.75" high. That equates to a 66"-67" box (depending on the footing option you choose). With much of the high end or professional gear, the manufacturer will list in the specifications how many rack units (RU) the component will require. If not, it is really quite easy to do the math yourself. The two other racks in the 500 series are the CFR524 (24 rack units, ~47" tall) and the CFR518 (18 rack units, ~37" tall).
Other standard features include integrated venting on the sides of each of the boxes to keep gear cool. The vents are on the sides near the top and bottom of each wall. The fronts and the backs of the racks are completely open (though there are options for doors which we'll address in a minute). On the floor of the rack is an opening for wire runs. One thing that concerns us is the opening at the bottom. While the rack can be lifted off the ground a bit by the feet, it will still require a bit of a tight turn. This won't be much of a problem for more wires as long as the metal edges at the opening aren't too sharp. As the back can be left completely open, this may be a moot point, but for those that are planning to use the opening, it is something to consider.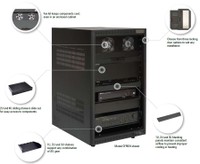 The feet option on all of the 500 series racks is something that we are absolutely delighted to see. On all the racks there are both casters (for movement) and adjustable feet (for leveling and stabilization. It has been our experience that once you load a rack up with gear you don't have to worry much about it rolling around on its own (depending on the amount of gear and the strength of your subwoofer) but for those that want greater stability, the casters can be removed. We think casters are a must-have item for any professional rack as invariably you'll want to get behind it (in our case, almost daily). 
Lastly, you'll want to look at the accessories. There are a myriad to choose from including locking acrylic door with solid steel frame, locking solid steel door, locking vented rear door, rear rack rails, shelves, blanking panels, sliding drawers, fans, lacing strips, tie bars, and wire ties. Basically, you can completely design these racks to suit your current gear and not have to worry about future upgrades. A few blanking panels or shelves later and your custom rack is just as custom.
Conclusion
The Sanus Foundations 500 racks are not exactly cheap - at $700 for the 18U rack, $750 for the 24U, and $850 for the 35U, you're investing a healthy chunk for an empty box. But the solid metal construction, the integrated feet and casters, and the variety of options should help make up for it. One thing that may be a potential concern for some is that all three racks are rated to hold a maximum of 1000 lbs. While that is a lot of weight, when you start adding class A/B (or class A for that matter) amps to a rack as tall as the CFR535, it can quickly add up. We like this new offering by Sanus and look forward to seeing what other accessories they may release for it in the future.
For more information, please visit www.sanus.com.

Confused about what AV Gear to buy or how to set it up? Join our Exclusive Audioholics E-Book Membership Program!
Recent Forum Posts: