Orb Audio Mod2 Speakers Review
Orb Audio Mod2 Speakers Review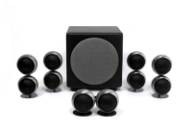 Satellites

Drivers: 3" polypropylene driver
Efficiency: 89db
Power Handling: 15 - 110 watts
Maximum SPL: >115dB
Frequency Response: 80Hz - 20 kHz
Impedance: 8ohms per sphere
Construction Materials: American carbon steel, assembled in USA
Dimensions: Mod2 On Desk Stand: 4 3/16" W x 9 1/2" H x 4 7/8" D
Weight: 33 oz

Subwoofer

Type: High-performance ported bass-reflex design.
Port: Precision-tuned flared snorkel port.
Driver: Super long-throw 8" high-performance driver with composite paper/high density ABS cone.
Amp: 150 cont/400 max AB, <.1%thd, S/N >95db
Efficiency: 89db
Power Handling: 15 -110 watts
Maximum SPL: 111dB (107dB continuous)
Frequency Response: 28Hz -180Hz
Dimensions: 12" H x 11 3/4" D x 11 1/2" W
Pros
Excellent Sound Quality
Super high WAF (small and cute)
Better than expected low end range
Very cool
Modular
Cons
Distorts at higher volumes
Unusual wire connection points (bare wire only)
May not be suitable for larger rooms
Orb Audio Mod2 Build Quality
The Mod 2 System came in more boxes than I expected - though if you order just the speakers and the sub (and none of the special pre-fab stands) it would come in just two pieces. The box with the speakers was well packaged in foam with each speaker having its own cubby hole. Speaker stands, extender brackets, jumper wire, and hardware were all contained within the box. The subwoofer was packaged separately in the only box with the Orb logo on the outside.
The sub is smallish (a 12" cube), black, textured, with a grey fabric grill that is raised slightly from the surface of the sub. It is firmly attached but can be removed without fear of breakage. The sub is constructed out of ½ inch MFD and has rounded edges. Removing the plate amp from the back revealed a down firing port and internal bracing at the edges only. Surprisingly, there was absolutely no polyfill or dampening material. The amp has all the standards including speaker level inputs and outputs, a line level RCA connection, a phase switch (0 or 180), and a variable crossover (40 - 160Hz).
While it was impossible for me to take the satellites apart without risking irreparable damage to the speaker, they are a little smaller than the diameter of a CD. They are light, but sturdy, and a knock test shows that they do not contain much damping material Each speaker has two stylized and color coded compression type gold binding posts that you press in to reveal a hole for speaker wire which is held in place by spring tension. Bare wire is the only option for these posts. For the Mod 2s, the speaker wire is attached to one of the Orbs, and a provided jumper wire is used to link the two speakers in parallel, effectively resulting in a 4-ohm load. This makes for a rather tight fit and requires some finagling on your part to get both of the wires to occupy the same binding post. The jumper wire looked to be 16 gauge (the highest usable is 14ga though that would make the fit VERY tight) and was available in white or black. The manual correctly indicated that you could use your own speaker cable for the jumpers if you wish (and it was nice to see a company that didn't insist upon the use of esoteric cables for optimal performance). Each speaker has a tapped hole used to attach it to the various available mounts.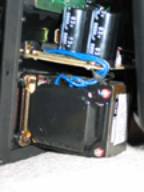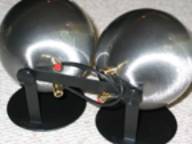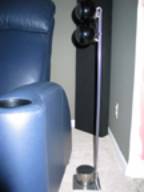 There are more than enough mounting options for these speakers and each one has its uses. The provided stands are simply composed of a single piece of metal that has a round base with a vertical post and a hole. An extender bar is provided to add a second speaker to the stand. The floor stands have a heavy (really heavy) round base with a rubber pad on the bottom to prevent scuffing of floors and an optional floor plate (essentially, a large metal square used to stabilize the smaller base) for thick carpet. Two poles are attached to the base doing double duty as speaker attachment points, and wire management (the wires are fished through). One nice feature of the floor stands is the ability to vary the height of the speakers depending on how high your seated position is. There are desk stands available which look similar to the floor stands but with no wire management or speaker height adjustment ability. Wall mounts are available but these were not included with the evaluation package.
Orb Audio Mod2 Fit and Finish and Setup
The Orb Audio speakers set the bar for Wife Acceptance Factor (WAF). They come in four flavors, white, black, hand polished steel, and hand antiqued copper. Personally, I liked the black and the hand polished steel though my wife preferred the copper. All in all, you will be hard pressed to find a room or décor into which the Orbs would not easily blend. The white and black finishes can be used in almost any room and are so shiny that you can see your reflection in them. Thinking of my parents' house, I could see my mom going ga-ga over the white ones. With all the white molding in their house, she'd love to mount them near the ceiling (which of course would drive me up the wall, literally) where they would not be as noticeable. For the white models, Orb Audio went the extra step and put a matching white grill and even provided a white jumper wire. That tells me that they know their customer base and are willing to go the extra step to give them what they want.
The sub is a dull black with rounded corners and a textured finish. The grill is gray and stands off the front of the sub by about a quarter inch. The sub sits on four rubber conical feet with the port firing downward as explained above. In my opinion this sub does not cry out to be seen and its finish speaks to that. I like the rounded corners (my Axiom EP 500 reference sub doesn't and I'm getting tired of losing skin to the thing) but other than that, I wish the finish of the sub would have picked a direction - meaning, if it is meant to be seen, make it as pretty as the satellites, if it is not, give it a black grill to help is be as non-descript as possible. I personally like the grey grill, my wife - not so much.
One thing that I found exceptionally customer-friendly was the Orb Audio's modular design. Strapped for cash but you want a 5.1 system? Get the Mod 1. Tax refund check comes in and you've got a little extra money to burn? Buy another set of speakers and turn your Mod 1 into a Mod 2. Or you can just pick up a pair every once in a while to add to your system as your finances dictate.
One thing that I think the Orbs could have used was some sort of vertical adjustment when using the Boss stands. Given that many of their customers may attempt to place them in... shall we say... non-optimal locations, some ability to redirect the loudspeakers toward the principle listening location would be beneficial. The included desk stands do bend to allow the Orbs to be pointed in varying directions.
Loudspeaker Placement and Set up
All the speakers were wired from my Denon AVR-3805 with the crossover set at 120Hz. The manual (downloaded from the website) says that you can set the crossover at 80Hz but even Orb Audio says that is not optimal. I played around with the crossover quite a bit and found that in my room, 80Hz was completely unacceptable and I could hear a small but noticeable difference between 100Hz and 120Hz, and very little difference from 120Hz and up so I kept it at 120Hz. At this crossover point the sub can just be localized but I didn't have many problems or distractions with it. Orb Audio suggests for two channel music that you wire directly to the sub, then out to the mains. When matching the levels using the Denon's test tones, I noticed how easily my receiver drove these speakers. I believe that most any entry level receiver could drive these speakers to ear bleeding levels without much of a problem. This, once again, speaks to the cohesiveness of Orb Audio's design, as their customers are not likely to spend thousands on high-end monoblocks or flagship receivers.
I set up the speakers in a traditional 5.1 arrangement except that I had the sub in my normal (and believe me) optimal location - midway on the side wall. I have moved my reference sub (all 70+ lbs of it) more times than I could count and this is the only (feasible) location in my room for a sub that will not excite the room modes to the point of making a mess of the frequency response. At first, I had the Orb sub sitting on top of my other sub and I actually think it sounded a little better that way. It was elevated almost to ear level and I found the bass to be a little tighter and clearer than when it was on the floor. This may just be because of the shape of my room and, as always, sub location is a trial and error process.
I used the floor stands for the rear surrounds, which I set on either side of the couch. I found the floor stands to be of exceptional quality and quite useful. Even my two year old never managed to knock them over (not for lack of trying, I assure you), though those with small children and/or large dogs may want to consider wall mounts. The bases for the floor stands are extremely heavy and while I tried to get away with not using the carpet plate (essentially a square piece of metal), the speakers leaned precariously without them.
The provided stands were used following the instructions for the center channel. It was a little confusing as you are supposed to use two of the stands along with an extender bracket oriented horizontally. The brackets didn't seem to really be made for this purpose and I had to fiddle with them a bit to get the whole thing together. I never did get both of the bases to sit flush.
For the fronts, I used the desk stands, which essentially look like a scaled down version of the floor stands. I much prefer these stands to the provided ones on aesthetics alone. They just look much cooler to me. One "complaint" with the desk stands is that the manuals made a big deal about the speakers not touching but, on one of the stands, the welded attachment points forced the two orbs to touch. Bending would likely fix this, but I expected a good fit up front. In their defense, I never noticed any buzzing or sonic degradation during the evaluation period.
Note: The largest wire that Orb Audio says can be used with their unique binding posts is 14 gauge though with the Mod 2 system, you're going to be pressing it to get two wires in there (one to the receiver, one to the other speaker). I, of course, have my entire system wired with 12ga (argh!) so I had to dig up some of my older speaker wire to ensure a proper fit. For the targeted customer, I don't think this will really be much of a problem as they are likely to use the smaller gauge wire anyways. Plus, they can purchase wire from Orb for a fairly reasonable price ($15 for 50 feet for 14ga).
Lastly, the sub has an auto-on feature that will only engage when there is a frequency low enough and loud enough to trip the sensor. At first I just kept the sub on all the times as I hate having to remember to turn it on. After a while, I acquiesced and decided to give it a try. I never noticed the sub engaging during any point of the evaluation period. Because of the red light reflecting off the wall behind the sub, I could easily tell when the sub was in standby mode. Often, I would look over when I thought that the sub might have turned on, and it didn't, other times I was pleasantly surprised when I saw that it was engaged. The auto-on feature worked beautifully and most importantly transparently - exactly as it should.
Orb Audio Mod2 Sound Quality and Conclusion
Right out of the box, I was impressed with the performance of this system. I expected to immediately hear a profound difference between the Orbs and my reference system. Honestly, I did not - at least not immediately. That, in and of itself, is a huge compliment as my subwoofer costs only a few dollars less than the entire Mod 2 system I was reviewing!
The first thing I listened to with this system was the Marillion: Marbles on the Road DVD. I have, in recent months, become a huge fan of this group and though the video quality of this DVD is not great and the vocals are a bit recessed, it has become one of the most listened-to DVDs in my home. This is not in a small part due to the fact that it is one of the only DVDs my wife and I both like. I found that the Orb Mod 2 system held up well and provided much of the same punch and impact that I came to love from this DVD. More importantly, many of the imperfections that I knew were present were still present with the Orbs. What does that mean? Well, I half expected things to sound different (if not better) because imperfections in the frequency response hid those issues. Not so. The Orbs showed off all the flaws as well as the strengths of this DVD.
Next, I put in select scenes from U-571, Lord of the Rings: Return of the King (Extended Edition), Matrix Revolutions, The Incredibles, and more; and I was constantly amazed by how low that little 8" subwoofer would extend. I kept expecting to hear it bottom out or break up, but it didn't, at least not until I put on the tap scene from Finding Nemo. At that point the sub pretty much went nuts (in a "put on a Captain Kirk mask and work coveralls" and not an "Uncle Charlie that grows tomatoes in the bathtub" kind of way) and made sounds that God never intended a sub make (it bottomed out). Now remember, I have a small listening room (12.5 by 14.5 with DIY absorbers ) so this type of system is really made for my size room. With the room reinforcement it is not hard for a good quality sub to fill the space convincingly. In a larger room, don't expect too much out of an 8" woofer.
The satellites were remarkably able to reproduce quite a bit of bass without losing too much on the high end. When evaluating the sub, I would walk around to see if the bass was coming from the sub or the sats. More often than I would have expected, it was the sats - and there was very little breakup or sound degradation. One test that I felt sure the Orbs would fail is the Elmo test. All you parents out there know what I am talking about. Those children DVDs are quite possibly the worst recorded things since the nails on chalkboard scene in Jaws. I stuck in my child's favorite, Sesame Street - Kids' Favorite Songs which features questionable acting, a potentially unethical plot, and enough sibilance to silence a Communications 101 class at the local junior college. This DVD is so bad (sound-wise) that I usually have to play it at least 20dBs lower on my Denon than any other DVD in my collection. I fully expected the Orbs to roll off the highs so that it was more bearable. Sadly (for my poor ears) they did not. I found it just as unbearable as my reference speakers (which was a little disappointing as I was looking forward to a few headache-free weeks).
So, the sub hits respectable lows and the satellites aren't rolling off the highs. What are the problems? Let's face it, you are just not going to get the detail out of a 3" one way speaker design that you will from a speaker with more drivers. It's asking a lot for a 3" driver to reproduce all those frequencies at the same time. When I stuck in the Blue Man Group: The Complex , it became readily apparent that something was missing. Now, does that mean that it is so obvious that any Tom, Dick, or Harry, will immediately notice it - absolutely not. Chances are, if you are not intimately familiar with a challenging disc, you will probably not know you are missing anything. My wife and I have the dubious honor of having a son that LOVES the Blue Man Group (guess which one I root for when he's trying to decide between the Sesame Street and Blue Man?) and my wife and I have probably heard it... oh... about a million times. So when I say it was immediately apparent that something was missing, you need to understand the context. One thing in that little sub's favor was that it managed to hit and maintain many of the low, sustained noted on The Complex DVD. I was particularly impressed with its performance on Track 7: "Piano Smasher". This track has the sub alternating between two very low notes, which the Orb Audio subwoofer reproduced admirably.
One thing that is true of direct radiators in general is that pans (especially across the back of the room) sound AWESOME. The Orbs were no different. I found that when music or sound effects panned between the rear speakers, the effect was extremely dramatic and convincing. The downside is that stationary rear effects tended to be VERY localizable. Because of the room size and other constraints, I had to put the surrounds on either side of the couch. While I feel this is a fair test of performance, as many of Orbs customers would have a similar set up, I think I would have preferred the speakers a little farther back. In many rooms, I'm sure I would recommend that users wall mount them.
To test the soundstaging ability of these speakers I listened to a variety of multi-channel music and movies. The verdict? The Orb Audio Mod 2s have very good soundstaging abilities. Albums and movies that I was very familiar with had all the correct location of independent elements. If I have one complaint I found that at times, the fronts did not mesh together with the center as well as I would have liked. This may be a set up issue as my fronts are spaced a little wider than is typical due to the presence of an entertainment center. When I moved them a little toward the center speaker (though I could not have kept them in this configuration indefinitely), I felt that the blend was better.
I found that I had to pump a few more dBs into the Orbs than my reference speakers to feel the same impact that my other speakers provided. While I never felt the speakers were "breaking up" at lower or moderate listening levels; at higher volumes, I did run into a few problems. Source material that is poorly recorded (perhaps a tad fatiguing or sibilant) tended to become unbearable at significantly high volumes. Some of my favorite (though not the best recorded) multi-channel albums, the ones I usually like to play very loudly, I simply had to turn down. I didn't find this to be much of a problem with movies, however, though occasionally dialogue would sound harsh. This may be because movies tend not to have as many sustained high notes as music. Given that the average customer is probably not trying to wake the neighbors with bone-crushing bass, this may not be that much of an issue.
Recommendations
Understand that these speakers are nearly perfectly marketed and designed for their target audience. However, we do have a few recommendations to Orb Audio:
Powder coating option for the floor and desk stands (we've been informed that Orb Audio is working on this very product as we publish this review)
Either a black grill for the sub or a more attractive finish for the cabinet
Dedicated horizontal stand for center channels (this is also being readied for release in the next 60 days)
Vertical adjustment abilities
Conclusions and Overall Perceptions
We all know what to expect from small satellite speaker systems with a "sub" woofer box right? Rolled off highs, bloated mids, no LFE to speak of... blah, blah, blah. Well, I'm here to tell you that you can take all those preconceived notions and throw them out the window! Is this under-$1200 system going to replace one of the Audioholics Reference Systems any time soon? No. But if you are looking for a good system for someone with a... shall we say... non-audio-friendly spouse, you can look no further. It will perform admirably for music and great for movies. I would especially recommend this system for someone's first foray into HT. With a high WAF, good performance, very, very, VERY reasonable price (considering the boxy competition) - you can't lose. If you have a smallish room, you will be blown away by the sound of these little speakers.

The Score Card
The scoring below is based on each piece of equipment doing the duty it is designed for. The numbers are weighed heavily with respect to the individual cost of each unit, thus giving a rating roughly equal to:
Performance × Price Factor/Value = Rating
Audioholics.com note: The ratings indicated below are based on subjective listening and objective testing of the product in question. The rating scale is based on performance/value ratio. If you notice better performing products in future reviews that have lower numbers in certain areas, be aware that the value factor is most likely the culprit. Other Audioholics reviewers may rate products solely based on performance, and each reviewer has his/her own system for ratings.
Audioholics Rating Scale
— Excellent
— Very Good
— Good
— Fair
— Poor
| Metric | Rating |
| --- | --- |
| Build Quality | |
| Fit and Finish | |
| Treble Extension | |
| Treble Smoothness | |
| Midrange Accuracy | |
| Bass Extension | |
| Bass Accuracy | |
| Imaging | |
| Soundstage | |
| Dynamic Range | |
| Performance | |
| Value | |