Yamaha RX-A1010 AVENTAGE AV Receiver Preview

Yamaha RX-A1010 A/V Receiver
Summary
Amplifier Section
Channel
7.2
Rated Output Power (1kHz, 2ch driven)
120W (8ohms, 0.9% THD)
Rated Output Power (20Hz-20kHz, 2ch driven)
110W (8ohms, 0.06% THD)
Dynamic Power per Channel (8/6/4/2 ohms)
135/165/210/280 W
Surround Sound Processing
CINEMA DSP
Yes (3D)
DSP Programs
17
Compressed Music Enhancer
Yes
Virtual Presence Speaker
Yes
Dialogue Lift
Yes
SILENT CINEMA / Virtual CINEMA DSP
Yes
Dolby TrueHD
Yes
Dolby Digital Plus
Yes
Dolby Pro Logic IIx
Yes
DTS-HD Master Audio
Yes
Audio Features
Pure Direct
Yes
YPAO multi-point measurement
Yes
Adaptive DRC (Dynamic Range Control)
Yes
Initial Volume & Maximum Volume Setting
Yes
A.R.T. Wedge
Yes
Bi-amp capability
Yes
Audio Delay
Yes (0-250 ms)
192kHz/24-bit DACs for all channels
Yes (Burr-Brown)
Video Features
HDMI 3D passthrough
Yes
HDMI Audio Return Channel
Yes
Component upconversion
Yes
HDMI upscaling
Yes (Analog to HDMI / HDMI to HDMI)
Deep Color/x.v.Color/24Hz Refresh Rate /Auto Lip-Sync
Yes
Extensive Connection
HDMI Input/Output
8 (front 1) / 2 (Simultaneous)
HDMI CEC
Yes (SCENE, Device control)
USB Input
iPod/iPhone, USB Memory, Portable Audio Player
Network Port
Access to Pandora, Rhapsody, SIRIUS Internet Radio, Napster and vTuner Internet Radio services. Also DLNA 1.5 and Win 7 Compatible.
Dock Port
1 (for optional YDS-12, YID-W10 or YBA-10)
Front AV Input
HDMI, USB, Analog Audio, Optical, Composite and S-video
Digital Audio Input/Output: Coaxial
3 / 0
Digital Audio Input/Output: Optical
4 (front 1) / 1
Analog Audio Input/Output
10 (front 1) / 1
Multi-Channel Input
8ch
Phono Input
Yes
Component Video Input/Output
4 / 1
S-Video Input/Output
5 (front 1) / 1
Composite Video Input/Output
5 (front 1) / 1
Preout
7.2ch
Headphone Output
1
Tuner Section
FM/AM Tuner
Yes
HD Radio Compatibility
Yes
SIRIUS Satellite Radio Ready
Yes
User Interface
On-screen display
Advanced Graphical User Interface with Status
SCENE
SCENE PLUS (12 sets)
iPhone App Control
Yes
Web Browser Control
Yes
Remote Control Unit
Yes (Preset)
Zone Control
Zone 2 Audio Output
Preout
Powered Zone
Zone 2
Zone Video Output
Component/S/Composite
+12V Trigger Output
2
Remote (IR) Input/Output
1 / 1
Party Mode
Yes
RS-232C Interface
Yes
General
Auto Power Down
Yes
Standby Power Consumption (IR only)
0.3 W
Dimensions (W x H x D)
17-1/8" x 7-1/8" x 17"
Weight
33.3 lbs.
Shipping Dimensions (W x H x D)
20" x 11-1/4" x 22-1/8"
Shipping Weight (lbs.)
39.68 lb
Executive Overview
The AVENTAGE line of receivers from Yamaha has been turning heads since they started showing up on the scene last year. Now, we (and you apparently) can't wait to see what they come out with next. The midrange in the AVENTAGE line is the new RX-A1010. At a few pennies under $1100, it is nearly 1/2 the price of the top of the line RX-A3010 ($2k) and nearly 2x's the cost of the RX-A710 ($650). If you are looking for a full comparison of the AVENTAGE line, check out this PDF. This breaks down the entire line by feature.
It should come in handy if you have a good idea of the features you need. It should also help inform those that aren't sure what is out there what features are available in cutting edge receivers - as the AVENTAGE line certainly qualifies..
To start with, the RX-A1010 is a 7.2 channel receiver sporting 110 watts per channel. Like the entire AVENTAGE line is sports a symmetrical power amplifier layout, A.R.T. Wedge (a fifth foot in the center of the chassis to reduce vibrations), and high quality internal components including an extra-large power transformer, schottky barrier diodes, and Burr Brown 192kHz/24-bit DACs. The Yamaha RX-A1010 weights in at a hefty 39.68 pounds. It is 3D compatible with 8 in/ 2 out HDMI 1.4a connections including one on the front panel and supports ARC (Audio Return Channel) and Standby Pass-thru. Unlike other receivers that still require full power for their Standby Pass-thru, the RX-A1010 requires only 2 watts. There is a GUI overlayed over HDMI for easy and seamless control.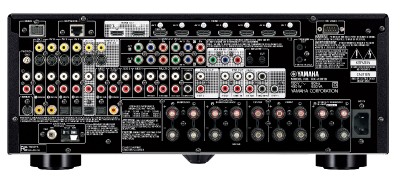 As you can see, there are a ton of connections on the back of the RX-A1010. To start with, the 7.2 channel receiver included two additional pairs of speaker terminals for Zone 2, bi-amping, or presence channels. This makes switching configurations on the fly as easy as choosing a different mode on your receiver. There are plenty of analogue stereo audio inputs along with composite and s-video inputs. There are four component video inputs and one out. You can send video to Zone 2 from composite, s-video, or component outputs which is a nice feature. There are two each coaxial and optical digital audio inputs. For integrating legacy gear, the RX-A1010 sports 7.1 channel analogue inputs and for adding external amps there are 7.2 channel outputs. While you can power Zone 2 with the internal amps, if you are running a 7 channel system, you can use the Zone 2 pre-outs.
Like just about every new receiver on the market, the RX-A1010 is networked and can stream, out of the box, Pandora, Rhapsody, SIRIUS Internet Radio, Napster and vTuner Internet Radio services. It is also DLNA 1.5 and Win 7 Compatible which allows it to stream content from your networked computers and devices easily. For terrestrial offerings, the RX-A1010 has an HD radio tuner. The only thing really missing here is Apple AirPlay though the RX-A1010 is Made for iPod/iPhone certified through its front USB port. Of course, there is an app for control including access to power on/off and volume, select input and DSP modes and other functions from an iPhone, iPad and other devices. An Android app will be available in the coming months.
While you won't find any of the brand names next to features like room correction systems or extra speaker channels, Yamaha has been doing their own for years. The RX-A1010 includes Yamaha's multi-point YPAO but not the newest version which includes Angle and Reflected Sound Control. Yamaha also has both support for physical and virtual "Presence" speakers which are placed above and just to the outside of the main left and right speakers. Yamaha has also included their Adaptive DRC (Dynamic Range Control) which keeps volume constant even when advertisers are trying to get your attention by boosting the volume of their commercials.
For custom installers and power users, there are a bunch of features on the RX-A1010. The intelligent amp assign will automatically switch your surround back speakers to Zone 2 when Zone 2 is powered on. There are IR in and out plus a dock port for adding one of Yamaha's many optional docks. The SCENE buttons allow for integrated macros for ease of operation. The SCENE PLUS included with the RX-A1010 allows 12 different SCENE selections, four of which can be assigned to Zone 2. HDMI CEC support is on board as is on-board video upconversion (analogue to HDMI) and scaling (analogue to HDMI, HDMI to HDMI) up to 1080p with included video processing and edge adaptive deinterlacing. There is a phone inputs for those still spinning vinyl, a SIRIUS radio port, and dual 12v triggers. Lastly, custom installers will be happy to see the RS-232C port for integration in a whole home control system.
Conclusion
A receiver like the Yamaha RX-A1010 requires a lot more words to cover everything it can do. You'll want to take a close look at the comparison PDF to see if this is the right receiver for you. The only "downsides" of the RX-A1010 is that it "only" has two zones and there is no Apple AirPlay support. We're betting there are a large number of readers that don't see these as downsides at all. We'd agree. For fans of Yamaha, the RX-A1010 is a tempting carrot dangled in front of them enticing them to pull out their wallets. For the rest, it is a pretty compelling reason to put them on your short-list of receivers.
For more information, please visit www.yamaha.com.

Confused about what AV Gear to buy or how to set it up? Join our Exclusive Audioholics E-Book Membership Program!
Recent Forum Posts:
3db posts on September 09, 2011 06:42
Its nice to see Yamaha stepping up to plate witha 40lb bat ready to knock the HT ball out of the diamond for another home run. I've been impressed with these model's build quailty and power delivery. They have garnered nothing but great reviews from everyone in the industry and makes me proud to be a Yamaha fan boy again.
Post Reply