Sanus Systems VisionMount Full-Motion Mounts First Look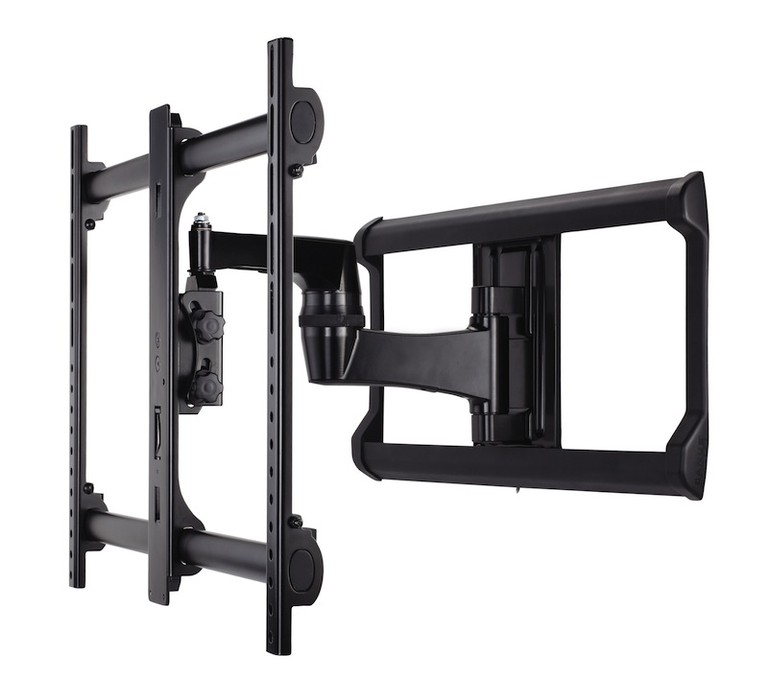 Sanus Systems VLF220 Full Motion Mount
Summary
VLF220 - Supports 37"-56" TVs up to 130 lbs. Extends up to 20 inches, allowing for up to ±75° of swivel. List price: $399.99 USD
VMF220 - Supports 26"-46" TVs up to 100 lbs. Extends up to 20 inches, allowing for up to ±75° of swivel. List price: $269.99 USD.
VLF210 - Supports 37"-56" TVs up to 150 lbs. Extends up to 10 inches, allowing for up to ±75° of swivel. List price: $319.99 USD
Features

QuickConnect - The Mounting head snaps onto the arm assembly with one easy movement and unlocks with the push of a tab
FollowThru - Cable management channel conceals cables inside the arm, even through the elbow, without inhibiting movement (Not available on VLF210)
Post-Installation Leveling - Lateral roll adjustment fine tunes TV placement with up to 5° of clockwise or counterclockwise movement
VirtualAxis - Technology allows the TV to tilt up or down with the push of a finger and helps reduce glare from lights or windows
Executive Overview
As you can probably imagine, we see a lot of home theater setups. Sure, a lot of them are on the forums but whenever we go to people's homes, it is one of the first things we check out. Too often we see ancient CRT or (gasp) those humongous front projection CRT systems - you remember, the ones with the big drawer that slid out alone the floor? Occasionally there will be a flat panel but often it is very small and very far away from the seated position. This is not always their fault as they are trying to work within the confines of the entertainment systems that one or more of the family absolutely fell in love with. Now they have a cavernous 4:3 space with a new 16:9 TV in it. Of course it looks small from across the room - it is.
Upon occasion, we'll come across someone that has really put some effort into their home theater. They may not have the speakers or the sub that we'd suggest but they've got a great display. Large, bright, from a good manufacturer, and most of all wall mounted. They saw HGTV and thought, "Hey, that looks great. We should do that," and they actually did. The problem is they they don't consider everything involved. It is one thing to buy a mount and find a couple of studs, it is quite another to consider all that goes into wire management.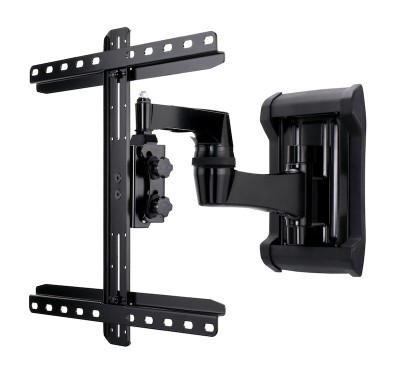 Sanus VisionMount VMF220
While many have considered how to get their HDMI or component cables up to their display and a few have actually considered how to plug in the power cable without risking burning down the house, a very select few have thought about those last few inches between the wall and the display. If your mount is fixed, that isn't much of a problem. You can just tuck the wires in behind wherever they'll fit and wire-wrap the extra. But if you have a motion mount you are in for a bit of a different story. Not only do you have to worry about running your wires, but how they look when the display is out, whether they'll pinch or get in the way, and how much extra wire you'll have to contend with. If you have a way of making custom wires... well, you're in the minority. For the rest of us, we'll probably need to think things through.
Unless you look into one of Sanus' new full motion mounts.
The new Sanus Systems VisionMount offerings come in three flavors. The VLF220 will support displays from 37"-56" weighing up to 130 lbs while theVMF220 will support displays from 26" to 46" and up to 100 lbs. Both mounts allow for 75 degrees of swivel and extend up to 20" from the wall. The main difference between the two (other than the sizes of TVs supported) is the wall mounting bracket. The larger VLF220 has an open square bracket design meant to straddle two studs while the smaller VMF220 has a centrally located junction that just requires a single stud.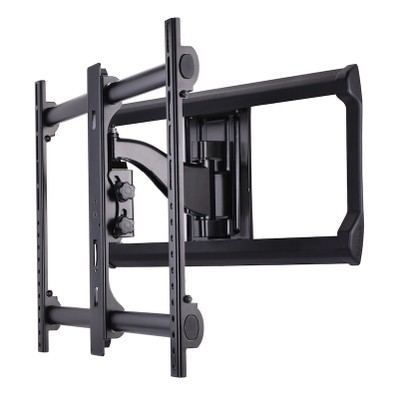 Sanus VisionMount VLF210
The third and final new offering in the VisionMount line is the VLF210. While this one also support displays from 37"-56" TVs like the VLF220, it only extends 10" from the wall (hence the 210 designation). Other differences include a weight limit up to 150 lbs (probably due to the lack of an elbow joint) and a lack of FollowThru. FollowThru on the two VisionMounts that extend 20" from the wall allows the wires to pass through the elbow joint for a clean look without threat of being pinched or damaged. There isn't a lot of storage in there but it will clean up installation considerably.
The three do share a few other features including QuickConnect, Post-Installation Leveling, and VirtualAxis. VirtualAxis allows the user to adjust the tilt of the screen with very little pressure. This feature balances the weight of the TV on itself so that you can adjust the tilt without tools to reduce glare and/or reflections. While you might have all the best intentions when installing the wall mount, the fact is that it is easy to get a few degrees off. Those degrees can be a constant annoyance to the end user. Post-Installation Leveling allows you to fine tun the roll lateral roll of the display up tot five degrees clockwise or counterclockwise. Lastly, QuickConnect gives you the ability to snap the head of the display mount into the arm of the wall mount. With the push of a tab, the head can be released for quick changes or upgrades.
Conclusion
Mounts are not cheap and full motion mounts are some of the most expensive. All three of the new VisionMounts from Sanus offers 75 degrees of swivel, +5/-15 degrees of tilt and +/- 5 degrees of roll. With up to 20" of extension and a ton of features, you are definitely getting what you pay for. The VLF210 extends 10" from the wall has a one tab connection/release mechanism and a toolless tilt adjustment. VLF220 and VMF220 have all that plus an additional 10" of extension and a wire management system that allows you to run the wires through the arm even within the elbow joint. When you are paying between $270 and $400 for a wall mount, you expect to be wowed. The Sanus VisionMounts might do just that. While they aren't motorized, they pretty much do everything else.
For more information, please visit www.sanus.com.

Confused about what AV Gear to buy or how to set it up? Join our Exclusive Audioholics E-Book Membership Program!
Recent Forum Posts: