Audio Authority Cat5e Component Video/Digital Audio Extender Preview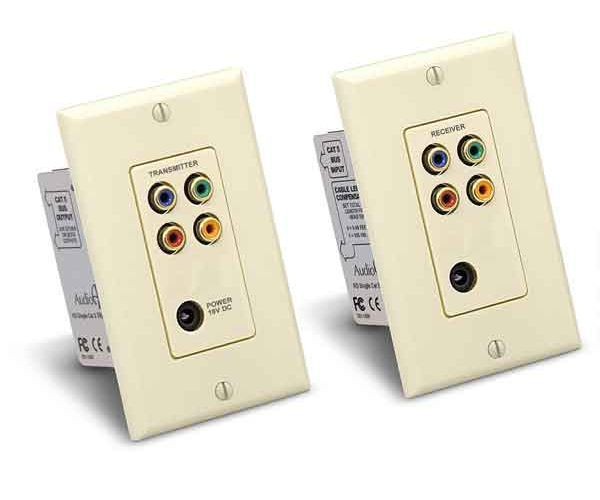 Audio Authority SCP-11D from Ram Electronics
Summary
Video Parameters
Video Formats: 480i/p, 576i/p, 720p, 1080i/p
Input/Output Impedance: 75 ohms
Input Ground Isolation: Yes
Gain: 1
Gain Accuracy: 3%
3dB Bandwidth: 120MHz
Input Coupling: AC
S/N Ratio: 35dB
Max Gain: 40dB equalization

Audio Parameters
Input Impedance: 75 ohms
Min Load Impedance: 75 ohms
Multi-channel Digital: Yes
Frequency Response: Full-range digital

Miscellaneous
Connector Types: RCA (YPbPr, digital coaxial audio)
Dimensions (HxWxD, inches): 1180T Transmitter: 1.75 x 3.75 x 3; 1180R Receiver: 1.75 x 3.75 x 3
Shipping Weight: 1.5 lbs.
Agency Approvals: FCC
DC Input Connector: 5.5 x 2.1mm
DC Input Voltage/Polarity: 18V/Center Positive
Max DC Input Current: 400mA
Executive Overview
Distributed audio may not be the sexiest of AV topics, but when you need it, you really need it. When you've got a display all the way across the house from your gear and you start pricing cables, you'll soon discover that it may be cheaper to buy a whole new setup rather than run a bunch of RCA cables or (God forbid) one long HDMI. Even if the cable prices weren't prohibitive, you might find that the garden hose sized cable is just too big and bulky to fit into your wall or application. There has got to be a better way.
Well, there is.
Baluns have be a staple in distributed audio and video for years. They are used to transfer a signal from one type of cable to a Cat5e and back again. The purpose is because Cat5e is cheap, it is small, and it is really easy to self terminate and run in a wall. We've even seen HDMI baluns hit the market (though they are quite expensive). Ram Electronics is now offering Audio Authority Component Video and Digital Audio extenders that can send signals up to 700 feet over Cat5e unpowered, or up to 1000 feet by providing power on the receiver end. The devices have a transmitter and a receiver with four RCA style connectors on each for Component Video and Coaxial Audio. The transmitter actually has two Ethernet ports so that you can set up a 1:2 run sending the same signal to two locations. Additional receivers retail for $169.
Each of the Audio Authority sets support video up to 1080p and the audio connection supports full bandwidth multi-channel, digital surround audio signals. What is nice is that the unit runs on phantom power up to 700 feet. If you find that your run is farther (or perhaps the signal needs boosting) you can connect an 18v power supply. The gain equalization is installer controlled for maximum This gives you a lot of flexibility in setup. There are two versions of the Cat5e extender - the SCP-11 and the SCP-11D. Both cost the same ($299) and come with a receiver and a transmitter, power supply, and mounting screws. The difference is the SCP-11D has a decora style plate for attractive wall mounting. The inserts come in white, ivory, and almond. The transmitters and receivers can be mixed and matched.
Conclusion
While you may not have need for a 1000 foot Component Video, Digital Audio run right now, you never know what the future might hold. Keeping in mind products like the SCP-11 and SCP011D is a great idea. While both of the sets are on sale for just a few cents over $269, they are not cheap. But when you start pricing preterminated cables, you'll quickly find that the SCP-11 baluns represent quite a value (100 feet of component cable alone is more than the asking price of the balun and that was from one of the Internet Direct value cable dealers).
Click here for more information on the SCP-11.
Click here for more information on the SCP-11D.

Unless otherwise indicated, this is a preview article for the featured product. A formal review may or may not follow in the future.
Confused about what AV Gear to buy or how to set it up? Join our Exclusive Audioholics E-Book Membership Program!