AOC Q2963PM 29" 21:9 UltraWide IPS LED Monitor Review
AOC Q2963PM 29" 21:9 UltraWide IPS LED Monitor Review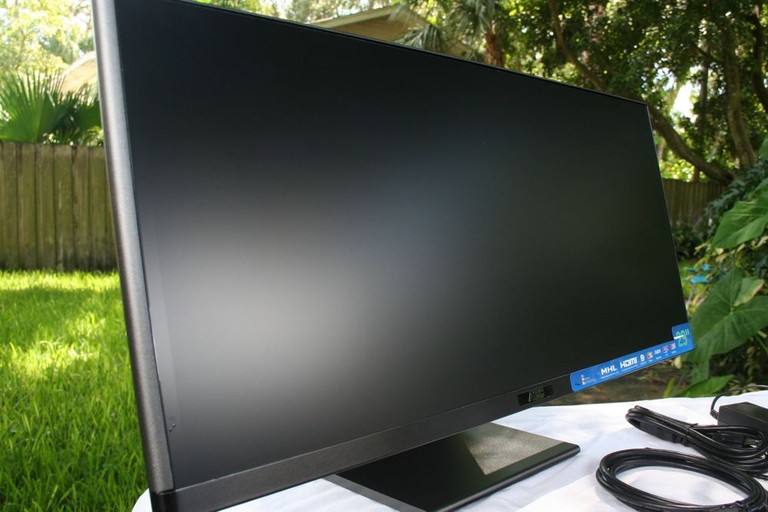 AOC Q2963PM
Panel size : 29"w
Brghtness (Typical) : 300 cd/m²
Contrast Ratio : 1K:1 (Typical) 50000000:1 (DCR)
Response Time (Typical) : 5ms
Viewing Angel (H/V) : 178/178
Recommonded Resolution : 2560x1080
Display Color : 16.7M
Input Signal : Analog, DVI(Dual link),HDMI(MHL), & DP
Power Consumption : Operation Mode (W)<65W Stand by Mode (W)<0.5W
Plug & Play : VESA DDC2B & DDC2B/CI
User Control : Menu,Volume, Source/Auto/Enter, Aspect,Power/Ex.
OSD Languages : 16 Languages
Speakers : Yes
Cabinet Color : Titanium
Special Features : WFHD AH-IPS Panel, MHL/HDMI/DP connectivty , PIP/PBP,Off timer, e-saver, i- Menu, screen+
Pros
Extra Wide
Very bright
Dual source capable
Innovative mounting/stand options
Cons
Must use PC input for dual source
Doesn't scale/letterbox
Many connections visible when wall mounted
Pricy
AOC Q2963PM Introduction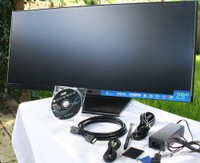 When I first came across the AOC Q2963PM display, I had two questions: Who was AOC and why would anyone need a 21:9 display? Well, a little research on the AOC website shows they have their roots right here in the good ol' US of A:
1934

: Admiral was founded in Chicago, USA by Ross Siragusa.

1947

: Admiral company and brand established in USA; one of the first to produce color television sets.

1951

: Admiral sold 5 million television sets.

1967

: Admiral Overseas Corporation (AOC) was established in Taiwan; 1st manufacturer of color televisions for export.

1978

: Admiral Overseas Corporation was renamed to AOC International.

1979

: Started direct marketing under AOC brand name.

1982

: AOC brand was registered worldwide.

1988 - 1997

: AOC established sales offices selling monitors in United States, China, Europe and Brazil.

1999 - 2001

: AOC entered the display markets in New Zealand and Australia.

2005

: AOC was launched in India.

2006

: AOC was launched in Mexico.

2007 - 2009

: AOC is sold in more than 115 countries globally; products include LCD & CRT monitors, LCD TVs and All-In-One PCs
While they haven't had a huge presence here in the States in a while, they are well known in China and Latin America. I first saw them when I lived in Australia but I hadn't known much about them (being from the States). Now that they've started pushing their brand here, I expect that we'll be hearing a lot more about them.
Why 21:9?
With most content maxing out at the standard 16:9 aspect ratio, the question is a valid one. Why would you need a display with such a large aspect ratio? Since it is primarily designed to be use with computers, the AOC Q2963PM can be paired with a video card that can display 2560x1080 for a ton of extra workspace. For those (like me) that work with multiple windows open and switch frequently between the two, having extra space can be a Godsend. Sure, there are movies with 21:9 aspect ratios but that's not really what the AOC Q2963PM is designed to handle. No, this is mainly a display that will make working easier.
The other main use for a 21:9 display is AOCs ability to take more than one input. With what amounts to two, 4:3 screens side by side, the AOC Q2963PM can allow you to work on more than one computer at the same time (you'll either need two different interface devices or something like a KVM switch). It is possible to plug something like a DVD or Blu-ray player in as well. It all depends on your needs. Are you the type of person that either needs (for your work) or wants to have a movie playing next to you while you work? The AOC Q2963PM might be just what you are looking for.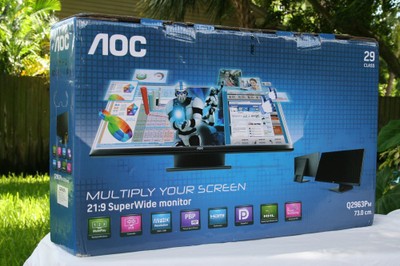 Unboxing
The AOC Q2963PM came well packed in a heavily branded box. I'm always surprised when something is shipped in a box that screams, "Look! I'm a big, expensive display! You could totally throw this in the back of your car and pretend you delivered it since it doesn't require a signature!". But, as far as I know, no matter what sort of branding is on the box, I always seem to get it. That is a testament to the integrity of our post office and shipping company employees I suppose.
When I opened the top flap of the box, I was pleasantly surprised to find actual unboxing instructions printed right on the top flap. I really liked this as there would have been a good chance that the stand, which is packed on the outside of the Styrofoam sandwich that protects the display, would have fallen out and possibly been damaged. The included cables were slid into slots at the top where they were easily seen and retrieved. Unlike other packing solutions, there was plenty of room for them (and more) making re-boxing very easy.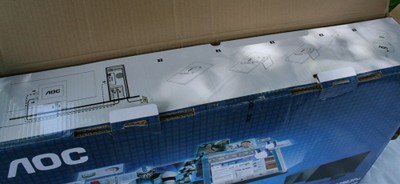 Mounting Options
The AOC Q2963PM can either be table or wall mounted. The included table stand is pretty nifty in that it slides into an integrated pivot plate on the back. The base actually hides the connections that are on the bottom of the pivot plate. You can easily remove the base by pressing two buttons on the inside of the base.
There is a cover on the back of the pivot plate that can be removed to reveal the VESA mount screw points. VESA mounting means that you'll have little problems using the the AOC Q2963PM with just about any wall mount. The fact that the Q2963PM uses a pivot plate means that even if you have a static wall mount, you'll still be able to tilt the display up if you need to (up to 25 degrees). When using the base, you can tilt the display down 5 degrees and up 20 from vertical (because of the angle of the base). Having a plate over the VESA mount gives the AOC a very clean look which I like.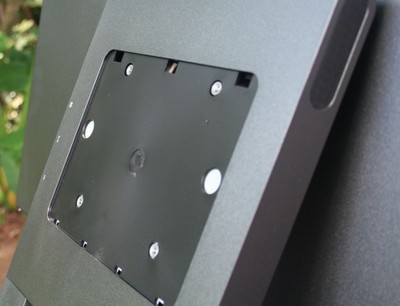 That funky dark part on the top side of the pivot plate is actually one of the speakers.