Optoma PT105 Portable LED Projector Preview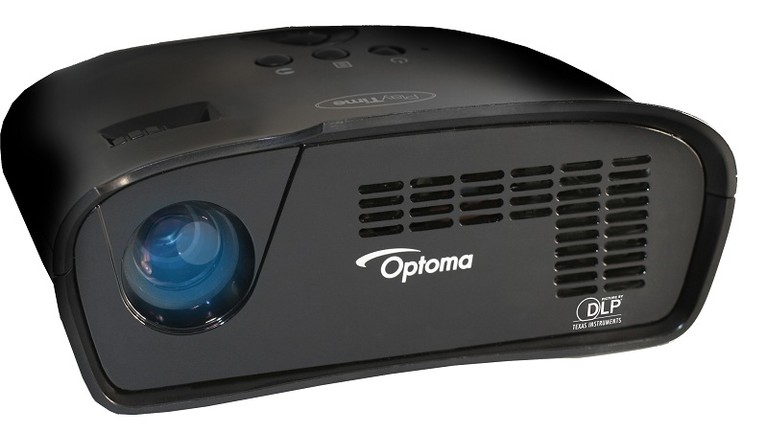 Optoma PT105 Portable Projector
Summary
| | |
| --- | --- |
| Display Technology | DLP® |
| Brightness | 75 ANSI Lumens |
| Resolution | Native WVGA (854 x 480) |
| Maximum Resolution | XGA (1024 x 768) through VGA; HD (1080p 60Hz) through HDMI |
| Contrast Ratio | 1000:1 (Full On/Full Off) |
| Light Source | LED (RGB); Estimated Life of over 20,000 Hours |
| Throw Ratio | 2.1:1 (Distance/Width) |
| Image Size (Diagonal) | 10" to 140" (25 to 356cm) |
| Projection Distance | 18" to 256" (46 to 516cm) |
| Aspect Ratio | 16:9 Native; 4:3 compatible |
| Offset | 50% of image is above center line of lens when upright |
| Displayable Colors | 100% NTSC Color Gamut |
| Audio | 1.5-Watt Speaker |
| Computer Compatibility | XGA, SVGA, VGA, VESA, PC and Macintosh Compatible |
| Video Input Compatibility | HD (720p, 1080i/p), EDTV (480p), SDTV (480i), NTSC, PAL |
| User Controls | Complete On-Screen Menu Adjustments in 5 languages |
| Projection Method | Front, Rear, Upright, Inverted |
| I/O Connectors | HDMI, VGA-In, Composite Video, Audio-In (L/R RCA), DC Input |
| Weight | 1.9 lbs (850g) |
| Dimensions (W x H x D) | 7.8" x 3.2" x 7.8" (197 x 80 x 199mm) |
| Operating Temperature | 41° to 95°F (5° to 35°C) at sea level and 80% max humidity |
| Power Consumption | 30 Watts |
| Power Supply | Input: 100-240V ~ 50-60Hz, 1.1A Output: 12V ~ DC, 2.5A |
| Standard Accessories | Power Adapter, Composite RCA Cable, User's Manual, Warranty Card |
| Warranty | 90-Days Limited Parts and Labor |
Executive Overview
We know some of you hardcore projector enthusiasts look down your nose at pico projectors. "Ha!" you scoff. "Those are kid's toys." Well, we beg to differ. When you are looking at a projector, one of the major considerations is the bulb. How long will it last, how much will it cost to replace, and how easy is it to swap out? Well, riddle me this - would you rather buy an expensive flat-screen for non-movie/HD content, or would you like to continue to use your huge screen?
The new generation of portable projectors utilize LED bulbs which pretty much last forever. At well under $500, they are a fraction of the cost of a flat panel and they provide a much bigger image. Will it be as clear? No. But it will be big and cheap. Plus, this is for "non-critical viewing", so who cares?
The new Optoma PT105 is the "big" brother of the recently released PT100 Portable Projector. This 75-lumen, plug-n-play DLP projector can provide images as large as 140". The PT105 is only 7.8" wide by 3.2" tall by 7.8" deep and weighs just 1.9 pounds. It includes a 1.5 watt speaker for those on-the-go situations where a dedicated sound source isn't available.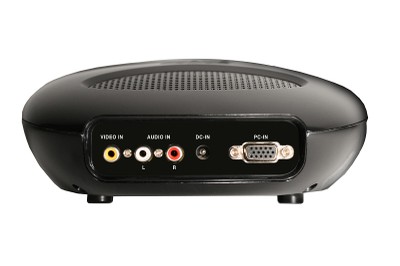 We were disappointed at the back panel of the Optoma PT105. While composite and PC inputs are nice, what we really want is HDMI. Fortunately, not pictured, there is an HDMI input on the right side of the cabinet! Audio can be brought in via HDMI or the stereo analogue inputs.
The Optoma PT105 accepts HD (720p, 1080i/p), EDTV (480p), SDTV (480i), NTSC, and PAL inputs. Its native resolution is WVGA (854 x 480), which - though widescreen - is a bit disappointing. Of course, with a smaller screen (80" or so), it shouldn't be too bad. While this projector is obviously targeting those wanting to try out a projector for cheap, we think it still has applications in a dedicated (light-controlled) home theater. With more and more receivers coming out with dual HDMI outputs, we could see this projector used for everyday/kids use, while the "big" projector (and its expensive bulb) are saved for movie and HD viewing.
Conclusion
We can't stress enough the price. At $230, a price that is sure to come down closer to Christmas, the Optoma PT105 hovers around the cost of a replacement bulb for your dedicated home theater projector. We can see a dual projector setup with the Optoma PT105 used as a day-to-day projector providing a decent picture that is much larger and much cheaper than any flat panel on the market. Plus, you now have a portable projector which has more uses than we can count. At this size and price, the Optoma PT105 is practically a stocking stuffer for a home theater enthusiast.
For more information, please visit www.optomausa.com.

Unless otherwise indicated, this is a preview article for the featured product. A formal review may or may not follow in the future.
Patrick G. posts on February 17, 2012 10:58
Good review
Post Reply
Confused about what AV Gear to buy or how to set it up? Join our Exclusive Audioholics E-Book Membership Program!