Fuji EnviroMAX Environmentally Safe Batteries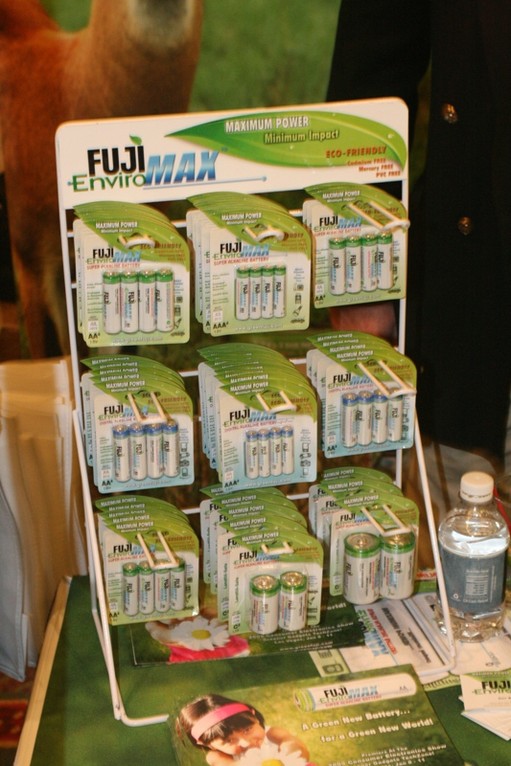 Fuji EnviroMAX Environmentally Safe Batteries
Summary
Landfill SAFE!
NO Harmful Elements
Packaged With Recycled Materials
More Power & Longer Lasting
Executive Overview
While much of the world is drifting towards Lithium-Ion or Lithium POlymer batteries, there are still plenty of devices that function off traditional alkaline technology. Most consumers never even give a thought to how batteries are made and certainly most don't heed the "absolutely under no circumstances ever throw these batteries in the trash" warnings that we've all ignored successfully for years. Enter Fuji EnviroMAX. They claim to have been dedicated to developing one of the most environmentally friendly batteries on the planet for twenty years. And now apparently they have actually produced something cool.
At one time, all batteries were made with mercury and cadmium, which are heavy metals. These heavy metals, along with other materials, are ultimately harmful to the environment when discarded in large quantities, ingested, or used as a dessert topping. Please don't do that, we're just kidding. Fuji decided they wanted to confront this environmental issue head-on, so they developed Fuji EnviroMAX to eliminate the use of materials like mercury and cadmium. Cool, now you can use your batteries and eat them when they run dry... OK, not really, but they ARE safe to throw away in the trash.
As long as they last as long as traditional batteries, have the same power (or more) and don't cost too much more this is going to be a great thing for battery technology. If it truly works, let's hope they license it to others so the process can be duplicated and spread industry-wide.
Fuji is hoping their EnviroMAX batteries will shortly be sold all over. Right now, however, they are currently being sold at Big Y Stores and Shop N Save. They are also available at Greenfuji.com.
For more info please visit www.greenfuji.com.

Like This? Check out our other
AV News
!
Confused about what AV Gear to buy or how to set it up? Join our Exclusive Audioholics E-Book Membership Program!
Recent Forum Posts:
davidtwotrees posts on January 10, 2009 09:05
That is cool. Fuji doesn't actually say what is in the batteries, but they do seem confident that they are a sight better than traditional batteries. Heavy metals are a nasty, nasty pollutant and is a bear to get recycled. Good for them.
Highbar posts on January 09, 2009 01:04
I hope that these do take off. This could be a great thing.
mtrycrafts posts on January 08, 2009 19:50
This was an interesting sentence at their web site

The materials that make up an Fuji EnviroMAX battery are derived from the basic elements of the Earth.

I thought mercury was too as is cadmium?
jamie2112 posts on January 08, 2009 19:28
This is very cool. I hope all the battery companies start this trend as well….
Post Reply