Energy Power EM-2.1 Multimedia Speaker System Preview
Summary
System Type
2.1 Multimedia system
Frequency Response
80Hz - 20kHz +/- 3dB
Power Handling
25 watts
Midrange
One 1.3" (3.3 cm) fiber composite cone driver
Subwoofer
One 3" (7.6 cm) front firing fiber composite cone / ported enclosure
Inputs
One 3.5 mm headphone input
Overall Dimensions
Satellite: 4.25" (10.8 cm) H x 2.25" (5.7 cm) W x 2.75" (7 cm) D
Subwoofer: 4.5" (11.4 cm) H x 5.25" (13.3 cm) W x 5.75" (14.6 cm) D
Weight
Satellite: .5 lbs / .23 kg
Subwoofer: 2.25 lbs / 1 kg
Finishes
Satellite: High Gloss Black
Subwoofer: Satin Black
Accessories
One 5 ft 3.5 mm headphone cable
Executive Overview
Computer speakers are a reality. You can't get away from them. Even if you are interested in quality sound, often your desktop will not accommodate larger speakers. You might look into stand or even wall mounts, but this can be impossible or impractical in many situations. Plus, if you are forced by IT to pick your system from an approved catalog, your options will likely be seriously curtailed.
While we don't know that the new Energy Power EM-2.1 Multimedia Speaker System will be available in one of those catalogs (or as an option when buying your Mac/Dell/whatever, we can hope. Energy has been known for quality speaker offerings for a long time and they have a very loyal following. Their new Power EM-2.1 speaker system looks to be a bit of a mixed bag, in our minds. First the upsides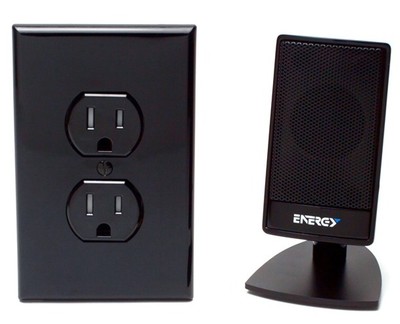 The new speaker system is, like many desktop solutions, 2.1. This means there are two, usually diminutive, satellite speakers paired with a bass module (often mislabeled as a "subwoofer"). As you can see from the picture above, the satellites are quite small (or that's the biggest outlet cover ever). This means that they satellites won't be taking up much desk real estate. Each satellite has a single 1.3" fiber composite cone midrange in a sealed enclosure. Both the satellites weigh just half a pound a piece and have a high gloss black finish.
The bass module (I'm not calling it a subwoofer and you can't make me) is actually designed to be placed on the desk. Even though it is quite small ( 4.5" tall by 5.25" wide by 5.75" deep and 2.25lbs), it sort of defeats the purpose of a desktop system to take up extra desk space. While Energy makes the argument that this means you won't have it taking up floorspace (which is true), most people have a lot more floor space than desk.
The Power EM-2.1 bass module sports a 3" fiber composite cone woofer in a ported enclosure (the port is front firing (like the driver) located just below the knobs. There are two controls on the front: one for volume and the other for bass. The entire system is rated from 80Hz to 20kHz, a claim we find dubious given the size of the drivers. Though, since they are intended for nearfield listening, it may be true at low volumes. Glancing at the back of the bass module, you'll find an RCA output for each satellite and a single 3.5mm input.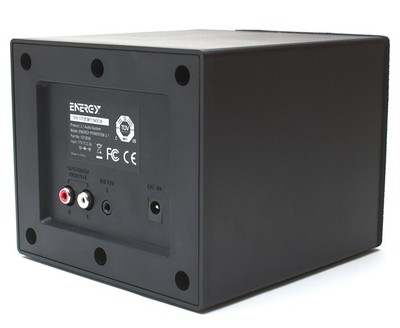 Here is where the "multimedia" part comes in. The 3.5mm input can be used for your computer, which is what most people would do. But it can also be connected to the headphone output of your iDevice, mobile phone, or other MP3 player. This makes the desktop placement of the bass module much more attractive. The included 60" 3.5mm cable will make placement a bit easier though it is confusing why the speakers have a gloss black finish while the bass module has a satin black given they are both supposed to be on the desk.
There are a few features we wish the Energy Power EM-2.1 system had. First, we always want to see a balance knob on desktop systems. You can't always place your speaker equidistant from your seated position. We'd also like to have seen at least one additional input and a headphone output. Without a headphone output, a desktop system is severely limited (especially in a professional setting). 
Conclusion
Regardless of our initial impressions, the Energy Power EM-2.1 Multimedia Speaker System is going to sell on two features - the name and the price. Sure, the small size is attractive to some, but there are tons of desktop solutions out there that are this small and many that have more post-modern design aesthetics. No, at $99.99, the name of Energy behind the Power EM-2.1 is going to push this speaker system into the black. Simply because they are priced low enough that most of the rest of the competition is some no-name brand. Honestly, if we only had a C-note to spend, we'd take a hard look at these as well. At least we think they will listen to them before shipping while those no-name brands most likely just have the cheapest drivers shoved inside the cheapest enclosure with no thought at all to sound quality.
For more information, please contact www.energy-speakers.com.
Confused about what AV Gear to buy or how to set it up? Join our Exclusive Audioholics E-Book Membership Program!
Recent Forum Posts:
caper26 posts on June 23, 2012 09:42
ObsceneJesster posts on November 23, 2011 09:58
gtpsuper24, post: 842667
So much better options out there than this. It looks dated like something from the '90s. 3" subwoofer? Really. For people who want cheap plastic speakers theres plenty to choice from Logitech, Creative, Antec, Eagle. Don't see much of a market for these.
Energy is not making these speakers. It is Klipsch and Audiovox ruining the Energy name that a lot of people grown to love. Audiovox ruins everything it touches and turns it into a cheap POS.
gtpsuper24 posts on November 21, 2011 14:35
So much better options out there than this. It looks dated like something from the '90s. 3" subwoofer? Really. For people who want cheap plastic speakers theres plenty to choice from Logitech, Creative, Antec, Eagle. Don't see much of a market for these.
its phillip posts on November 20, 2011 22:49
Sad to see Energy produce some poop like this
Post Reply