McIntosh MXA60 Integrated Audio System First Look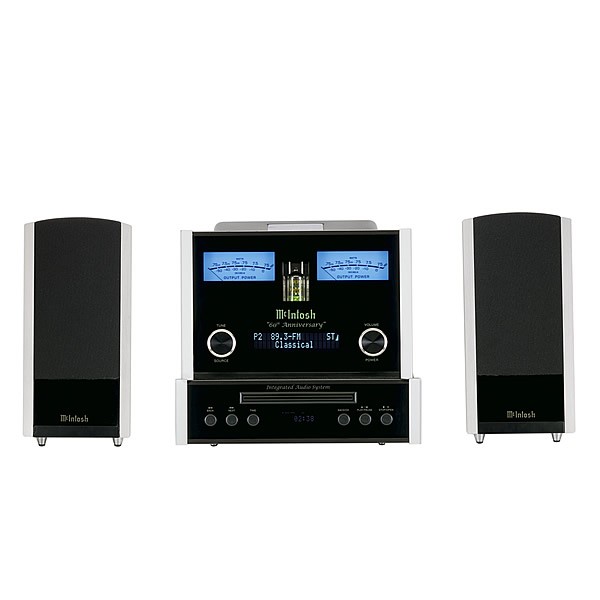 McIntosh MXA60 Integrated Audio System
Summary
75 Watts/Channel Output
Two-way Loudspeaker System
Cast Aluminum Loudspeaker Construction
Loudspeaker Tilt
CD/SACD Player
24-bit, 192kHz Sampling Burr Brown DAC
AM/FM Tuner with RBDS Display
Custom IR Remote Control
Balanced and Unbalanced Audio Input
Line Level Output
Vacuum Tube Preamplifier
ThermalTrak™ Output Transistors
Power Guard
Two line Vacuum Fluorescent Display
Illuminated Output Watt Meters
R-Core Power Transformer
Headphone Jack
Executive Overview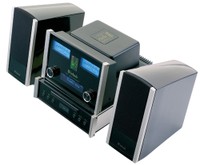 What do you get for the audiophile with everything this Christmas? They already have amps galore, cutting edge processors (meaning it actually has HDMI), power cables as thick as a baby's arm, and a record cleaning machine to keep their vinyl in all of it's pristine, scratchy, glory. They've got racks, stacks, and isolation. They have speakers that cost more than most cars, amps that require forklifts to power them, and a closet full of discarded gear that would make any self respecting Audioholic weak in the knees. They don't have any room treatments but they're sure they do need them. So what to do?
McIntosh has the answer. The MXA60 Integrated Audio System is a standalone tabletop system complete with a CD/SACD/MP3 player, 75-watts per channel amplifier, and speakers. This system is for the true connoisseur of high end audio. The preamplifier is tube powered (yeah!) and the speakers are two-way bass reflex.
What has always distinguished McIntosh, of course, is their look. The MXA60 doesn't disappoint. The case is all metal with anadized aluminum accents. The front analogue gauges (a virtual requisite for any piece of McIntosh gear - someday they'll release a speaker with these) are present with that trademark (and quite comforting) blue backlit glow. You rarely need to see a logo to know that a piece of gear is constructed by McIntosh and the MXA60 is no different.
The 75 watt per channel sports a number of McIntosh features including:
75 watt per channel, complementary-balanced amplifier
ThermalTrak™ Output Transistors - for improved bias stability and enhanced low level linearity
Sentry Monitor fuse-less short circuit protection
Power Guard anti-clipping circuit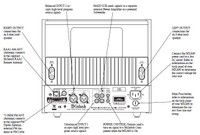 The hybrid preamplifer sports tubes, input switching (both balanced and unbalanced inputs are accepted), tone controls, 24-bit, 192kHz sampling Burr Brown DACs, and more. The solid state input circuitry is designed to eliminate noise with the vacuum tubeassisted line stage provides that classic sound that McIntosh (and tube) lovers crave.
While the inclusion of MP3 support is probably more a nod to the times and the quickly diminishing ability of the public to recognize good sound, the real audiophiles are interested in both the redbook CD and SACD support. There is a tuner on board as well for terrestrial radio enjoyment.
When you flip the MXA60 around, you'll find two inputs (one balanced, one unbalanced), speaker terminals, remote power outputs (for turning on/off gear with the MXA60), and analogue RCA outputs. You can use only one of these outputs if you want to add a subwoofer to the included speakers. The speakers are rear ported with a bottom that is actually cut on an angle so that they speaker naturally points slightly up. McIntosh included a integrated stand so that the speaker could be leveled for a more standard orientation. The speakers have a 3/4" titamium dome driver and 4" woofers and boasts response down to 45hz (which would be very impressive indeed).
The strange thing about the MXA60 is that it includes the analogue RCA outs for use with an external amp. It seems to us that if you paid $7500 for an integrated McIntosh system that you'd want to use the fabled McIntosh amps. Plus, it would be sad if those little needles just sat there. We're pretty sure most McIntosh owners would consider that a mortal sin.

Unless otherwise indicated, this is a preview article for the featured product. A formal review may or may not follow in the future.
Confused about what AV Gear to buy or how to set it up? Join our Exclusive Audioholics E-Book Membership Program!
Recent Forum Posts:
Johnny2Bad posts on January 03, 2016 21:56
There are people who can afford nearly $10K for a compact music system, and there are those who can't. I don't think it's much of a stretch to say that regardless of which one you are, you know which one you are.

If I were one of those who could afford it without sacrificing some other necessary purchase, I probably would buy one of these, actually.

Before I retired (due to health issues) I worked with many clients for whom this system is easily affordable, and if they asked, I'd tell them to buy one.

Alas, I'm not in the same financial reality as pretty much any of my clients. The 7,500 clams I'd need to put this unit in my living room (heck, let's put it in the bedroom and something else in the living room) would represent a fairly large percentage of my annual income.

But, I'm not going to go into a "don't review this megabuck stuff, please" rant. I actually like reading about stuff I can't afford; doesn't everybody know you need something to dream about?
dsimmons posts on April 18, 2012 19:37
If you are using a digital music from a ipod or apple tv you are not a McIntosh customer or care about music. Heres a thought try a turntable or a sacd. If you want digital media buy a sonos!! McIntosh is made in the USA!!! not china. The transformers are all hand made. If mp3 is your idea of sound quality you don't get it.
Shock posts on January 07, 2010 19:23
Just got some nice red rep from someone who said, and I quote.

"not for us with money and smaller brains than U"

Well he was right about the smaller brain thing.
haraldo posts on January 07, 2010 04:17
Shock, post: 670839
You guys are forgetting, it also comes with a free rectal exam, since you're going to need it after that price tag is done with you.
If I bought something like this my girlfriend would send me to a hospital where I would be treatet by doctors wearing white jackets.
Buying a system that's so absolutely not future proof would be quite crazy
Shock posts on January 06, 2010 15:07
You guys are forgetting, it also comes with a free rectal exam, since you're going to need it after that price tag is done with you.
Post Reply