PSB Speakers Imagine T Tower Speaker First Look

PSB Imagine T Tower Speakers
Summary
Frequency Range
On Axis @ 0° ±1.5dB
42-20,000Hz
On Axis @ 0° ±3dB
38-23,000Hz
Off Axis @ 30° ±1.5dB
42-10,000Hz
Lf Cutoff -10dB
35Hz
Sensitivity
1w (2.83V) @ 1m, IEC-filtered Pink Noise, C-weighted
Anechoic Chamber
88dB
Typical Listening Room
90dB
Impedence
Nominal
4 Ohms
Minimum
4 Ohms
Input Power
RMS, Clipping < 10% of the Time
Recommended
20-200 Watts
Program
200 Watts
Acoustic Design
Tweeter (Nominal)
1" (25mm)
Titanium Dome with Ferrofluid
Woofer (Nominal)
2 x 5 1/4" (135mm) Woofers
Clay/Ceramic filled Polypropylene Cone,
Rubber Surround
Crossover
1,800HZ, LR4,800Hz
Internal Volume Design Type
1.0 cu ft (29 liter)
Dual Port Bass Reflex
Size (W x H x D)
Millimeters
210mm x 945mm x 346mm
Inches
8 1/4" x 37 3/16" x 13 5/8"
Net Weight
Kilograms
18.5 kg /each
Pounds
40.6 lb /each
Shipping Weight
Kilograms
23.6kg /each
Pounds
52 lb /each
Finish


Black Ash or Dark Cherry
Wood Veneer
Executive Overview

There are a number of companies that are known for their use of the National Research Council. The NRC is a Canadian research institute where Canadian speaker manufacturers love to go to test out their speakers. The NRC facilities host a ton of different research projects, but for speaker manufacturers, it really comes down to three places - the facility's anechoic chamber, the measurements lab immediately outside the chamber, and the two carefully designed listening rooms. With these resources at their disposal, Canadian speaker manufacturers tend to have more specs and more specific measurements than just about any other speaker manufacturer out there. 
PSB Speakers (stand for Paul and Sue Barton, the founders of PSB) is one example. If you take a glance at the specs of their Imagine T floorstanding loudspeakers, you'll see not only a frequency response with a measurement error of 3dB (typical) but also of 1.5db and a 30 degree off axis measurement. This is the sort of information you only share if it looks really good - and in the case of the Imagine T, it does. But first, let's take a look at them.
The PSB Imagine T towers are fairly diminutive as towers go. They weigh in at a slight 40.6 pounds and are just over 37" high, 13.5" deep, and 8.25" wide. The light weight means you won't have trouble moving them around. They are equipped with outriggers with either rubber nubs (for tile/wood floors) or spikes (for carpet) so their narrow width doesn't make them unstable. As many speakers are these days the Imagine T's have a rounded cabinet that is narrower in the back than the front. This is to combat standing waves in the cabinet. PSB achieves this design by using up to seven layers of laminated 3mm-thick MDF. The front baffle is reinforced to 1.5" thick. The real wood veneer is available in Black Ash or Dark Cherry (shown).
Taking a look at the back, you'll notice two ports. The top one comes from the factory with a molded rubber plug installed. You can switch the port plug between the two ports or order additional plugs from PSB.  There are dual sets of five-way binding posts on the back (installed vertically) for bi-amping the tweeter/midrange and the woofer separately (or if you have extra wire lying around, you can bi-wire them). On the front, you'll fine a classical TMM driver arrangement (though it really is a TMW as the top woofer is functioning as a midrange in this speaker). The tweeter is a 1" titanium dome with ferrofluid. We don't know what it is with the Canadians but they sure love their titanium dome tweeters. The woofers are 5.25" and have cones that are constructed out of a clay/ceramic filled polypropylene. They also sport bullet-shaped aluminum phase plugs. The drivers are all flush mounted to the front baffle with no visible fasteners. There is full-face speaker grill which connects via the normal post method. With the driver's fasteners all hidden, it seems a shame that PSB didn't decide to use magnets. This would have made for a completely clean face with the grill off.
But what it is all about with speakers is how they sound (though like a potential mate or car, looks get you in the door). The Imagine T speakers were measured on and off axis. They are rated from 42Hz to 20kHz on axis with 1.5dB of variance at as low as 38Hz -3dB. At 30 degrees off axis you'll see a 10Hz drop off on the top end from the 1.5dB variance on-axis response but everything else is the same. This is a remarkable figure provided it can be realized in-room. Having the top-end drop off slightly off axis is a good way to "tune" the speakers for the listener's preference. Those that prefer a brighter, more lively sound can have them pointed directly at them. Those looking for a more laid back sound can have them pointed more forward. The low point of 42-38Hz (with a cutoff of 35Hz) means that you'll have plenty of bass for most music reproduction though you'll want to upgrade to a sub (or two or three) for movies.
While the PSB Imagine T speakers are rated at a 4-ohm nominal impedance - something that might give owners of mid-line receivers pause - they are also rated at a minimum impedance of 4-ohms. One problem with speakers rated at a nominal 4-ohms is that they often dip well below. This can take less robust amps by surprise and cause no end of havoc. With a minimum of 4-ohms, that means that likely the speakers stay well above that for much of the frequency range ensuring that mid-line receiver owners should be able to drive them without much of a problem. 
Conclusion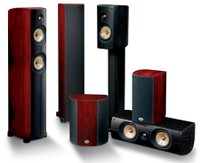 The PSB Speakers Imagine T tower floorstanding speakers look to be quite a lot of speaker for the $2000 a pair asking price. We recently conducted a single-blind $1500-$2000 Floorstanding Speaker Shootout and really wish we could have had the Imagine T speakers represented (they didn't exist at the time). From an aesthetic standpoint, they are quite something to behold. We like all the thought that went into the design (especially the included outriggers) though we would have preferred to see a magnetic grill. The measurements look to be very robust and highly impressive considering the price. Of course, the Imagine line from PSB isn't just the T's (stands for Tower). It includes the B (bookshelves) for $1000 a pair, the S (surrounds) for $1200/pair, and the C (center) for $800 each. A full 5.0 system is going to put you back $4000 for the T's or $3000 with the B's. While not an entry level system by any means, it is well within reach of most dedicated Audioholics.
For more information, please visit www.psbspeakers.com.

Unless otherwise indicated, this is a preview article for the featured product. A formal review may or may not follow in the future.
coilman posts on October 08, 2010 13:41
interested

audition and sounded great —knowing how it stacks up to testing will be very valueable
3db posts on October 08, 2010 10:06
Being a PSB fanatic, I sure hope Audioholics runs this through their battery of tests unlike relying on a 3rdparty object review that was done on the Alpha's a few years back.
Post Reply
Confused about what AV Gear to buy or how to set it up? Join our Exclusive Audioholics E-Book Membership Program!