Koss Fit Series KSC32 and KEB32 Headphones - Designed for Women, By Women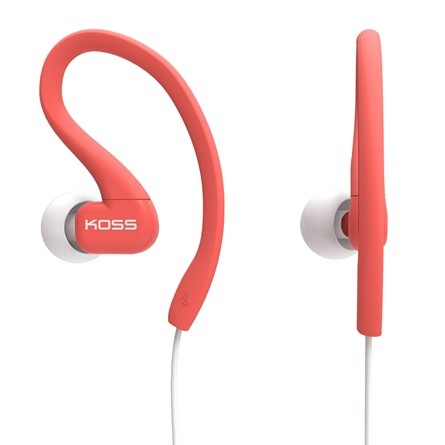 Koss FitClips Headphones
Summary
FitClips
Frequency Response 15-20,000 Hz
Impedance 16 Ohms

Sensitivity 104 dB SPL

Cord Straight, Dual Entry, 4ft w/ 3.5 mm plug
FitBuds
Frequency Response 15-20,000 Hz
Impedance 16 Ohms

Sensitivity 104 dB SPL

Cord Straight, Dual Entry, 4ft w/ 3.5 mm plug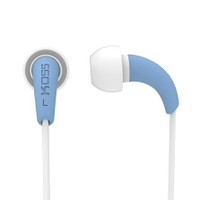 So we just missed Mother's Day with this one, but Koss has released two new headphones with not only women in mind, but actually designed by women. According to Koss, they had their female designers (one hopes that they didn't have to go out and hire some) pair with one of the country's most famous female athletes, Olympian Dara Torres, to design the new Fit line. They've produced two new headphones in colors that are sure to appeal to women and dissuade men.
The Fit line has two offerings. First, the KEB32 In-Ear headphones are your typical earbuds. They go by the moniker Fitbuds. These are the smallest earbuds that Koss has ever created at only six millimeters in diameter. This is 33% smaller than the average Koss earbud. The drivers are surrounded by a dual-injected, soft-rubberized housing that is intended to fit perfectly in the female ear. The renderings show a soft tip and we image that Koss will include a variety of sizes for the perfect fit. The FitBuds have a sweat-resistant coating for use during workouts.
The KSC32 Ear Clip Headphones go by the moniker FitClip. While the name suggests that they attach somewhere on your person, they actually only have an ear loop to keep them in place. We have found that this design is best for vigorous activity like running. Like the KEB32 FitBuds, the FitClips sport a sweat-resistant coating. This time Koss has specified that the FitClips have three different sizes of ear cushions though they did not say that the driver is as small as the one in the KEB32. They also say that the FitClips are ported. We believe these are basically the same headphones except with a different form-factor.
Both the FitClip and the FitBud retail for $30. They both have identical specifications with a frequency response down to 15Hz, a 16 Ohm impedance, 104dB sensitivity, and a four foot cord. There are no provisions for microphones or in-line controls which is to be expected at this price point. Both the headphones come in a red, purple, blue, yellow, and what my wife assures me is teal. All the colors are more pastel than bright and vibrant from what we can tell from the website except for the yellow which looks similar to a highlighter.
We think that Koss has a great idea on their hands here with one caveat. First, pairing with Dara Torres is a great idea as her influence is sure to bring many consumers to the table. The colors and form factors are sure to pull many women as is the targeted design and marketing. While we know a lot of women that exercise and we've never heard any of them claiming their earbuds were too large, we're sure it is the case for many. But the caveat comes in that targeting.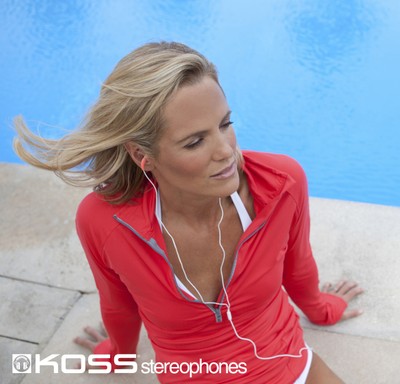 The fact is that some men have a hard time finding earbuds that fit properly. Targeting the Fit series only at women seems a missed opportunity. If they had released at least one color that men would have been comfortable wearing, we believe they may have expanded their potential customers. Perhaps Koss has plans for a new line of headphones for men. Perhaps with someone with a small head for a spokesperson. Like Paul Simon...or me.
Conclusion
Women who love to exercise but can't find earbuds that fit need to worry no longer. Koss's new Fit Series headphones with the KEB32 FitBuds and KSC32 FitClip earbuds are built in conjunction with Dara Torres just for you. Sweat resistant, colorful, and only retailing for $30, we may be seeing these pastel-colored earbuds in every gym from now on. Koss has started a "Fit for Life" promotion with Dara Torres where you can win headphones, autographed items, and chances to ask Torres for advice on how to maintain a fit lifestyle. Look for the "Fit for Life" promotion on all the major social networks.
For more information, please visit www.koss.com.

Unless otherwise indicated, this is a preview article for the featured product. A formal review may or may not follow in the future.