Krell Illusion and Illusion II Stereo Preamplifiers Preview

Krell Illusion Preamplifier
Summary
Illusion
Inputs
2 pr. CAST via 4-pin bayonet connectors
2 pr. balanced via XLR connectors
3 pr. single-ended via RCA connectors
Tape input
1 pr. single-ended via RCA connector
Main outputs
2 pr. CAST via 4-pin bayonet connectors
1 pr. balanced via XLR connector
1 pr. single-ended via RCA connector
Subwoofer outputs
1 pr. balanced via XLR connector
1 pr. single-ended via RCA connector
Tape outputs
1 pr. single-ended via RCA connector,buffered
Control inputs
1 RS-232 input via a 9-pin D-subminiature connector
1 remote IR detector input via a 3-conductor 3.5 mm connector
1 12 VDC trigger input via 3.5 mm connector
1 preamplifier link via an RJ-45 connector
Dimensions
Preamplifier only:
17.3 in.W x 3.8 in. H x 18.3 in. D
43.8 em W x 9.7 em H x 46.4 em D
Power supply only:
17.3 in. W x 3.8 in. H x 17.7 in. D
43.8 em W x 9.7 em H x 44.8 em D
Preamplifier and power supply:
17.3 in. W x 7.6 in. H x 18.3 in. D
43.8 em W x 19.2 em H x 46.4 em D
Weight
Shipped: 61 lbs., 27.6 kg
Preamplifier only: 18 lbs., 8.1 kg
Power supply only: 28 lbs., 12.7 kg
Illusion II
Analog Inputs
2 pr. balanced via XLR connectors
3 pr. singleended via RCA connectors
Digital Inputs
1 AES/EBU via XLR connector
2 coaxial via RCA connectors
2 optical via Toslink connectors
Main outputs
1 balanced via XLR connectors
1 pr. single]ended via RCA connectors
Headphone output
1 via 3-conductor 6.35 mm (1/4 inch) connector
Control inputs
1 RS-232 input via a 9-pin D-subminiature connector
1 remote IR detector input via a 3-conductor 3.5 mm connector
1 12 VDC trigger input via 2-conductor 3.5 mm connector
Control outputs
2 individually programmable 12 VDC trigger outputs via 2-conductor 3.5mm connectors (30 mA maximum per output)
Dimensions
Preamplifier only:
17.3 in.W x 3.8 in. H x 18.3 in. D
43.8 em W x 9.7 em H x 46.4 em D
Weight
Shipped: 38 lbs., 17.2 kg
Preamplifier only: 23 lbs., 10.4 kg

When Krell announced their new iBias amps, it was a safe bet that they'd be releasing some sort of new processor in the near future. That future is today with Krell's announcement of the new Illusion and Illusion II stereo preamplifiers. To get the question of whether you should put these on your Christmas list out of the way, the Illusion will retail for $15,000 and the Illusion II for the bargain price of $7000.
Once again, if you have to ask, you can't afford them.
The Illusion is the flagship of the line and actually comes in two parts. This continues Krell's tradition of separating the power supply into a separate box in their flagship preamplifiers. The power supply includes a 290 VA transformer and 41,600µF of capacitance which is far more than the preamplifier will ever need (this is by design according to Krell). When not in use the power supply only draws 2W.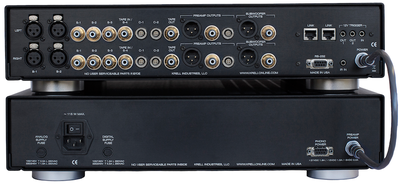 Illusion and its power supply from the rear

The Illusion is a fully analog preamp featuring two sets of balanced XLR inputs, three single-ended RCA inputs, and two pairs of CAST, 4-pin bayonet connectors. CAST connections are unique to Krell and allow you to reduce the number of voltage gain stages to one when you use all Krell gear (source, preamp, and amp). According to Krell, a complete system using the bayonet connectors will result in a noise floor that approaches the theoretical limit of technology.
There is an RCA tape input and output making it easy to integrate this preamp into a full multichannel system. Outputs include RCA single-ended, XLR balanced, and 4-pin bayonet for each channel plus dual subwoofers. According to Krell, the crossover circuitry is optional (and will likely cost extra) which is probably exactly what audiophiles want. If they aren't going to use the crossover, they wouldn't want the boards present. Those that opt for the crossover will be able to set crossover frequencies (40Hz, 55Hz, 75Hz, and 100Hz) and filters (12dB, 24dB, and 48dB Butterworth or 24dB Linkwitz-Riley). 
The Illusion preamplifier includes RS-232 control for integration into home automation, an IR input, one 12 volt trigger input and two outputs, and two "Link" connections that look like Ethernet ports. In the specifications, they say that these are "preamplifier" link connections (in and out). The power supply connects to the preamp via a short cable and there are separate fuses for the digital and analog portions of the preamp. A 9-pin phono power connection is included on the power supply box as well.
It's not that they didn't have room in the box for the power supply, they just didn't want it in there

The Illusion II is not, as you might expect, the Illusion with the power supply included in the same chassis. Instead, the Illusion II moves away from all analog and adds digital connectivity to the mix. The Illusion II has the same set of analog inputs as the Illusion (two balanced XLR and three RCA) but instead of the 4-pin bayonet connections and tape loop it has one AES/EBU connection (terminates the same as an XLR connector), two coaxial digital audio, and two optical digital audio inputs. The digital inputs accept up to 24 bit/192kHz LPCM. All digital signals are fed to an ESS Sabre DAC and then sent to Krell's Current Mode, discrete, balanced analog circuitry.
(Use Your) Illusion II

Outputs include XLR and RCA for the mains but there are no subwoofer outputs of any kind. Control connections are the same and include RS-232, an IR input, and one 12-volt trigger input and two outputs. The other change from the Illusion is that Illusion II has a headphone output on the front. While not as large as the Illusion, the Illusion II's power supply features a 95 VA transformer and 40,000 µF of capacitance which is still oversized for what it needs. Again, standby draw is only 2 watts.

Conclusion
Krell honestly believes that completely different people are shopping for their Illusion and Illusion II preamplifers. The Illusion shopper wants an all-analog solution with proprietary Krell connections and the ability to add a crossover for a subwoofer (or two). The Illusion II shopper wants digital connections, a headphone output, and no subwoofers. Now, we're not saying there isn't a way to add a sub to the Illusion II (you could certainly use the subwoofer's crossover), but Krell didn't think the Illusion II's customers would want that functionality as part of the preamp. We can't say we agree with them, but they should know their customers best. We certainly don't know many people that would drop $15,000 on the Illusion or $7000 on the Illusion II.  Do you?

For more information, please visit www.krellonline.com.

Unless otherwise indicated, this is a preview article for the featured product. A formal review may or may not follow in the future.