Mitsubishi Digital Electronics Diamond Series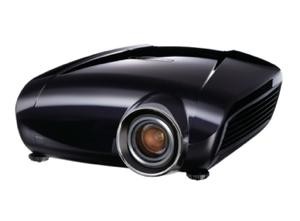 Mitsubishi Digital Electronics HC7000
Summary
Product Name:

Diamond Series

Manufacturer:

Mitsubishi Digital Electronics

Review Date:

January 09, 2009 01:00

MSRP: $2,995 - $3,995
First Impression:

Pretty Cool
Executive Overview
Mitsubishi Digital Electronics America's Presentation Products Division showed off its Diamond Series of projectors today at CES. The Diamond Series of projectors includes Mitsubishi's new flagship home theater projector, the HC7000U, and the HC6500U. These HD projectors are designed for home theater aficionados who want to recreate a professional movie theater experience. They boast a new sleek and highly stylized design with a rich deep blue cabinet in either a piano-like high gloss or a matte finish. They are also two of the quietest projectors on the market today, emitting only 17 dBa in low mode.
The flagship HC7000 HD projector has an ultra-high speed Diamond Black automatic iris. This Diamond Black iris takes on a "diamond-cut" shape that prevents light refraction, and when combined with new polarization panels that help prevent any light leakage, the projector creates one of the highest contrast ratios available in a projector of this caliber. At 72,000:1, this native 1080p projector produces rich details, deep blacks, and great depth and dimension that are obvious in dark scenes like those in classic film noir and action films.
The HC6500 projector boasts a 15,000:1 contrast ratio that also increases depth and detail in dark scenes. Its automatic iris function for quick black-to-light image shifts provides dynamic, smooth transitions between light and dark scenes and sharp overall details in dark video images. The HC7000's 1000 ANSI lumens and the HC6500's 1200 ANSI lumens provide perfect brightness for dedicated home theater environments.
Viewing widescreen 2.35:1 aspect ratio films is simple and easy with both new projectors; each provides Anamorphic Lens Modes 1 and 2 support. In the past, users needed an expensive lens railing or tracking apparatus to install or remove an anamorphic lens, depending on the desired 2.35:1 or 16:9 film aspect ratios. With the HC7000 and HC6500 users can now simply position an anamorphic lens permanently in front of the projector lens and select the appropriate Anamorphic Mode 1 or Mode 2, either 2.35:1 or 16:9 aspect ratios, for the corresponding movie format. It's a simple and economical design that saves time and effort while providing the ultimate home theater viewing experience.
Mitsubishi incorporates the HQV (Hollywood Quality Video) high-performance video processor, the Reon-VX video processing chip, into each projector. Reon-VX's HQV processing delivers sharp, detailed HD images by using features such as true 1080i-to-1080p HD deinterlacing and a sophisticated multidirectional diagonal filter that helps ensure video is free from jagged edges. HQV also makes standard definition material approach HD quality by employing advanced scaling, per-pixel detail enhancement and noise reduction technology to remove noise and artifacts caused by compression.
Two HDMI version 1.3 inputs provide easy set-up options for multiple video inputs. The projectors' 3 LCD technology delivers unbelievable color, amazing detail and road-tested reliability. Using a durable, advanced inorganic three-panel design, Mitsubishi's HC7000 and HC6500 produce rich and vibrant colors with extraordinary details for outstanding picture quality.
With a lamp life estimated at up to 5000 hours in low mode, Diamond Series projector owners won't have to change lamps often, but when it does become necessary the new design makes replacement quick and easy. Users simply switch lamps through an easily accessible lamp housing without disassembling the mounting structure or other physical handling of the projector.
These new projectors are available exclusively through custom home theater systems integration and high-end retail channels. The suggested retail price of Mitsubishi's HC7000 and HC6500 are $3,995 and $2,995 respectively and both will be available this month through authorized Mitsubishi dealers; the HC6500 will also be in Best Buy - Magnolia Home Theaters. Each projector comes with Mitsubishi's two-year limited warranty on parts and labor plus a one-year limited warranty on the lamp.
For more information, please visit www.mitsubishi-hometheater.com
Confused about what AV Gear to buy or how to set it up? Join our Exclusive Audioholics E-Book Membership Program!
Recent Forum Posts:
mperfct posts on January 09, 2009 11:13
I love my HC6500. It's quiet, great picture, and is razor frickin sharp. I'm sure the HC7000 would be pretty nice too, but for what I paid, I don't think the difference merited the $1500 price diff.
Post Reply