Integra DTR-30.5 AV Receiver Preview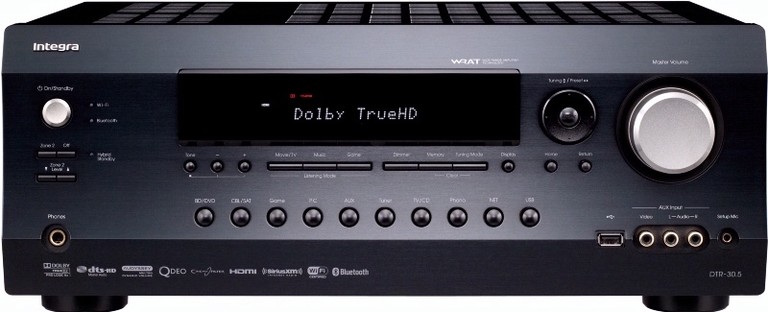 Integra DTR-30.5 Reciever
Summary
PROCESSING

Dolby TrueHD, Dolby Digital Plus Decoding
DTS-HD Master Audio, DTS-HD Express Decoding
DTS Neo:X (Front High / Wide Channels)
Dolby Pro Logic IIz (Front High Channels)
Dolby Volume
THX Processing Modes & Loudness Plus
THX Media Director Pass-through
Digital Processing Crossover Network
Differential DAC Mode for Front Channels
Audyssey Room Correction & Calibration MultEQ
Audyssey Sub EQ HT
Audyssey MultEQ Pro / Installer Ready
Audyssey DSX (Front High / Wide Channels)
Audyssey Dynamic EQ & Dynamic Volume
Audyssey Movie / Music Modes
GAME Surround Modes
(Rock, Action, Sports, Role Play)
Advanced Music Optimizer to Enhance
Compressed Audio Files
DSD Processing / Direct Mode
192K / 24-Bit Audio DAC
192K / 32-Bit Audio DAC
Vector Linear Shaping Circuitry (VLSC)
32-Bit DSP Chip for Advanced Processing
Ultra-Low-Jitter Circuitry to Improve Audio
Adjustable Crossover by Channel Pair 40/45/50/55/60/70/80/90 100/110/120/130/150/200 Hz
Accurate Speaker Distance Setting 0.2-foot
A/V Sync Delay (by Source) 800ms
Manual Speaker EQ
ISF Certified Calibration Controls (ISFccc)
Picture Control Settings per Source

CONNECTIVITY

HDMI Support for 3D, Audio Return Channel and CEC
HDMI Support for Deep Color, x.v.Color, LipSync
HDMI Support for DVD-Audio, SACD, Multichannel PCM
HDMI Inputs / Output(s) 6 / 2
Front Panel HDMI Input
MHL (Mobile High-Definition Link) Rear
InstaPrevue Technology (PIP for HDMI Sources)
Analog to HDMI Upconversion From 480i/576i (Qdeo by Marvell)
1080p Upscaling
Qdeo by Marvell
4K Upscaling
Qdeo by Marvell
4K Passthrough
D-Sub (15-pin) VGA Input
Component Video Inputs / Output(s) 2 / 1
Component Video Upscaling & Upconversion
Composite Video Inputs / Output(s) 5 / 1
Digital Audio Inputs (OPT / COAX) 1 / 2
Analog Audio Inputs / Output(s) 6 / 0
Phono Input
Front Panel A/V Input
Multi-Channel Input
Analog Pre-outs 7.2
iPod/iPhone/iPad Ready Via Optional DMI-40.4
Airplay Ready Via Optional DMI-40.4
HD Radio




AMPLIFIER

Channels 7.2
POWER (8 Ω 20-20kHZ 0.08%) / CH 95
POWER (8 Ω 20-20kHZ 0.05%) / CH
Amplifier Frequency Response (WRAT) 5Hz - 100kHz
THX Certified
Continuous 6 Ω Rated
Certified 4 Ω Performance
Discrete Output Stages for All Channels
PUSH-PULL Amplifier Design
3-Stage Inverted Darlington Circuitry


Front & Center Channels
Independent Block Construction (Amp/Preprocessor)
Shielded Toroidal Transformer
Independent Power Supply 2
High Quality Extruded Aluminum Heatsink
Bi-amp Capability For Front

NETWORK

Supports Onkyo Remote Apps for iPod/iPhone and Android-Powered Devices
Network Audio Steaming (DLNA v1.5 Certified)
"Home Media" Sharing Apple Lossless, DSD, Dolby TrueHD Playback via Network
Pandora, Rhapsody, SiriusXM iRadio, TuneIn
Spotify, Slacker, Aupeo!, last.fm
USB Input for Streaming Audio Front
Wireless Network Ready
Wi-Fi-Certified
Bluetooth Ready
Built-in Firmware Updates via Network / USB
Firmware Update Notification

MULTIZONE

Powered Zone 2/ Zone 3 / Zone 4
Fixed or Variable Zone 2 / Zone 3 / Zone 4 Line Out
Zone 2 / Zone 3 Subwoofer Output
Zone 2 Video Output

INTEGRATION ACCESS

Bi-directional RS-232 Control Port
Bi-directional Ethernet Control Port
Rear Panel IR Input / Output 2 / 1
RIHD (Remote Interactive over HDMI)
RI System Control
12V Trigger (w/adjustable delay) Assignable (x3)

MISC

Pre-programmed / Learning Remote
GUI for Remote Control Programming
GUI for Setup Menu
Home Menu / Quick Setup Menu
Bi-directional Remote Control Setup
Activity Remote
(MY MOVIE, MY TV, MY MUSIC, ALL OFF)
Input Name Edit
HDMI Standby "Through" Mode
Assignable
Setup Store & Recall Function
Screensaver Function
Hybrid Standby to Reduce Power Consumption
Solid Aluminum Front Panel
Aluminum Volume Knob
Sand Finished
Detachable AC Cord
Rack Mount Kit Available IRK-155-3C
Warranty 3 YEARS
Executive Overview
Integra has announced their "first" wireless AV receiver. And of course they mean "first for us" wireless AV receiver. But that's still news worthy of reporting as Integra is one of the premiere custom installer brands and an arm of Onkyo—long known for their feature-rich consumer offerings.
The Integra DTR-30.5 is a 7.2 channel, 95 watts per channel AV receiver. It is rated down to 6 ohms, features discrete outputs stages for all channels, and a push-pull amplifier design. The front and center channels have three-stage inverted Darlington circuitry and the receiver has two independent power supplies. It weighs in at a respectable 28.7 pounds.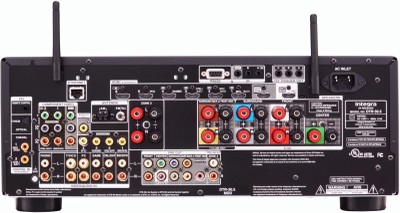 The back of the Integra DTR-30.5 is fairly well laid out with enough room to navigate while still having plenty of room for all the required connections. There are six HDMI inputs and two outputs, two component video inputs and one output, and a number of composite inputs (five if you count the front) and one output. There are six pairs of analogue stereo inputs, one optical and two coaxial digital audio inputs, and a two-way RS-232 port (important for custom installations). The HDMI inputs support 3D, ARC, and CEC. There is a MHL (Moble High-Definition Link) compatible input on the back as well (these are often included on the front for ease of use). InstaPreview technology will make switching HDMI inputs quicker.
Integra and Marvell have long has a relationship and the DTR-30.5 is no different. Featuring Qdeo upconversion, the DTR-30.5 will upconvert all your inputs to HDMI and upscale them up to 4k (1080p is, of course, still available). 4K pass-through is supported as well. Dolby Pro Logic IIz is supported for height channels which can be powered internally through or externally through pre-outs. The DTS and Audyssey versions of height/width channels are not supported. Pre-outs are available for all 7.2 channels for adding an extra amplifier. There is a front USB port for connecting your portable device, smartphone, or flash drive.
Of course, the DTR-30.5's claim-to-fame is its wireless. Sporting two antennas, it is not only wi-fi compatible but Bluetooth which means it can connect to your friend's phone without you having to give out your wi-fi password (or give them full access to the receiver). The DTR-30.5 can playback FLAC, DSD, ALAC, HD 24/96 and HD 24/192 formats from HD music download services. It can stream content natively from Spotify, Pandora, Rhapsody, SiriusXM, Internet Radio, and Tune In. For those that prefer the speed of a wired connection (and have access to one), an Ethernet port is included.
Audyssey's MultEQ is on board but not the newer XT version (much less the XT32). Sound quality is important, though, as the DTR-30.5 has 192K / 24-Bit Audio DACs on board. For vinyl lovers, the DTR-30.5 has a phono input. The DTR-30.5 supports two zones of audio and has dedicated speaker terminals for the second zone making switching configurations easy. Pre-outs are also available for Zone 2.
Conclusion
The $1000 Integra Audio DTR-30.5 Wireless Receiver is a first for the company. It is not only Wi-Fi compatible, but Bluetooth is supported. With pre-outs for Zone 2, height channels, and adding external amplification, this is a receiver that should be right at home in most installations. Marvell Qdeo upconversion and scaling to 4K, MHL, InstaPreview, and more should appeal to those that care more about features than power. But, of course, the Integra DTR-30.5 has power as well. With 95 watts per channel, a two-way RS-232 port, legacy video connections, and three 12 volt triggers, installers are going to love this receiver. At $1000, consumers aren't going to be afraid of the price. Add in the savings from having to run an Ethernet cable to you home theater, and the Integra DTR-30.5 may be a home run for the company.
For more information, please visit www.integrahometheater.com.

Confused about what AV Gear to buy or how to set it up? Join our Exclusive Audioholics E-Book Membership Program!
Recent Forum Posts:
Cos posts on June 09, 2013 13:33
I will be the first to say I am no expect
This unit is made in Malaysia, not sure if that is a good thing.
Integra DTR-30.5 First Impressions: (Part 2 The Sound!)
Multiple Configurations:
Soundstage 1&2: Hooked up to my existing setup: (16.5x18 Room)
CONFIG A: Replaced my DHC 80.3 w/DTR 30.5 used Pre-outs to my Halo Amps

CONFIG B: Replaced my DHC 80.3 w/DTR 30.5 used Receiver AMP

CONFIG A: (Audyssey OFF)
This would be the best apples to apples comparison I could do to see how my DTR 30.5 would do as a pre-amp and for the most part after multiple testing of both blue-rays and CDs I can happily report that the perceived difference in Sound Quality between both was minimal at best. For the Music Test I used
Pink Floyd's
"Wish you were Here" "Comfortably Numb"
Addel 21
"Don't you Remember"
& Miles Davis "
Bye Bye Blackbird & "Blue in Green."
In both cases, instruments were easily distinguishable versus the cluttered mess of the noncalibrated audio, and the bass response was very good on both. Whether it was Addel's vocals or Miles Davis Trumpet. The Pink Floyd was a live CD and even with Audyssey off you had the sense that you were still in the middle of a concert when I was playing multichannel Stereo. Since I don't have the advantage of doing a side by side comparison I will say my only perceived difference was that the DHC-80.3 came across with a little more detail in the mid and lower level frequencies, but I think it would be very hard pressed to determine with a blind test.
Movies
: Avatar – Final Battle Scene / James Bond – Skyfall
I would say again that it is very close here again, both units did a similar job with the highs and lows with the fight scenes, dialogue was clear and blended well. I will say again that the DHC seemed to squeeze out a little more detailed bass response, but the overall soundstage was pretty similar.
Additional Comments: I utilized Integra's new Phase Matching Bass which optimizes low frequencies while preserving mid-range clarity and I have to say I believe that its more than just marketing. I definitely felt that it did exactly as stated as there was a noticeable albeit minimal sound quality difference in the detail.CONFIG A: (Audyssey ON)
I will state again, that without being able to do a blind test my feedback is perceived, but I firmly believe that there is a noticeable difference in sound quality with XT32 vs. MultiEQ. I would not go so far to say that it's huge, but I would say I felt it was there. The overall surround effect under the DHC 80.5 felt more clearly defined in the low end and overall emersion with greater ease to tell where the sound was coming from in the movie.
CONFIG B: (DTR-30.5 Internal AMP)
I know that there has been much debate as to if AMPs sound different so I can only say, In My opinion, there is very little, if any sound difference between the DTR-30.5 hooked up to my external amps or its internal amps. Sound appeared to be similar, but again I felt that bass response and midrange clarity was better when hooked up to my Halo amps. To be honest after listening to the same things over and over I cannot say with 100% confidence that I would be able to tell a difference in a blind test, but I fell that I could as there was slight change in dynamics (guitar strings). I will note that in both cases with Audyssey turned On, the DTR-30.5 configured my speakers differently than the XT32.
Take Aways:
Overall I am satisfied with the Integra DTR 30.5, for the price range you get a very solid receiver with a good user interface, very solid sound quality while also having the advantage of Bluetooth and build it Wi-Fi.

I was surprised how well it compared to my 80.3 as a Pre/Pro and felt as I didn't lose a lot in sound quality with the exception of Audyssey.

Integra's Phase Matching Bass is more than just marketing and it makes its sonic impact felt

I also felt that I didn't lose a lot in sound quality when using its internal amp, but it was noticeable.

My overall opinion is that I would rate this amp an
8/10.
Items that brought down its score in my mind were a poorly implemented remote, would have liked to see at least Audyssey XT. I also think that there are a lot of other offerings in this price range
$1000 retail/$810 Paid
, that could offer the same quality with even more powerful amps and features. I do feel that it delivers solidly on sound quality and the advantage of having built it Wi-Fi makes it for much easier room placement in my bedroom and for this job it does a great job.
Additional Thoughts:
This is currently used for two channel listening in my bedroom with a pair of Golden Ear Aon 2s, but after going through all these tests, I definitely feel that this AVR will stay with me for the long haul and handle 5.1 or 7.1 content like a champ when I expand.

DAMN! For small Speakers the Golden Ear Aon 2 does a fantastic job with both music and movies and it's soundstage, high frequency clarity and detail IMPRESS. They do a great job with bass, but will struggle a little on the lowest frequencies. I will be adding a sub in the near future, but overall I see why people rave about the ribbon tweeters.

Cos posts on June 05, 2013 17:40
Integra DTR-30.5 First Impressions: (Part 1 Setup and Video)
Build Quality:
Build Quality of the DTR-30.5 appears to be excellent, but now without some small issues. The unit itself appears well built and solid, I would describe it as the "mini me" to my DCH-80.3. The interconnects appear to be gold plated and nothing on this unit feels flimsy. My only issues are the plastic speaker posts feel a little cheap and the wifi antenas look like something out of early 2000s. Just like its Onkyo brother, the DTR-30.5 does have an internal fan that audio purists may balk at. It is however important to note that the fan never came on during my testing, and is only designed to come on when the unit is getting pushed hard. So overall in this case I can live with the fan.

Remote Control: They definitely saved a few dollars on this. It just looks and feels cheap, small mushy buttons, for the cost of the unit, I expected better. Both the design and implementation are not well thought out.

Setup:
This is one area where I felt that Integra did a fantastic job of implementing. It has very friendly menus to set up the receiver with multiple steps that you can either skip or follow through with. I like the Interface which is a simple GUI display that you can conduct the basic settings. The initial setup involved Audyssey , remote setup, etc. It makes it very easy to get started with your new AVR. I am not sure if the Integra .4 models do it this way, but I like it

Speaker setup / HDMI setup, Input setup is pretty straight forward and it's very easy to adjust crossover, speaker setup etc. Nothing that is out of the ordinary

I like the walkthrough process for setting up the remote to control to your inputs. It goes over each assigned input when you are setting it up, walks you through the step on screen and even gives you the 5 digit code for the device. (I.e. 01877 for my cable box) It's really a nice feature which makes programming simple, NOW if only the remote were better.

The menus to connect to one of its many online services is very simple to connect to and easy to use.

Video:
I was really impressed with the video quality when I ran my cable through this unit. There was a significant improvement in perceived image quality vs hooking up directly from the cable box via HDMI. I really don't think there is a placebo effect going on here as the picture quality was significantly better, colors seemed to pop more and there screen looked more detailed

Problem: I did experience an issue with picture quality when I was watching a standard definition on demand program. SyFy channel with my provider only has on demand in 480i. I went to watch Defiance and when the picture displayed on the screen, It shrunk down to a smaller box in the middle of the screen and there was a line of artificating on the top border where there was no picture. I did expand the picture via my cable remote and the problem was fixed. This is something that my neither my 80.3 nor the Marantz 7005 (which I had for a few weeks) had problems with.
Additional Observations:
WiFi is Wireless A/B/G/N, but it operates only on the 2.4Ghz bad and NOT the 5Ghz band. I discovered this when it would only pick up the 2.4ghz band of my dual band router. I would have preferred it to operate under the 5Ghz band because there is typically less traffic issues

It does have a lot of streaming services, but that is not really important issue for me

Bluetooth is 2.1 which I would have preferred it to be 4.0. I did have a problem connecting devices to it however

I was getting 85% signal strength one floor and 2 rooms down with the wifi antenas hidden behind the unit which was impressive

Initial Thoughts:+ Solid build with wifi connectivity and easy to use menu screens+ The video processing seems to work quite well based on my limited time with it (minus issue)+ Sound quality and amount of power has been quite good so far, but I am going to switch out my 80.3 with it tomorrow and use the pre-amp outs to see how it works with my exisiting paradigm setup.
- Video issues with 480i contect on my cable box was limited to one experience, but was a point of concern
- At this price point $1000 List $810 paid I think there are a lot of other options to consider
Key Features I would have liked that are missing:
I would probably rate the receiver a B- so far because of a few issues;

It doesn't have HD Radio

No Airplay

Nicer Remote

Equipment Used in Testing:
Integra DTR-30.5

Sony KDL-52XBR5 TV

Golden Ear Aon 2 Speakers (1 Pair)

BJC for Speaker wire and HDMI

Linksys E4500 Wireless Router N Dual Band

Wide Open West Cable with Scientific Atlanta Cable Box

I will get into detail on sound quality once I have had the opportunity to play around with the Audyssey, Integras new base management feature and testing it with my HT setup. I will say I have been happy with the initial sound quality coming out of the Aon 2s, but no where near enough to provide a intelligent review.
Ju22dith posts on June 05, 2013 02:47
I am only cautioning about jumping to conclusion just by noting the weight, not that I disagree with you or anyone who prefer heavier amps.
Adam posts on June 04, 2013 23:05
Congrats! I look forward to your thoughts on it.
Cos posts on June 04, 2013 20:20
It's In…Will be hooking up now will be playing with tonight12065

Heavy box, but definitely a lot smaller than my DHC-80.3 box! Price Paid $810 Need to learn how to shrink my pictures
Post Reply