InFocus IN5535 WUXGA Large Venue Projector First Look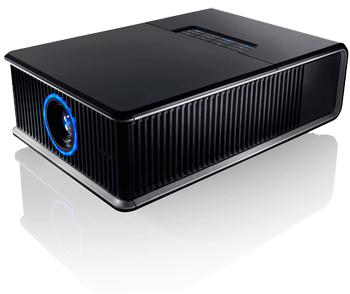 InFocus IN5535 WUXGA Large Venue Projector
Summary
Native Aspect Ratio: 16x10
Supported Aspect Ratio: 16:9, 4:3, 5:4, 16x10
Brightness: (max ANSI lumens) High Bright: 6000 Lumens; Eco Mode: 3150 Lumens
Contrast Ratio: 2000 : 1 Full On/Full Off
Display Technology: DLP: .67" WUXGA DarkChip
Data Compatibility: VGA (640x480), SVGA (800x600), XGA (1024x768), SXGA (1280x1024), SXGA+ (1400x1050), UXGA (1600x1200), WXGA+ (1440x900), WSXGA+ (1680x1050), WXGA (1280x800), WUXGA (1920x1200)
Video Compatibility: Full NTSC, PAL, SECAM, 480i, 576i, 480p, 576p, 720p, 1080i, 1080p/24, 1080p/30, 1080p/60
Color Wheel (DLP Only): RGBYWC / 6 segment
Native Resolution: WUXGA
Projector Placement: Front Projection, Rear Projection, Ceiling Projection
SMPTE Brightness: Not Available
Lamp Wattage: High Bright: 660 Watts; Eco Mode: 330 Watts
Lamp Life: High Bright: 2000 Hours; Eco Mode: 2500 Hours
Minimum Image Size: Not Available
Maximum Image Size: Not Available
Standard Lens Zoom: 1.33 : 1
Standard Lens Throw Ratio: 1.45 - 1.93 (Distance/Width)
Standard Lens Image Offset Ratio: Vertical 110% to 50%, & Horizontal +/-10%
Standard Lens Projection Distance: 5 - 30 ft (1.52 - 9.14 m)
Digital Keystone Correction (Vertical): +30%/-30%
Digital Keystone Correction (Horizontal): +30%/-30%
Lens Shift: Motorized
USB: 2 (DisplayLink Display over USB capable, LitePort jpeg player available via separate built-in USB connector)
HDMI: 2
BNC: 1 RGBHV
Component (RCA): 1 (second component input available with optional VGA to component adapter)
VESA (HD15): 2
S-Video: 1 (4-pin mini-DIN)
Composite (RCA): 1
Standard Definition TV: Composite RCA, S-Video
Enhanced Definition TV: VGA, HDMI, Component RCA, BNC
High Definition TV: VGA, HDMI, BNC, Component RCA
Computer: VGA, HDMI, BNC, USB (DisplayLink), USB (LitePort)
HDCP Support: Yes
Stereo RCA Jacks Inputs: Yes
Stereo 3.5 mm Mini-jack Inputs: Yes
12v trigger for motorized screens (3.5 mm mini-jack): Yes
Projector Control: Projector Keypad, Remote, USB, RS-232, 2.5mm Wired Remote, RJ45, ProjectorNet 2
Speakers: (2) 5 Watt stereo speakers
Monitor Output: Yes
Audio Output: 3.5mm Stereo Mini-jack
Data Compatibility: VGA (640x480), SVGA (800x600), XGA (1024x768), SXGA (1280x1024), SXGA+ (1400x1050), UXGA (1600x1200), WXGA+ (1440x900), WSXGA+ (1680x1050), WXGA (1280x800), WUXGA (1920x1200)
H-Sync Range: 15 - 100kHz
V-Sync Range: 50 - 85Hz
Video Compatibility: Full NTSC, PAL, SECAM, 480i, 576i, 480p, 576p, 720p, 1080i, 1080p/24, 1080p/30, 1080p/60
Audible Noise: 29 dB
Actual Dimensions: Height: 9.45 in (24 cm); Length: 26.38 in (67.01 cm); Width: 17 in (43.18 cm)
Actual Weight: 44.1 lbs (20 kg)
Shipping Dimensions: Height: 13 in (33.02 cm); Length: 39 in (99.06 cm); Width: 23.4 in (59.44 cm)
Shipping Weight: 57.5 lbs (26.08 kg)
Projector Warranty: 5 year limited projector warranty
Lamp Warranty: 6 months
Accessories Warranty: 90 days
Operating temperature:
(at sea level) 50 - 95° F (10 - 35° C)
Maximum Altitude Supported: 7500 ft (2286 m)
Typical Power Consumption: 800 Watts
Maximum Power Consumption: 850 Watts
Executive Overview
While large venue projectors may not be on everyone's Christmas wish list, they are an important part of our industry. While your typical home theater projector has to deal with, at worst, less the perfect light control, two connection types, and perhaps projecting on a treated wall or hung bedsheet, your large venue projector has it much worse. They may be hung out of reach of a huge ladder, need multiple input connection types, must be flexible, bright, and adjustable without having to be physically touched. Since they are in a large venue, the screens often aren't as well protected or as perfect as you'd find in a home setup. On top of that, they have demands placed on them that your typical home theater projector would never have. They are also pioneering in some respects. Watch what's going on in this industry, and you may just get a sneak peek at something that will trickle down your way once things get more affordable.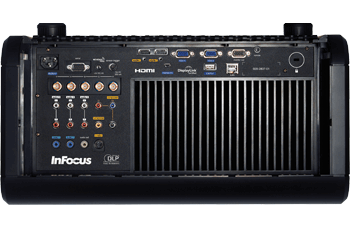 The new InFocus IN5535 WUXGA Projector has a lot of what you'd want in a large venue projector. It has a ton of connections including two HDMI, two USB, two VESA, and one each of BNC, component, S-video, and composite. Of course it supports RS-232 control but it also has embedded networking for full remote projector control and management (via the RJ45 port). The IN5535 has motorized lens shift, automatic sensors for ceiling detection and keystone, pincushion and barrel distortion correction, five different interchangeable (optional) lenses from short throw to ultra long throw, and dual lamps for high brightness of 6000 lumens and fail-safe backup protection.
The InFocus IN5535 uses a 6-segment DLP color wheel for an incredibly wide color gamut, can project images from two sources simultaneously (great for videoconferencing), and is compatible with InFocus' LiteShow III wireless adapter (optional) which turns the IN5535 into a wireless and/or networked display. There is a built-in web control panel that allows network administrators to remotely access and control the projector over standard LAN/WAN, you can schedule on/off times to conserve projector lamp life and preset maintenance events and anti-theft security alerts with their free ProjectorNet 3.0 asset management software, and it can display dynamic messages (DMS) announcements such as schedule changes, weather warnings, breaking news, and emergency notifications.
For the venues that demand a specific aesthetic, the InFocus IN5535 has optional "custom skins" to match. From the factory, you can get Matte Black, Matte White, Glossy Black, and Wood Grain (we suppose if your venue has a wood ceiling this makes sense but let's be honest, you're not really fooling anyone here). The pre-primed skin allows you to create your own custom design, such as a company logo. There is also an integrated cable management system. 
Conclusion
Is your home theater REALLY big? The InFocus IN5535 seems well-suited for large venues, but it's also fascinating to see what it might bring to consumers down the road. It is compatible with HD video and native laptop resolutions. It is bright, quiet, and you can control it over the network. There are more than enough connections for even the most demanding of installations and all the different control ports you'd ever need. You can mate it with five different lenses depending on your situation, has motorized vertical and horizontal lens shift, automatic sensors for ceiling detection and keystone, and pincushion and barrel distortion correction. It's flexible, versatile, and can come in wood grain finish. If this sounds like what you need, and you have $10k to spend, the InFocus IN5535 might be for you.
For more information, please visit www.infocus.com.

Confused about what AV Gear to buy or how to set it up? Join our Exclusive Audioholics E-Book Membership Program!
Recent Forum Posts: