Klipsch AudioRock Outdoor Speaker First Look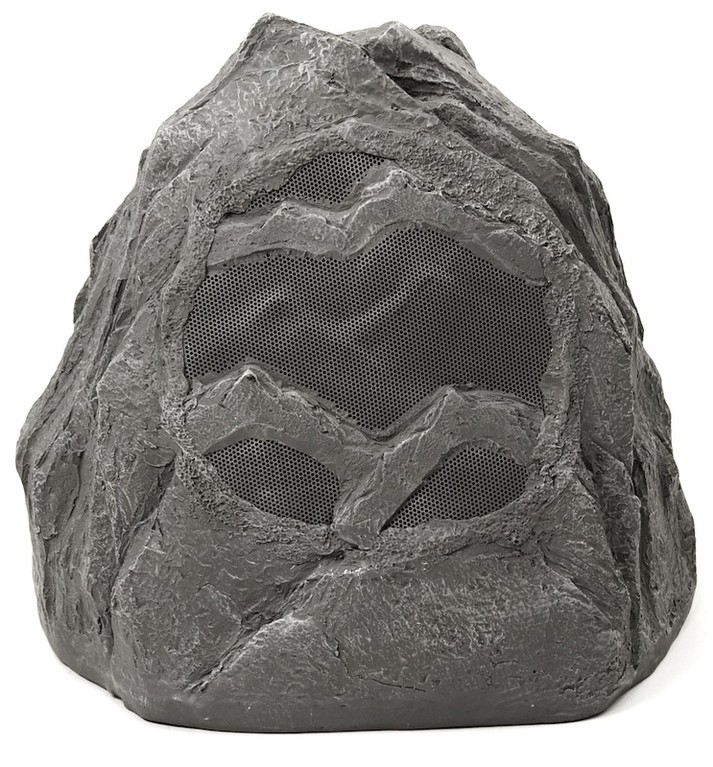 Klipsch AudioRock
Summary
FREQUENCY RESPONSE: 65 Hz - 20 kHz
AMPLIFIER POWER: 10W per channel
CROSSOVER FREQUENCY: 4.1kHz
TWEETER: Dual ¾" PP
MAXIMUM OUTPUT: 94 dB per channel (97 dB both channels driven)
WOOFER: 5¼" IMP DVC
TRANSMITTER: Frequency: 2.4 GHz proprietary, Range: 100'-125'
TRANSMITTER INPUTS: 90 Vac - 230 Vac
REMOTE CONTROL: Range: 100'
DIMENSIONS:
Rock: 10.7" W x 10.7" L x 10.7" H
Transmitter: 7" W x 8" L x 2.5" H
Remote: 1.6" W x 3.2" L x 0.8" H

WEIGHT: 16 lbs (shipping weight)
FINISHES: UV Granite Gray
Executive Overview
A while back we took a look at the Klipsch LightSpeaker system. This innovative little system combined speakers with lights to make whole home audio accessible to all. Basically, the system consisted of two LightSpeakers (which are, obviously, lights and speakers combined) which you can plug into (typically) canned ceiling lights. All you then have to do is hook up the transmitter and you are good to go. No running of wires, no charging of batteries, just music coming seemingly from nowhere. At $600, the system isn't cheap but it is innovative and user friendly enough that we were sure it would generate interest.
Well, it must have, because Klipsch has announced an add-on to the LightSpeaker system. The AudioRock is your typical speaker designed to look like a rock, but with a twist - it's wireless. Before we get into the specifics, let's get down to basics. First, the AudioRock is an add-on to the LightSpeaker system. This means you'll have to first fork over $600 before you can shell out $200 more for the AudioRock. We find it bit perplexing that they aren't offering a solution with the transmitter packaged with one (or more) of the rock speakers - but so far, that's what they're doing. As an add-on it sort of makes sense. As your guests move from the inside to the outside, the music never stops - plus it never stops coming from unexpected places.
The Klipsch AudioRocks are rated down to 65Hz with dual 0.75-inch polypropylene tweeters mated with a 5.25-inch injection molded polypropylene woofer. The tweeters are presumably pointing in different directions to increase dispersion and to decrease localization. All the drivers are angled 20 degrees up to account for the inevitable ground placement. The AudioRock is constructed out of a UV-protected, weatherproof, and rustproof plastic with a gray faux-granite finish. If you live in places like Arizona where red rocks are the norm, you are out of luck until Klipsch decides to release multiple colors (probably predicated upon the success of this first offering). The speaker is designed to withstand the elements (and sprinklers) as long as it is not submerged in water or left to sit in more than an inch of water.
When you open the back panel of the AudioRock, you'll notice controls for volume, channel and power. The LightSpeaker system supports up to two zones. The AudioRocks, when paired with the LightSpeakers, make perfect sense as a natural Zone 2. When we talk about "wireless" speakers, we are often forced to admit that there are still wires - normally power cords at the minimum. With the AudioRocks, this isn't the case. Instead, they have a removable lithium battery pack which is good for up to 8 hours of playback. Klipsch includes a charger which would presumably be located nearby. 
While the idea of a fully wireless outdoor speaker is attractive, there do seem to be a few areas of concern. First of all, $200 seems a bit high for a single speaker without a transmitter, though the lithium-ion battery does a lot to make this price more palatable. For any sort of yard, you're going to want at least two so you're now looking at $1000 for the LightSpeaker system and the two AudioRocks. While there is mention of a remote for the system, there is direct control of power and volume from the back plate. This power control is a switch which indicates to us that the remote may control the volume (up to the maximum that you've set it on the back of the rock) but not the power. Forgetting to switch off the rock would mean that the batteries will be dead right when you need them most. With lithium-ion there's a chance that a standby system could reduce battery consumption significantly, but likely not altogether. Instead, we'd like to see some sort of remote sensing system preferably from the transmitter that shuts down the rocks after a certain period of inactivity.
Conclusion
True wireless outdoor solutions like the Klipsch AudioRock add-on for the LightSpeaker system are rare and always impressive. Most of the staff of Audioholics has already run dedicated wires for outdoor systems, but we can't count the number of times guests have admired our outdoor systems just to comment that they could never do it because of a lack of wiring. While the AudioRock solution isn't a cheap one (you'll have to fork over a minimum of $800 to get started and probably want more than the two LightSpeaker speakers and single AudioRock that will give you), it is elegant. We fully expect for Klipsch to release a dedicated outdoor version of the LightSpeaker system with a transmitter and two AudioRocks for around the same $600 the LightSpeaker system commands (by our math, it should be $500 but we're guessing closer to $600). When that happens, we fully expect them to fly off the shelves.
For more information, please visit www.klipsch.com.

Unless otherwise indicated, this is a preview article for the featured product. A formal review may or may not follow in the future.
Confused about what AV Gear to buy or how to set it up? Join our Exclusive Audioholics E-Book Membership Program!