Marantz AV7005 7.2 Channel Preamplifier First Look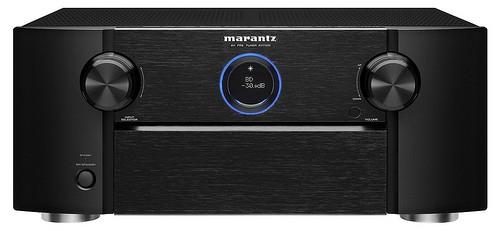 Marantz AV7005 Pre Amplifier
Summary
New AV Design with Marantz traditional Porthole Display
Current Feedback HDAM circuit for Preamplifier
Shielded Transformer for improved sound
HDMI 1.4a (3D/Audio Return Channel) & CEC
Audyssey DSX Decoding/ MultEQ XT (+Pro)
HD radio
App controllable
Control4 certified
Audyssey Pro
Phono input
Back Lit Learning remote with LCD
DLNA 1.5 for Audio Network
Internet Radio / Photo Playback by Network
HDMI Front input for Game/Camcorders
6 HDMI Inputs/ 2 HDMI outputs
Executive Overview
Gone are the days of the AV Pre/Pro which was generations behind receivers in feature sets. It was once true that if you wanted a true separates solution for your home theater, you had to make do without not only the most recent advancements in AV technology, but often features that have been around for years in A/V receivers. In some arenas that is still true. Some Pre/Pro manufacturers have only recently added HDMI functionality to their products. For a long while you had to mate a receiver with pre-outs to an amplifier in order to get power and features.
Recently, we've seen a few manufacturers release full featured Pre/Pros but they've been costly. So much so that most Audioholics could only visit them in the store and look forlornly at them. Not any more. Marantz has impressed us again by announcing a Pre/Pro that not only has all the latest features but won't break the bank.
If you were looking at the new Marantz SR7005 and thinking to yourself, "Boy, I might get that and add an amp later," you're in luck. The new AV7005 Preamplifier has all the same features as their new SR7005 Network A/V receiver except without the amp section, but with balanced outputs. This means you're looking at the same 6 HDMI 1.4a inputs, 2 outputs with Audio Return Channel and 3D support. There are five inputs on the back and one on the front. We particularly support the decision to place an HDMI input on the front as it gives easy access for the myriad of new devices that are not coming HDMI equipped. Obviously camcorders come to mind but game systems (especially if you have teenagers) and even smartphones now could utilize that port.
Having all the latest decoding is a must and the AV7005 doesn't disappoint. Featuring Dolby ProLogic IIz and Audyssey DSX, you can now implement height and width channels to enhance your home theater experience. For those with front projection systems in particular (or just very, very large displays), these additional speakers can really help increase the realism and immersion during movies. Of course you'll want state of the art room correction to go along with this and the AV7005 provides not only Audyssey MultEQ XT but also the Pro option. This gives the user the ability to correct for room deficiencies while providing the trained professional the tools to fine-tune the system to provide the best possible performance.  
These days just about everything is networked (or can be). The AV7005 is fully DNLA 1.5 compliant which will make connecting the processor to your home network nearly effortless. While connected to the network you can not only stream content from your PC but also access Internet radio and Pandora, Flickr, Rhapsody, and Napster. As you'd expect with a Pre/Pro, the AV7005 caters to a number of different types of clients. For the installer there is Control4 certification and HDMI CEC support. For the audiophile collector, there is a phono input. For the radio lover there is an HD radio tuner. For those that like to be on the cutting edge, there is an app that will control your shiny new Pre/Pro. There is onboard scaling provided by Anchor Bay (10-bit) up to 1080p and even HDMI to HDMI scaling. On the front panel there is a USB port for a digital connection for your iPod or iPhone or you can just plug in a USB key with music or photos.
One thing that users will love is that the AV7005 has XLR outputs for a balanced connection to your amplifiers/subs. What they will really love, however, is the price. While we're used to seeing a Pre/Pro based off a receiver actually cost more than the parent, in this case Marantz has bucked the trend. While the SR7005 clocks in at $1599 MSRP, the AV7005 will command $1499. While we're sure there is more than $100 of amps in the SR7005 and the XLR terminals don't really make up the difference, the price break is welcome and unusual. At $1500, the Marantz AV7005 is a very attractive alternative to some of the other high-priced but feature-light offerings on the market.
One can't write an article about Marantz without mentioning their styling. When they started shipping their gold reference series a while back, we were enamored. Their "porthole" design and clean face put all other mass market offerings to shame and even stands head and shoulders over many of the esoteric offerings. While the new AV7005 Pre/Pro won't sport the gold color of the reference line, it is a more mundane but no less sexy black, it will share it's porthole design and clean face. The porthole offers a limited LCD display (which you probably won't really need to use as the GUI overlays HDMI) and all of the controls (aside from the two knobs for volume and input selection) are hidden behind a plate. If you really need a larger display, there is one hidden behind the plate as well. We think this is a clean and elegant solution to maintaining aesthetic integrity and functionality.
Conclusion
The hardest part for interested consumers will be the wait. The Marantz AV7005 Pre/Pro won't be available until October. But at $1500 for a Pre/Pro with just about every feature on the planet, it's a wait we're betting a lot of people will be willing to suffer through. All the latest decoding, top of the line processing and room correction, dual subwoofer outputs, GUI overlay, HDMI to HDMI scaling... the list goes on. These are the types of features you had to pay multiple thousands of dollars for in a receiver much less a Pre/Pro (not to mention that there were none out there with the latest features) just a few years ago. You can easily mate this will a budget amp for just over $2000. But with Marantz announcing matching two and five channel amps, you may want to save up your pennies. When your Preamp looks as good as the Marantz AV7005, you don't want your other gear to get an inferiority complex.
For more information, please visit www.marantz.com.

Confused about what AV Gear to buy or how to set it up? Join our Exclusive Audioholics E-Book Membership Program!
Recent Forum Posts:
AVRat posts on March 02, 2011 10:42
Michigan Man posts on March 02, 2011 09:08
Marantz AV7005

So, by now, someone must have a thought or two about the AV7005. Also, how does it compare to its older brother the AV8003? These are on sale right now for $1,499 NIB with full 3 year warranty. That's about the same as a new AV7005. How do they compare?
Volta posts on November 03, 2010 14:18
So has anyone picked one of these processors up yet?
Frans posts on October 24, 2010 08:56
Looks like the wait is over, guys. Well, for me anyway! Stassen Hifi, a Dutch company where I ordered my AV7005 / MM7055, told me they expect it any day now! W00t!
AcuDefTechGuy posts on October 12, 2010 19:33
GranteedEV, post: 758498
AcuLinkWitzGuy?
Nah, I'm keeping all my beloved DefTechs.
I may add speakers, but I'm not willing to subtract any.
Post Reply