Atlona HDBaseT Matrix Switchers and Wall Plates Preview
Summary
Atlona HDMI and VGA/Audio to HDBaseT Wall Plate (AT-HDVS-TX-WP)
Works with HDMI and VGA up to 1080p/1920x1200
Digitizes VGA and audio for single cable to receiver
Works best when used with HDVS-RX

PoCc to transmitter (no power needed at HDVS transmitter)
Enables projector control from HDVS-TX-WP
RS-232 input selection from 3rd party controller
Easy to use software simplifies RS-232 programming

Comes with US and UK 2-gang wall plates
Executive Overview
While switchers and wall plates aren't all that exciting, Atlona had some new offerings that had us taking notice. First there were the HDBaseT wall plates. Using the power from your receiver via the HDMI connection, the wall plate sends your video signal (up to 4K) up to 100 meters. These plates also could send an Ethernet connection, RS-232, and IR. The plates we were shown were the AT-HDVS-TX-WP and had VGA and HDMI connections. They had the ability to sense which input was used and would switch inputs on the fly. If you wanted to manually control the switching, there were selector buttons on the plate. These could only send a signal up to 70 meters. The big news was not only did it do everything above, but it scaled the signal as well! There was a standalone box that had all the same functions except it added an additional HDMI input. For more information, please visit www.atlona.com/HDVS-TX-WP.html.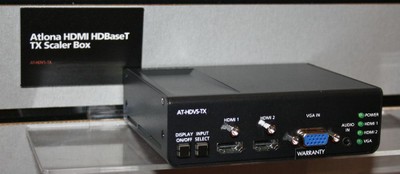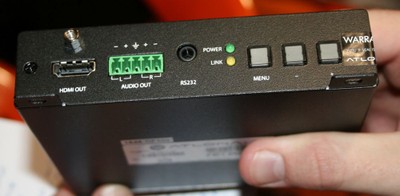 We were also shown a pair of boxes that were matrix switchers. One was the AT-PRO3HD66M which was a standard 6x6 matrix switcher. It has six HDMI inputs and six HDBaseT outputs with mirrored HDMI on two of the outputs. This is a perfect solution for reliably routing inputs to outputs over 230 feet using HDBaseT technology. The device also simplifies multi-room distribution for easy customization and features IR, RS-232, and TCP/IP control. For more information, please visit www.atlona.com/PRO3HD66M.html.


Lastly there was the PRO-MXM 8x8 modular matrix switcher. This is the first matrix switcher from the company. You can choose to insert whichever modules you want for the perfect configuration. If you have an installation that doesn't need much, you can save cost by only buying the modules you need. If you decide to expand, you're only out the cost of the modules rather than having to replace the switch. This one is so new we don't have a link for you to follow yet. Just keep an eye on www.atlona.com. Prices on all these devices are to be announced.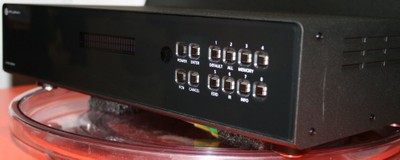 Confused about what AV Gear to buy or how to set it up? Join our Exclusive Audioholics E-Book Membership Program!