NuForce S3-BT CD Quality Bluetooth Speakers Preview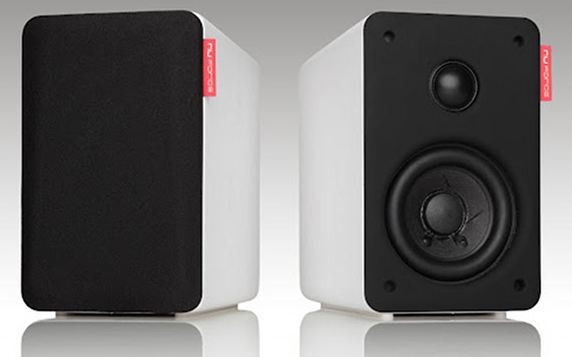 NuForce S3-BT Bluetooth Speakers
Summary
Speakers: 1" soft dome tweeter x 2 3.5" composite paper cone woofer x 2
Maximum power output: 18 Watt x 2 RMS
Frequency response: 50 Hz - 20 kHz
Harmonic distortion: 0.5% 1 W 1 kHz
Signal/Noise ratio: > 75 dB
Separation: > 45 dB
Speaker output on right channel unit: Five-way binding posts
Speaker input on left channel unit: Five-way binding posts
Analog Input: RCA Jacks
USB Charger Port: 5v, 1A output (strictly for charging mobile devices only, no audio/data transmitting)
Bluetooth wireless connection: Bluetooth core version 4.0 with aptX , SBC, AAC codecs; A2DP and AVRCP profiles
Height: 18 cm (7.08 inches)
Width: 11.6 cm (4.57 inches)
Depth: 19 cm (7.48 inches)
Weight: 2.5 kg (5.51 lbs)
Packaging Content:
S3-BT Bookshelf Speakers 2 pcs
3.5mm stereo to RCA Cable 1 pc
Interconnect Speaker Cable 1 pc
AC Power Adapter 1 pc
User Manual 1 pc
Executive Overview
If wires were people, they'd be a discriminated and marginalized group. We all seem to hate wires these days and are doing everything we can to get rid of them. But wires work. They rarely have issues when microwaves are used. They don't care if your gear is magnetically shielded. Not only that, you don't have to worry much about bandwidth with wires. They perform as promised... unless they're non-active HDMI at longer lengths... but that's another story.
But if you want to get rid of wires, you have a lot of options. One of the older solutions is Bluetooth. But Bluetooth has been plagued with connection and quality issues. NuForce thinks they've got that problem licked with their new S3-BT speaker system.
First, they utilize the latest AAC and apt-X Bluetooth compression codecs - compatible with both Apple and Android mobile devices. These codecs transmit in CD-quality wireless audio. By eschewing the older SBC codec, NuForce promises CD quality wireless transmission to their speaker system.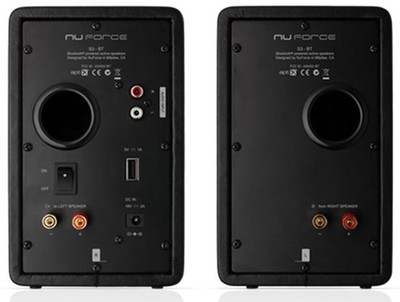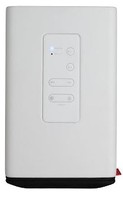 But that isn't all. If you don't trust the wireless solution, the S3-BT has a pair of analogue RCA inputs (Left and Right, no digital connection). There is a USB port available but it is only for charging your mobile or portable device - it doesn't accept any data. The speakers are rear ported and feature a Class D amplifier. The pair are connected to each other by a traditional speaker cable via five-way binding posts on each end. 
The NuForce S3-BT speakers come in either White or Black Leatherette and feature a 1" soft dome tweeter and 3.5" composite paper cone woofers. According to NuForce, the woofer features a "proprietary anti-resonance cone and powerful magnet assembly" and the soft dome tweeter is custom-designed. The S3-BTs are 7" tall, 7.5" deep, and 4.5" wide. They weigh in at 5.5 pounds (no word if this is the one with the amp in it or not). NuForce promises response down to 50Hz but we don't know at what output level that is. The top of the right speaker has controls. The S3-BT speakers don't seem to be controllable from a remote or via an app.
The NuForce S3-BT make sense in a number of applications. At $299, they certainly aren't too expensive for the performance they promise. In an office, it saves the hassle of connecting your player to a dock. They would also be perfect in an entertaining space for easy access to background music without having to run wires. While they aren't the most fully featured of speaker offerings, their small size and relatively small price tag should ensure NuForce some success.
Conclusion
If you absolutely must have wireless speakers, the NuForce S3-BT speaker system features the latest in Bluetooth streaming. With an additional analogue input for use with non-Bluetooth devices, they are also pretty flexible. We wish there were some sort of subwoofer output as we doubt they really reach down to 50Hz with any authority. More than anything, we'd like to get our hands on these literally just to feel them. Speakers wrapped in leatherette? At $299 a pair, they certainly are priced right.
For more information, please visit www.nuforce.com.

Unless otherwise indicated, this is a preview article for the featured product. A formal review may or may not follow in the future.