HDMI 1.4 Spec Coming Soon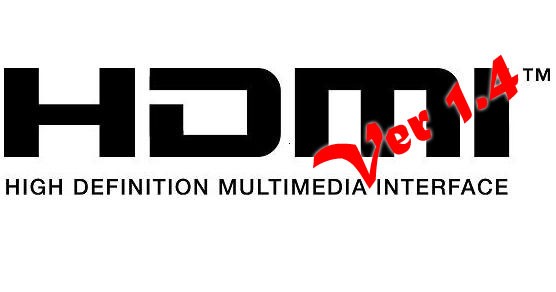 And yes, they probably are working on 1.4a as we speak
HDMI 1.3 not interesting enough for you? Welcome to the wonderful world of 1.4. While it hasn't hit shelves yet, apparently it will soon. According to a press release at HDMI, the new spec will include:
Networking - Consolidation of HD video, HD audio and now high speed data with the addition of Ethernet in the HDMI cable.

Audio Return Channel - Elimination of a S/PDIF cable by allowing a TV to send audio streams upstream to an A/V receiver for processing and playback over the HDMI cable

Performance - 4kx2k and 3D are high performance features to be met by increasing the upper limit of the HDMI link

HD in your Car - New connector specification for the auto industry as worlds' largest auto makers move to digital HD video and audio for 21st century cars with HDMI

Smaller connector - New smaller 19-pin connector
What does it mean for you? We don't know quite yet all the implications. But it sounds like your HDMI cable just got a whole lot more important. Audio return and Ethernet support are the features that should most excite an Audioholic. Just about every new product coming out seems to want to be connected to the Internet. While more specifics will follow when they are made available, it sounds like it'll make things a bit easier. Audio return seems like a no-brainer as it will eliminate that extra cable from your TV to the receiver for those using Over the Air antennas. Here are the questions you should be asking yourself - 1) will I need to upgrade my cable (yikes!), 2) how long before we'll see this stuff in a device you can own and 3) How will Monster work in a way to make even more money from this new spec. There are a lot of the features in the current HDMI spec that aren't fully utilized yet (including Deep Color) so adding 3-D support may be a bit premature. According to Silicon Image, they'll be shipping products with HDMI 1.4 by the end of the year. That's pretty quick. We do know what this means for Audioholics - lots and lots of forum posts saying, "I was gonna buy X but now I'm waiting for the new one with HDMI 1.4." Look for more on this as it develops and as we're allowed to release more info.
Patrick_Wolf posts on May 30, 2009 20:03
HDMI 4Ever

Yup, looking forward to the day when the back of AVR's have nothing but speaker terminals, antenna jack, preouts, and 10 HDMI inputs.
bandphan posts on May 30, 2009 08:24
Some good things like ethernet over hdmi hint hint , more than 1 connecter size hint hint.
Patrick_Wolf posts on May 29, 2009 21:55
Join The Resistance.
bandphan, post: 574047
Anyone want to update this thread since the speec is out?
What for? It's coming… and there's nothing we can do to stop it. This is the beginning of the end, but there is hope… we must do something! We must
stop
Judgement Day. All of mankind is threatened by this one thing… this… cable. On Dec. 21, 2012 HDMI will become self-aware, targeting consumers…
Oh, sorry.
bandphan posts on May 29, 2009 11:51
Anyone want to update this thread since the speec is out?
Patrick_Wolf posts on May 18, 2009 00:53
HDMI.org
Nothing is official according to this blurb at HDMI.org. Nothing to get nuts about anyway; Even if the new connector isn't backwards compatible with the previous one, the core technology most likely will be and a simple 1.x > 1.4 adapter will be needed for future 1.4 compliant products.
It has come to our attention that several news agencies have published information about the release of the next HDMI specification called 1.4. The release of information referring to the HDMI 1.4 specification has not been authorized by the HDMI Founders. Nor does HDMI Licensing, LLC confirm the accuracy of any of the information that has been posted online. In January of 2009, HDMI Licensing, LLC published a press release that provided a preview of the features for the next version of the HDMI specification. Please click here to view this press release.
Post Reply