Klipsch RF-7 II Floorstanding Speaker First Look
Klipsch RF-7 II
Summary
FREQUENCY RESPONSE: 30Hz-24KHz ± 3dB
POWER HANDLING: 250W RMS / 1000W Peak
SENSITIVITY: 101dB @ 2.83V / 1m
NOMINAL IMPEDANCE: 8 ohms compatible
CROSSOVER FREQUENCY: 1200Hz
HIGH FREQUENCY DRIVERS: 1.75" (4.45cm) Titanium diaphragm compression driver
HIGH FREQUENCY HORN: 8" square 90° x 60° Tractrix® Horn
LOW FREQUENCY DRIVERS: Two 10" (25.4cm) Cerametallic™ cone woofers
ENCLOSURE TYPE: Bass-reflex via dual rear-firing ports
INPUTS: Dual binding posts / bi-wire / bi-amp
HEIGHT: 48.5" (123.3cm) with feet
WIDTH: 11.6" (29.5cm)
DEPTH: 16.3" (41.5cm) with grille
WEIGHT: 87.1lbs (39.5kg)
FINISHES: Black Ash , Medium Cherry furniture grade wood veneer
Executive Overview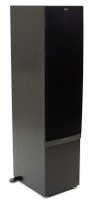 When Klipsch updates a speaker line, they don't mess around. While other manufacturers would update a product or two a year, Klipsch has updated their entire Reference II line. This isn't a pair of bookshelves, a pair of floorstanders, a sub, and maybe a surround - this is no less that 17 new products all hitting the ground at once. If you're in love with Klipsch, you've got a lot of research to do. While we'd love to cover all the new speakers individually... well, we won't. Instead we'll focus on their new RF-7 II flagship floorstander and let you look into the rest. For the record, their are five floorstanding towers (RF-7 II, RF-82 II, RF-62 II and RF-52 II and RF-42 II), four bookshelf models (RB-81 II, RB-61 II, RB-51 II and RB-41 II), four center channels (RC-64 II, RC-62 II,RC-52 II and RC-42 II) and four surround speakers (RS-62 II, RS-52 II, RS-42 II and RS-41 II), which include Klipsch's exclusive Wide Dispersion Surround Technology (WDST). Prices range from $550 to $3,200 for a pair of floorstanding speakers, $280 to $800 for a pair of bookshelf models, $230 to $1,300 for a center channel and $330 to $1,200 for a pair of surrounds. That means at the low end (for a pair of towers, a pair of bookshelves, and center) you're looking at a bit over a grand for a 5.0 system. That's not too much scratch for a reference line. Most serious audio consumers should be able to find something in the new Reference II line within their budget.
The RF-7 II floorstanders represent the top of the Reference II line. At $3200 a pair, they certainly operate in the rarefied air reserved for higher-end speakers. While that might sound like a lot of money for a pair of speakers, most Audioholics will recognize that it isn't exactly a chart-topping asking price. Especially for a product with the word "reference" in the name. The RF-7 II speakers come in two colors - Cherry and Black. The veneers, as you'd expect at this price range, are furniture grade and are most likely stunning to behold. The Cherry finishes tend to look better in pictures (which is why we featured it at the top of this article) but you can bet that the black ash will look great in person.
For floorstanding speakers, the RF-7 IIs aren't overly large at only 45" tall, 16" deep, and 11.6" wide. They shouldn't have much of a problem fitting into nearly any home theater space. The speakers feature the trademark Klipsch Tractrix 1.75" horn-loaded tweeter. If you've never heard a horn-loaded tweeter before, you'll be surprised at how dynamic and effortless they are. One of the expectations of a Klipsch speaker is efficiency and the RF-7 II's don't disappoint. With a rated sensitivity of 101dB @ 2.83V/1m, you could probably drive these speakers with a clock radio. Just in case, of course, they have dual binding posts so that they can be bi-amped. You know, in case you have more amps than speakers and you can't bear the thought of not using them all as the horns on the RF-7 II certainly don't need their own amplification.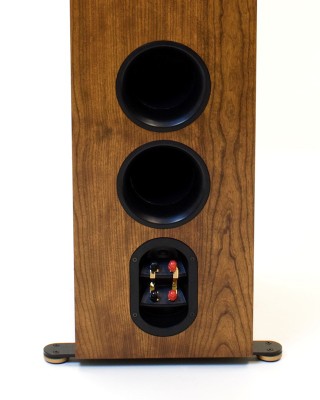 The Klipsch RF-7 IIs have a bass-reflex design with dual rear-firing ports. While this may make placement near a wall inadvisable, with furniture-grade veneers, you probably would want the speakers proudly displayed anyhow. The dual 10" woofers, the feet, and logos are are created out of Klipsch's Cerametallic copper-colored metal. Cerametallic is lightweight and rigid and the new Tractrix horn tweeters incorporate Linear Travel Suspension and titanium compression drivers. Together they combine to give a rated frequency response of 30Hz to 24kHz (they might as well rated it to 30kHz since you most likely can't hear past 20kHz anyhow). Of course, to combat the wide held belief that Klipsch speakers are "bright" and "fatiguing," Klipsch specifies in the overview of the RF-7 II speakers that they are "accurate" (which sometimes is audiophile code for "bright") and "non-fatiguing." We'll have to wait on a review sample before we weigh in on that last one.
Conclusion
At $3200 a pair, the Klipsch RF-7 II floorstanding speakers might not be that expensive in the grand scheme of things but they are pricey. In this price range, you expect considerable performance. Technology-wise, the RF-7 II speakers look fairly impressive. We're sure that three of the Klipsch mantras of "high efficiency with low distortion" with "controlled directivity" and "wide dynamic range" will be realized. We'll have to wait on our measurements to see if "flat frequency response" is also achieved. Klipsch lovers are probably already lining up for the RF-7 IIs. They are a bit boxy looking and horn-loaded tweeters usually invoke a love/hate response. With the legions of Klipsch fans out there already, we're sure these will find a market, especially for those that love LOUD clear sound with prodigious bass response. We're just not sure how they'll stack up against other speakers in the price range until we do a formal review.  Stay tuned...
For more information, please visit www.klipsch.com.

Unless otherwise indicated, this is a preview article for the featured product. A formal review may or may not follow in the future.
AVisualGeek posts on August 14, 2014 14:12
Thuuuuuper awesome speakers! (sorry for the pun, but these things are amazing)
I wanted to write about these MONTHS ago but never got around to it. Now a lot of time has gone but, but the info is still worth sharing. We had first bought speakers from a company who's name began with a "b" for our studio and noticed that they were very limited and mostly bright but not "full". We almost went with another brand until we started asking around. A local specialist recommended RF7-II for their quality and range. He went on and on about how you can get the most out of your dollar and still sound like some of these high priced speakers he had to offer. We have owned and listened to Klipsch throughout the years but this was different. We then ran into a few great reviews (ie,
Review: Klipsch RF-7II Reference Series Home Theater Speaker System | Poc Network - Tech Blog
) and it pulled us in even further. Finally we stopped by a local store that had the on display and we melted. Needless to say, we now have the RF7-II speakers at the studio. They deliver exactly what we need and when the clients are away, we never stop playing. Highly recommended.
TheFactor posts on September 15, 2013 14:43
Bump !! Weres all my Klipsch brothers ?
browninggold posts on January 27, 2013 20:35
I really like my 3 Klipsch RF7IIs across the front. Seamless sound stage
normh posts on December 27, 2012 12:37
Stand

where did you get the stand for the center channel?
derrickdj1 posts on December 18, 2011 22:56
RF 7II's

These speakers are amazing. Spec's are not the decideing factor, what you hear is. I am a Klipsch owners and feel that you get a great value for your money. The used market is also a great place to buy if the price tag is to steep.
Post Reply
Confused about what AV Gear to buy or how to set it up? Join our Exclusive Audioholics E-Book Membership Program!