Perreaux Audiant 80i Integrated Amplifier Preview

Perreaux Audiant 80i
Summary
Amplifier
Rated Power Output (per channel, <0.05% THD+N):
80W into 8Ω
130Wrms into 4Ω
Total Harmonic Distortion (THD+N)
Typically:
20Hz to 20kHz:

0.002% @ 1kHz, 80W into 8Ω
<0.05%, 80W into 8Ω
<0.05%, 1W into 8Ω
Frequency Response:
±0.1dB, 20Hz to 20kHz
Signal to Noise Ratio (A-weighted):
105dB, ref. 80W into 8Ω
Damping Factor:
400 @ 1kHz, ref. 8Ω
Gain:
28dB
Preamplifier
Analogue Inputs:
3 Line Level
1 Phono
Home Theatre Input:
Yes (selectable)
Analogue Input Impedance:
47kΩ
Digital Inputs:

1 Coax (RCA)
2 Optical (Toslink)
1 USB (Type B)
Digital Input Impedance:
75Ω (Coax)
Transformer Coupled Digital Input:
Yes (Coax)
Analogue Outputs:
1 Pre Out
1 Line Out
Analogue Output Source Impedance:
Pre Out:
Line Out:

540Ω
270Ω
Volume Control Range:
-90.0dB to +6.0dB
Signal to Noise Ratio (A-weighted):
113dB, ref. 2Vrms
Digital to Analogue Converter (DAC)
Input Sample Rate (maximum):
96kHz (Coax, Optical)
48kHz (USB)
Input Word Length (maximum):
24-bit (Coax, Optical)
16-bit (USB)
Digital to Analogue Conversion:
24-bit/96kHz (upsampled)
Output Voltage:
1.95Vrms @ 0dBFS
Total Harmonic Distortion (THD+N)
Typically:
20Hz to 20kHz:

0.002% @ 1kHz, -20dBFS
<0.004%, -20dBFS
Frequency Response:
±0.2dB, 20Hz to 20kHz
Signal to Noise Ratio (A-weighted):
120dB, ref. 0dBFS
Phono Stage
Gain:
40dB
Input Impedance:
47kΩ
Input Capacitance:
100pF
Total Harmonic Distortion (THD+N)
Typically:
20Hz to 20kHz:

0.06% @ 1kHz, 1Vrms
<0.15%, 1Vrms
General


Power Consumption
Standby:
Idle:
Maximum (130W into 4Ω):

<1W
50W
640W
Dimensions
Width:
Depth:
Height:

431mm (17.0")
309mm (12.2")
67mm (2.6")
Weight:
11.5kg (25.3lb)
Executive Overview
Integrated Amplifiers. For those that don't know, they can be defined as simply a receiver without the tuner or frills. So no radio, and typically no video processing. So generally, they are relegated to audiophile duties. This means that the tuner isn't the only thing to go. You generally won't find many, if any, DSP modes, auto calibration, or even more than two channels. Heck, most of the time they try to make them look as old school as possible - because, apparently, the buyers of integrated amps don't like all these newfangled contraptions and doohickeys the kids are into these days. 
Or do they?
Perreaux is a company that you probably haven't heard of. They cater more toward an audiophile crowd. But when we saw the Audiant 80i Integrated Amp we thought two things - first, they put the "i" on the wrong side of the "80" and second, where are all the switches, buttons, and analogue power meters? The Audiant 80i brings in a refreshing mix of the old school features integrated amp lovers want with a few bells and whistles that they've probably been interested in but haven't had access to in a product. First the old.
The Audiant 80i sports 80 watts x two into 8 ohms. It has a class A/B amplifier with a massive high-current toroidal power supply (check it out below). If you had any doubts about the power supply, just pick it up. At 25.3 pounds, it's no lightweight (remember, it's just two channels - no frills). There is a phono input for the vinyl lovers out there (and integrated amp people tend to have at least some vinyl) and preamp outputs for using your own amplifier if the internal amps aren't cutting it for you. The front is clean with a single knob for volume - and a remote control for everything else.

Now for the new. The front has a number of LED backlit controls that utilize capacitive touch technology just like many of the iProducts giving the Audiant 80i a very high-tech feel. The backlighting of the touch panel can be dimmed to suit your particular needs (nothing is worse than one of those bright blue lights that distracts from your movie/music experience). There is a "home theater" input which looks to be a pair of RCA inputs. It's a little unclear as to how these work but the USB input on the back is definitely unexpected in an integrated amp. With it, you can connect directly to a computer and the IR remote can be used to control both iTunes and Windows Media Player.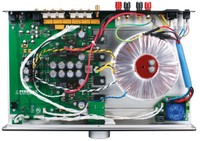 Upsampling is important for Perreaux and the Audiant 80i will upsample everything to 24-bit/96kHz including the audio over USB, the two optical, single coaxial digital, and two additional analogue RCA (aside from the home theater and Phono) inputs. There is a single RCA output on the back with an arrow pointed down. We're not sure if that is some sort of grounding solution or a subwoofer output (we're hoping for the later but we wouldn't be surprised if the Audiant 80i didn't have bass management). 
The Perreaux Audiant 80i features MOSFET output devices, 1 watt power consumption on standby, and the coaxial digital input is transformer coupled, providing electrical isolation and improved jitter performance for coaxial digital source components. The binding posts are five-way and plastic (surprising) though they look to be of sufficient quality. The overall size of the Audiant is impressive. We mentioned that it weighed over 25 lbs but what is more notable is that it is only 2.6" tall. This is a very low profile for any home theater device outside of an old DVD or CD player. 
Conclusion
If you didn't note it above, the price of the Perreaux Audiant 80i clearly delineates it as an audiophile device. At just a hair shy of $3k, it's definitely a niche product. We don't expect these to be flying off the shelf. We like that they've taken some steps into the 20th century with the Audiant 80i though we're concerned that they mentioned connecting computers instead of iPods/MP3 players. While even audiophiles have gotten around to getting a portable player (or a phone that will do it), not many have a computer in their listening room. This would severely limit the usefulness of the USB port. Still, capacitance-based controls are cool and they have payed attention to the audio quality. Now all it needs is native iPod/MP3 integration, a few more channels, some higher end decoding, and maybe a tuner. You know, just in case.
For more information, please visit www.perreaux.com.

Unless otherwise indicated, this is a preview article for the featured product. A formal review may or may not follow in the future.
Confused about what AV Gear to buy or how to set it up? Join our Exclusive Audioholics E-Book Membership Program!