Atlantic Technology 1400 SR-z Height Speakers

Atlantic Technology 1400 SR-z
Summary



1400 SR-Z

Type

Sealed-box dipole/bipole surround speaker

Drivers    Woofer


(2) 3-1/2" poly-treated full-range with HFAR

Frequency Response

110Hz - 20kHz +/- 3 dB

Nominal Impedance

8 Ohms

Crossover Frequency

N/A

Sensitivity

89dB

Recommended Amplifier Power

10-100 Watts RMS

Dimensions w/ grilles
(w x h x d) 

12.25" x 8" x 5.375"

Weight (each)

7 lbs.

MSRP
$425 /pr.
Executive Overview
Dolby ProLogic IIz is a brand new DSP that introduces height channels above your main left and right speakers. It has only recently started showing up on home theater receivers. The Onkyo  TX-SR607 has just started hitting store shelves and already Atlantic Technology had a speaker optimized for th PLIIz processing. The 1400 SR-z (obviously the "z" refers to ProLogic IIz) is a selectable dipole/bipole speaker with a compact size and shallow profile. At just over a foot wide, less than half a foot deep, and 8" tall, they are definitely compact. They are only 7lbs each so hanging them shouldn't be much of a problem.
The idea of height channels is to widen the sweetspot, give a more enveloping surround experience, and to make the front soundstage, well, taller. Dolby recommends highly diffuse speakers that will not be as localizable as direct radiators. These speakers, even more so than surrounds and rear speakers, are meant to "blend" with your other speaker. They are not supposed to stand out. Atlantic Technology took this into account with the 1400 SR-z. With only two midranges (no tweeters) pointed at angles, they really are going for a speaker that won't makes itself known and add to the speakers around them. Atlantic's High Frequency Assistive Radiator (HFAR) technology is purportedly a "full range" 3.5 inch driver. While I'd take "full range" to mean "as much of the range as we want," the specs on the speaker have it dipping down to 110Hz from 20kHz. This is a claim I'd like to see tested. While it may well do as it claims, linearity is the real question.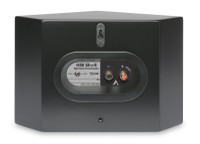 The cabinet on the 1400 SR-z's is sealed and voiced for the other speakers in the Atlantic Tech line. They also claim that the speaker can be used as a surround or rear speaker but from the specs, I'd suggest limiting them to height or rear duties. A surround speaker definitely is going to need to be a little more robust than two 3.5" drivers. We also recommend something that will at least dip down to 80Hz as per the THX recommendations. The rear of the speaker sports a pair of binding posts (spring type) and a single keyhole mount. There is a threaded insert at the bottom but it is unclear if there will be some sort of proprietary mounting system included or not. The single keyhole is concerning as it isn't the most stable connection and could lend itself to movement during more robust passages. Plus, it is only one connection point! I don't know about you but a 7lbs speaker should be on two. At least.

Selectable di/bipole is a nice addition to this speaker. Bipole (both drivers firing in phase) and dipole (drivers firing out of phase) have different uses. Generally, surrounds will benefit from the dipole setting as it tends to create a more diffuse surround effect. The rears and most likely the height channels may lend themselves toward the bipole setting based on their placement relative to the ear of the listener. Each speaker is marked Right or Left with an arrow pointing toward the side that should be facing the front of the theater when using the Dipole setting. This is interesting in that it seems to suggest that the dipole setting is mostly for side placement (though instructions in the manual may be different). As always, experimentation with these settings is encouraged.

Conclusion
I have to say I'm surprised to see a dedicated height speaker out so soon for the Dolby ProLogic IIz format. Of course, this speaker could have been in development for years since Yamaha has long employed such speakers. They could have just been waiting until one of the other manufacturers caught on and did the same or for someone like Dolby to make a brand neutral DSP. Regardless, the 1400 SR-z seems to be perfectly designed for its duties. Whether it will hold its own as a surround speaker is another question entirely. The big issue is if the consumer will latch on to these new height speakers (not just Atlantic Tech's, but the concept in general). Since they are in the front of the room, the chances seem much better since wires won't have to be run under carpets or in attics.

For more information, please visit www.atlantictechnology.com.


See also:
Confused about what AV Gear to buy or how to set it up? Join our Exclusive Audioholics E-Book Membership Program!
Recent Forum Posts:
jtreibick posts on February 12, 2010 08:17
This speaker was developed as a Dipole surround for Atlantics entry level system 1400. Since height (aka prescence) speakers need not be nice to do their job well, this entry-level surround is smartly marketed as such.
I am waiting for a bathroom channel so that when you must take a much needed break, you won't miss the action while you do your business. 11.1 seems pretty cool but I think 12.1 would be even better

I've done that . If all channels are being used, take the mixed-down 'Tape Out' and feed it to a cheap external power amp. If you have a wet bar or a seating area near you can do the same.
gene posts on April 23, 2009 18:52
I am waiting for a bathroom channel so that when you must take a much needed break, you won't miss the action while you do your business. 11.1 seems pretty cool but I think 12.1 would be even better
Post Reply