Power Sound Audio XV30 Subwoofer Preview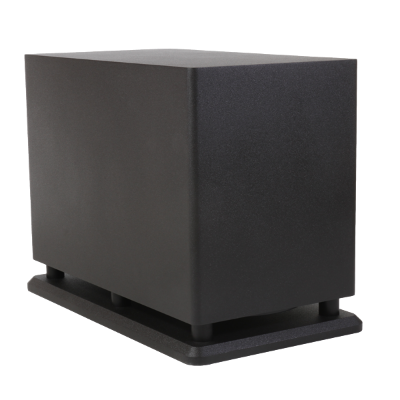 Power Sound Audio XV-30 Subwoofer
Summary
Driver
Power Sound Audio proprietary 15" driver

High excursion capabilities (2" peak to peak)

Optimized motor using Finite Element Analysis (FEA)
Low carbon steel motor structure for optimized flux flow
Aero vented pole geometry for quiet operation and efficient cooling
Triple stack of Y35 grade magnets
Reinforced curvilinear kraft pulp cone
Rubatek foam surround
Twelve spoke aluminum frame for a rigid foundation
Round copper, four layer coil on a black anodized former allowing for effective heat dissipation and rigidity
Single poly cotton semi-progressive, high excursion spider
Fatigue limiting designed, forty-eight tinsel count lead wire
Assembled in the USA
Amplifier Specifications

Amplifier Power: 750W RMS (continuous), 1500W Peak (dynamic)
Amplifier Topology: PS BASH® - Patented hybrid amplifier uses best of Class D and Class AB
Precision analog control through DSP (digital signal processing)

Inputs: Left (LFE) and Right RCA connections
0o to 180o Continuous Phase Control
40Hz-150Hz/LFE Variable Crossover
Off/Auto/On Selector

Voltage: 100-120V/220-240V~50/60Hz (6.3A) with auto-switching
Stand-By Power: Less than 1W
Temperature sensing protection
Driver voltage monitoring with DC offset protection
Driver current monitoring with overload, short circuit, and load protection.
Primary voltage monitoring to control dynamic and average power limits
Soft limiting protection
Frequency dependent compressors
Energy Star compliant
Enclosure
Vented enclosure
Down-firing drivers
Super durable, black sand textured finish
USA designed, massive 6" Precision PortT
Precision machined CNC panels for perfect fit of all components
1" thick MDF baffles and 1.5" thick MDF base
Dimensions (D x W x H): 36" x 20.5" x 26.75"
Weight: 158lbs
Made in the USA
Executive Overview
You probably haven't heard of Power Sound Audio. They are brand new. Usually we let Internet Direct subwoofer companies sit for a while before we start paying attention to them. There are just so many. And many are gone the minute they start getting more than a handful of orders. This is because making subwoofers in your garage sounds like a great idea... until you actually have to start making subwoofers in your garage. Add to that the problem of returns, shipping issues, running a business... it is a lot more than many bargained for.
But with Power Sound Audio, we're are going to assume that not only will they make it, they'll be huge. Why? How about they are run by two former SV Sound employees. Tom Vodhanel co-founded SV Sound back in 1999 and Jim Farina did R&D for them. Neither of them has worked for SV Sound since 2008 (Tom left in 2007) but they haven't forgotten their subwoofer roots. This is the sort of pedigree that inspires confidence - not only in the company's longevity, but also in their ability to make quality (if freaking huge) subwoofers.
The first thing that caught our eye with Power Sound Audio was not the size, shape, or performance of their subs. It was that they test their subs using the CEA2010 (2 meter ground plane) standard. Most subwoofer manufacturers are happy to give you a frequency response specification with no indication of how they arrived at it (there are times we think they just sit in a room and say, "Yeah, that probably goes down to 20Hz"). Not so with Power Sound Audio. They not only use rigorous testing but also publish the results. Take a look at this graph from their largest sub, the XV30: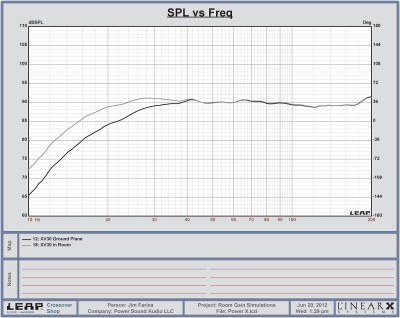 This is a 1/6th octave smoothed ground plane measurement paired with a simulated in-room response. We didn't have to pin down the manufacturer to find this out - they state it directly on the product page. Not only that, but they have Frequency Response and Long Term Output Compression graphs. As you can see in the above graph, in the ground plane measurement, the XV rolls off softly starting at 30Hz but doesn't really reach its -3dB point until around 21Hz. This is an excellent response and leads to a simulated in-room response of 16-18Hz -3dB. If that doesn't have the bass-heads in the crowd salivating, this will: the MSRP is $1249.
Internet Direct subwoofer manufacturers are well known for selling huge subs. Whatever it takes to get the sort of bone-rattling bass their fanatical followers demand. But they often don't warn you about it up front. Power Sound Audio takes a slightly different tact. From their website, "Nothing about this subwoofer is small. A huge 6" Precision Port, two proprietary 15" drivers and an enclosure the size of a large end table..." Now that is what we call truth in advertising!
The XV30 sports two down-firing 15" woofers, a large, rear facing port, and a 750 watt amplifier. The amp has an On/Off/Auto switch, knobs for volume, phase (0-180), and crossover, (40-150Hz) and RCA inputs. Power Sound Audio brags a precision analog control through DSP though we are not exactly sure what that means. There is built in temperature, CD offset, overload, short circuit, and load protection plus soft limiting. The drivers are proprietary with 2" peak-to-peak excursion, carbon steel motor structure, vented pole geometry, reinforced kraft pulp cone. The enclosure is 36" by 20.5" by 26.75" (D x W x H) which, honestly, sounds like a large end table to us. It sports the sort of finish you can only sell online (vinyl wrapped) and 1" thick MDF baffles and 1.5" thick MDF base. It weighs in at a back breaking 158 pounds. The XV30 and the smaller XV15 and XS15 subs are available for pre-order but won't be shipping until August at the earliest.
Conclusion
Power Sound Audio has the sort of pedigree behind it that knows what people want from an Internet Direct subwoofer company. They want big sound, big bass, and they don't care how big the box is that it is coming out of. On top of that, they demand a small price tag. They are willing to concede such things as aesthetics, size, and ease of placement as long as they can watch the popcorn on their ceilings fall during their movies. The Power Sound Audio XV30 promises all that and more. Using the most rigorous measurement techniques, you can feel confident that their performance claims are on the level. Sporting two 15" woofers in a box big enough to use as a dog house and heavy enough to give you and two of your best friends hernias, you can rest assured that the 21Hz ground plane measurement will translate to something well into subsonic range in room. At $1249, that's an amazing value. Now to convince the spouse.
For more information, please visit www.powersoundaudio.com.

Unless otherwise indicated, this is a preview article for the featured product. A formal review may or may not follow in the future.
nathometheatre posts on April 06, 2014 16:06
I just purchased the XV30 (base plate model), as Tom had one left that was a trade in for the Triad. So as soon as I receive this beast and calibrate it, I will give a full review. I'm pairing it with a PB12/Plus2 in a 1600 cubic foot theatre! I will calibrate it individually first, and show my in room measurements, then I'll recalibrate both subs. Should have tons of headroom!
canaragensets posts on April 30, 2013 08:18
Generator on hire, Dg sets for hire, Diesel generator for rent, Generator for hire, Mobile
Canara Electrical Engineers Offering, Diesel generator for rent, Generator for hire, Dg sets for hire, Dg sets for rent, Generator on hire, Mobile generator hire and Welding generator for hire in Bangalore, India.
Joe689 posts on September 13, 2012 23:37
nice reivew
fuzz092888 posts on September 13, 2012 11:54
My guess would be space.
coolcat4843 posts on September 13, 2012 09:38
Reefdvr27, post: 902426
I just took delivery of my dual XV-15's. These will be replacing Dual Outlaw EX's. I am really hoping they will out perform the Outlaws.
Why don't you combine the Outlaws with the XV-15's?
Post Reply
Confused about what AV Gear to buy or how to set it up? Join our Exclusive Audioholics E-Book Membership Program!