Atlona Tech AT-HD570 HDMI (1.3) Audio De-Embedder Preview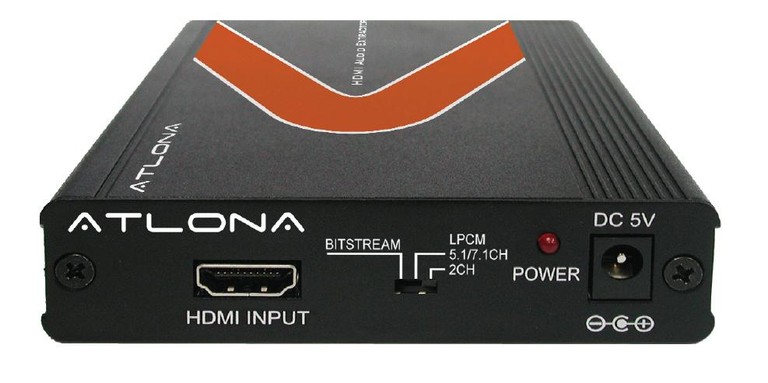 Atlona Tech AT-HD570 HDMI (1.3) Audio De-Embedder
Summary
Input port: HDMI Female (type A)
Output port: HDMI Female (Type A); Optical (TosLink); 4 x 3.5mm Outs for Multi-Channel Audio (use 3.5mm to dual RCA adapters)
HDMI input/output audio format: LPCM 7.1, 5.1 or 2 channels and Bit stream (Dolby TrueHD, Dolby Digital Plus and DTS-HD Master Audio)
Optical Output audio format: Dolby 5.1/2 and LPCM 2 channels

Multi-Channel audio format: LPCM 7.1/5.1/2 channels.
Operating Temperature: 0°C ~ 40°C
Power Supply: 5V/2.6A DC (110/220v)
Dimensions: 3.9(W) x 5.8(D) x 0.98(H) - inch
Weight: 0.8LB
Gross Weight: 2LB
Executive Overview
Maybe you're that guy that just can't give up their processor. Maybe you just love the looks/feel/sound of your gear too much. Sure, you'd love to experience some of those new audio formats but come on, you just can't do it. Plus, with Blu-ray the Dolby Digital and DTS streams are higher bandwidth than before so you are getting a bit of a bump. Sure it isn't DTS Master Audio or Dolby TrueHD but you don't really need them, right?
You know you do.
HDMI has its flaws but right now it is the only way to get truly high definition audio and sound from most of todays high definition sources. This is unfortunate as there are plenty of people out there that would love to experience the new audio formats but don't have the money or the desire to upgrade their gear. They spent too much time and money getting the perfect gear just to have to upgrade for a simple input. Especially when manufacturers seem to be moving away from quality amplification anyhow. Altona Technologies has finally released (almost) a device that will strip the audio stream off the HDMI cable allowing those without HDMI capable receivers/processors to enjoy the lastest and greatest of the audio formats while still sending the high definition video to their HDMI capable display..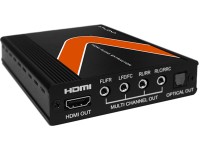 The AT-HD570 HDMI Audio De-Embedder works with HDMI 1.3 and will strip the audio portion off while maintaining the video. You can output the audio either via TOSLink or analogue while sending the video to your display via the included HDMI output. The analogue outputs might look unfamiliar to the general AV populace as it takes the form of four 3.5mm jacks. This is common in the computer world and requires only four 3.5mm to dual RCA cables to make the switch.
The technology isn't without its limitations, however. The optical output only supports Dolby Digital 5.1/2 or LPCM 2.0. No word yet on if DTS is supported but we're guessing it isn't. Through the analogue outputs you can get the whole she-bang - as long as you are decoding at the source and sending 7.1 LPCM. While it makes it sound like it removes the audio from the HDMI feed, it really doesn't. Through the HDMI you can get all the audio formats either LPCM or bitstreamed.
The AT-HD570 is HDCP compliant so you won't have to worry about it working with your other HDMI devices. It can serve as a repeater as well. It has onboard HDMI signal amplification and reclocking. Deep Color is supported from 25MHz to 6.75GHz for 36 bits and resolutions up to 1080p (24 or 60 Hz). The video is passed through untouched - the AT-HD570 doesn't scale or upconvert.
Conclusion
The AT-HD570 isn't for everyone but for those that need it, it will be invaluable. We've seen devices like this on the market but none that supports all the audio formats. Currently, the AT-HD570 is on preorder for the price of $219. While only a bit over a hundred more will get you a brand new Denon receiver with all the decoding and HDMI functions you could need, you'd be stuck with a bottom of the line Denon. For those that love their analogue gear but want to hear what all the high def fuss is about, the AT-HD570 might be just the ticket.
For more information, please visit www.atlona.com.

Unless otherwise indicated, this is a preview article for the featured product. A formal review may or may not follow in the future.
jinjuku posts on December 20, 2012 09:22
morkys, post: 832576
Looks like a nice way to use a PS3 as a Blu-Ray player with a receiver without full HDMI.

What do you do about speaker size and distance parameters for surround when connecting to a multi-channel analog input of a receiver?
Depends on the receiver. The correction features my still come into play.
morkys posts on December 20, 2012 08:59
If I can find this cheap enough, I may give it a try with my PS3. It may allow me to obtain 7.1 audio to send to my RCVR and 3D video signal to send to my 3D TV. About the lack of distance settings for the speakers, I will check if my PS3 does that. Upon researching my receivers manual, I found that my RCVR can do time alignment (distance) and bass management to speakers for sources connected to my 7.1 multi-channel analog inputs.
morkys posts on September 27, 2011 15:54
Trouble is, you have no way of controlling speaker size and distance. I have a receiver that allows level adjustments for each speaker, but nothing else. If the PS3 had size and distance adjustments, that would be helpful.
Brent87st posts on September 26, 2011 03:15
TOSLINK????PS3?????? ?



morkys posts on September 25, 2011 23:15
Looks like a nice way to use a PS3 as a Blu-Ray player with a receiver without full HDMI.

What do you do about speaker size and distance parameters for surround when connecting to a multi-channel analog input of a receiver?
Post Reply
Confused about what AV Gear to buy or how to set it up? Join our Exclusive Audioholics E-Book Membership Program!