Parasound Halo JC 5 Stereo Amplifier Preview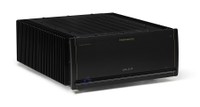 After 16 years of great reviews from their JC 1 amplifier, Parasound has finally given consumers exactly what they want: Two top-of-the-line Halo JC 1 monoblock power amplifiers integrated into a single chassis that is the same size as one JC 1. The new Parasound Halo JC 5 combines high power and ultra-high bias Class A/AB sonic quality at roughly two-thirds the price of a pair of JC 1s.
If you like the performance of the Parasound JC1 amplifier, but just couldn't justify the cost of two to run your system, check out their new JC5. Two monoblock amplifiers in one chassis! Read on!