Classe Sigma 2200i Integrated Amplifier Preview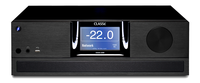 Looking for a great integrated amp to start your two-channel hi-fi system? The Canadian manufacturer Classe, of The B&W Group along with Rotel, debuted he 2200i Integrated Amplifier this month with a price point of $5,500. It has a host of features and AV connectivity beyond most traditional integrated amplifiers and boasts some impressive power output into 4 ohm loads. Is this is yet another great addition to Classe's truly audiophile line of products or just an overpriced integrated amp? Read on to find out.
Looking for an integrated amp to build a 2CH hi-fi system? Check out the Classe Sigma 2200i Integrated Amp. It boasts some impressive features and power output into 4 ohm loads. Read on for details.