NAD M22 V2 Masters Series Amplifier Preview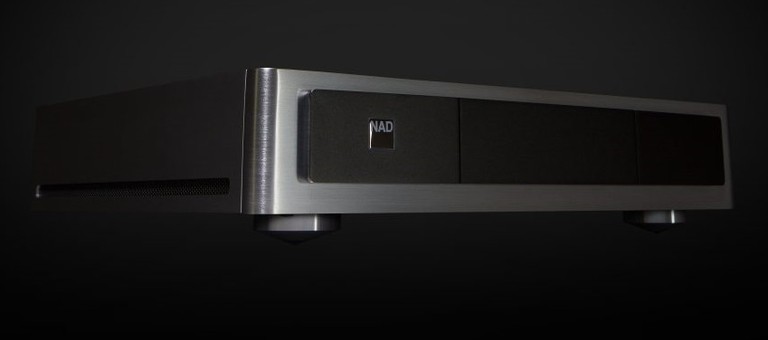 Summary
Continuous output power into 8 ohms and 4 ohms (Stereo mode) 300 W (20 Hz-20 kHz at 0.1% THD, both channels driven)
Continuous output power into 8 ohms (Bridge mode) THD+N (20 Hz – 20 kHz, CCIF IMD, SMPTE IMD, DIM 100) 900 W (20 Hz – 20 kHz at 0.1% THD)
<0.005 % (250 mW to 290W, 8 ohms and 4 ohms)
Note: Measured with Audio Precision AUX-0025 or Prism dS-LPF passive low pass filter
Signal-to-Noise Ratio >100 dB (A-weighted, ref. 1 W in 8 ohms
>120 dB (A-weighted, ref. 300W in 8 ohms)
Clipping power (Stereo mode, at 1 kHz 8 ohms 0.1 % THD) >300 W
Clipping power (Bridge mode, at 1 kHz 8 ohms 0.1 % THD) >950 W
IHF dynamic power (Stereo mode, at 1 kHz 1 % THD) 8 ohms: 400 W
4 ohms: 700 W
2 ohms: 1000 W
Damping factor >800 (ref. 8 ohms)
Frequency response ±0.1 dB (20 Hz – 20 kHz)
Input sensitivity (for 300W in 8 ohms) 1.73 V
Gain level Low: 19 dB
Medium: 24 dB
High: 29 dB
Minimum input level for Auto Trigger 5 mV at 1 kHz
Dimensions (W x H x D) 17 1/8 x 4 1/16 x 14 15/16 inches
Net Weight 19.6 lbs
Executive Overview
If you're a fan of NAD electronics or if you've been thinking of upgrading your amp to a more sophisticated product brand you might want to check out NAD's new M22 V2 Masters Series Amplifier released this year at CES, Las Vegas, Nevada. NAD's new M22 V2 delivers a 20% increase in power over their previous model and adds bridging mode and an input sensitivity switch for system flexibility. Audioholics previewed the original M22 over 3 years ago with high praise. The new design will increase the power from 250 watts per channel to 300 watts per channel and also incorporates several upgrades over the original M22.
"NAD has a long reputation in high performance amplifiers that punch well above their weight. Much of NAD's success comes from listening to the market as many of these upgrades were based on feedback from our customers."
Greg Stidsen, NAD's Chief Technology Officer
The M22 V2 utilizes the latest nCore amplifier technology licensed from Hypex to provide an amplifier with ultra-low distortion levels, ultra-high damping factor, and the stability with any speaker the NAD products are known for. In addition, the M22 V2 comes with a wide open-loop bandwidth, extremely low-phase shift, load invariant harmonic and intermodulation distortion, high current capability, and low output impedance (high damping factor).

The M22 V2 also has a 3-position input sensitivity switch that controls the auto turn-on sensitivity, allowing for better matching to each individual system. The new bridging switch will transform the M22 into a 900-watt mono behemoth. The substantial increase in power is a result of a major redesign of the power supply. NAD's exclusive PowerDrive circuit has been recalibrated to take advantage of the increased capability of the power supply section. 
The amp is DC coupled throughout, from input to output, there is no capacitor in the forward signal path. Yet NAD says it has a beneficial 12dB/octave roll-off below 2Hz. They claim the amplifier does this by using a unique circuit topology that is functionally a forward servo. It is however not a servo in the traditional sense as it does not measure DC at the output and sends back a correction signal. Instead, part of the input signal is fed to a side chain with a second-order low-pass filter. The output of this is subtracted from the forward signal input to the second stage thus rejecting DC.

Even with the increase in power and features, the price of the M22 V2 remains at $2999 U.S. MSRP and the unit will be available for January delivery. We have been following the developments and maturity of Class D amplifier designs and we believe NAD chose wisely with the hypex module. This is definitely an amp we'd like to get on our bench in the near future.
If you plan on buying this amp or own the previous iteration of it, please comment in the related forum thread below.

Confused about what AV Gear to buy or how to set it up? Join our Exclusive Audioholics E-Book Membership Program!
Recent Forum Posts:
AcuDefTechGuy posts on January 28, 2018 22:30
MSRP seems about right for a brand name/Higher-end 300WPC x 2Ch amp.
gene posts on January 27, 2018 01:52
If you're a fan of NAD electronics or if you've been thinking of upgrading your amp to a more sophisticated product brand you might want to check out NAD's new M22 V2 Masters Series Amplifier released this year at CES, Las Vegas, Nevada. NAD's new M22 V2 delivers a 20% increase in power over their previous model and adds bridging mode and an input sensitivity switch for system flexibility. To see if it was a significant upgrade without an increase in price read on.

23404

Read: NAD M22 V2 Masters Series Amplifier Preview
Post Reply