Rotel 1572 Series Integrated Amplifier, Preamp, and CD Player Preview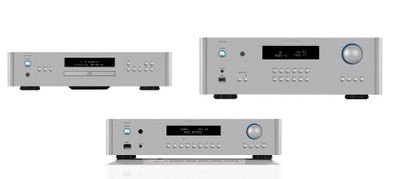 Summary
RA-1572 Integrated Amplifier

Continuous Power Output:

120W/Ch (All channels driven, 8Ω)
Total Harmonic Distortion: (THD)(20Hz–20kHz) <0.03%
Line Level Inputs: 10Hz - 100kHz ±0.5dB

Digital Inputs: 10Hz - 90kHz ±2dB
Phono Input: 20Hz - 20kHz ±0.5dB

Dimension:

17" × 5.7" × 14.1"

Weight: 29 lb
RC-1572 Stereo PreAmplifier
Total Harmonic Distortion:

(THD)(20Hz–20kHz) <0.004%
Line Level Inputs: 10Hz - 100kHz ±0.3dB
Digital Inputs: 20Hz - 20kHz ±0.5dB
Phono Input: 20Hz - 20kHz ±0.3dB
Dimensions: 17" × 3.9" × 13.5"
RCD-1572 CD Player
Total Harmonic Distortion:

(THD)0.002% @ 1kHz

Frequency Response:

20Hz - 20kHz ±0.5dB

Dimensions: 17" × 4" × 12.6"

Weight: 15 lb
Executive Overview
For over half a century, Rotel has been manufacturing award winning hi-fi components and for the last 18+ years, Audioholics has been there to cover their newest products. We continue this tradition with the release of the latest introduction of three new stereo components as part of the 1570 Series. We saw a complete overhaul of their Integrated Amplifier back in 2013 which we covered in our Preview of their RA-1570. It looks to us like Rotel's newest version of the 15 series might be their best yet.
RA-1572 Integrated Amplifier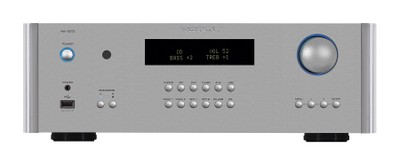 Long recognized as a central component in superb yet cost-effective music systems, the integrated amplifier's job has evolved substantially as many music-lovers have migrated to digital sources. The RA-1572 is a great example of melding classic analog design with contemporary digital circuits to bring all sources to life.
As typical of what we've seen of Rotel amplifiers, the RA-1572's circuitry draws on a high capacity power supply based on a Rotel custom designed and in-house manufactured oversized toroidal transformer. As we've seen in the past, this design helps provide an abundance of voltage and current for all operating stages. In addition, the transformer's toroidal shape helps prevent stray radiation patterns from corrupting audio signals as they pass through adjacent circuit stages.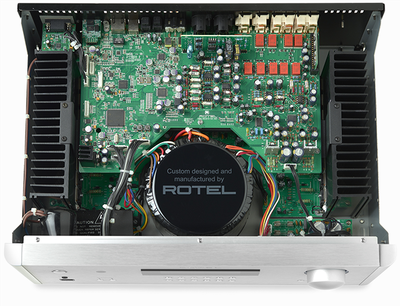 To help with the preponderance of digital sources available today, the RA-1572 has a built-in 32-bit/768kHz AKM digital-to-analog converter (DAC).  The DAC and surrounding circuitry supports a vast array of source inputs including DSD capable PC-USB (32-bit/384kHz).  A front panel USB input is provided for easy connection of a wide variety of music storage devices including Apple iPods, iPhones, and iPads and the Bluetooth input supports aptX.  In addition, two each coaxial (RCA) and optical (TOSlink) inputs provide easy connections for LPCM music sources including popular streaming devices with up to 24-bit word lengths sampled at 192 kHz. Analog inputs include a pair of balanced XLR connectors in addition to conventional RCA jacks and MM Phono input.
Based on a Class AB stage, the power output is rated conservatively at 120 watts per channel into 8 ohms, full bandwidth with both channels drive. A mono line-level subwoofer output is also provided.
The RA-1572 also has two 12-volt triggers to control on/off operation of other components, a highly visible VFD display for set-up, internet-based software updates, as well as RS232 and IP control capabilities.
RC-1572 Stereo Pre-Amplifier
The heart of an uncompromising audiophile stereo "separates" system is the preamplifier. Separate components hold the promise of the best possible fidelity, since each device is optimized for its role in the sound reproduction chain. The new RC-1572 stereo preamplifier leverages the design attributes of their flagship RC-1590 preamplifier including its 32 bit/768kHz AKM stereo digital-to-analog converter to handle critical signal conversion. Among many refinements, the RC-1572 utilizes relay switching for analog sources instead of an IC based switch to maintain the integrity of the signal path for RCA, phono and XLR inputs.
Beneath the clean lines and user friendly fascia of the RC-1572 lies highly sophisticated engineering. Both analog and digital sources have been given equal consideration as today's listener often has several digital sources, but may also enjoy legacy formats like vinyl LPs. A large toroidal transformer and regulated power supply helps ensure stable current and voltage requirements your system under dynamic conditions.
The RC-1572 stereo preamplifier is also extremely flexible. Four digital inputs (2 coax and 2 optical), support up to 24bit/192KHz audio, plus the rear PC-USB handle digital sources up to 32/384 resolution. The 4 inputs are designed for sources such as TV set-top boxes, flat panel TVs or Blu-ray players for stunning playback.  It is possible to fix the level and set an auto-on option on these sources for use with devices that provide their own volume control for convenient "hands-off" use.  The PC-USB input supports DSD signals.  Integrated Bluetooth aptX is provided.  Analog inputs include balanced XLR connectors, perfect for connecting the RCD-1572 via its XLR outputs, in addition to four pair of conventional RCA inputs. A moving magnet phono stage rounds out the source capability. XLR and single ended outputs are provided along with a mono subwoofer line level output, as are two 12-volt triggers to control on/off operation of an amplifier and/or other components. For custom integration, control options include RS232 on a standard DB9 connector, as well as an Ethernet port for IP control and software updates.


RCD-1572 CD Player

Wow, can you believe CD's have been around for 35 years, and in all this time Rotel has been an innovator in the industry.  As most music lovers have a substantial collection of compact discs, a high quality CD player is still an important part of most music systems.  The RCD-1572 is the CD player in Rotel's 15 series and focuses careful refinements to reveal even the most subtle nuances buried in a CD's pit spiral.
One of the RCD-1572's most important features is the Wolfson WM8740 digital filter/stereo digital-to-analog converter. Originally developed for high resolution sources, it is the product of extensive research and real world testing and processes digital signals up to 24-bits in length at sampling rates from 8 kHz to 192 kHz.
In this newest version of Rotel's CD player, the post-converter analog circuitry benefits from Rotel's experience in crafting the pathway from the DAC's internal output to RCA and XLR rear panel connectors that bridge the gap between the RCD-1572 and down-stream components. According to Rotel, all circuit components – resistors, capacitors, inductors – are chosen only after their positive contribution to sound quality were quantified and verified qualitatively by extensive listening sessions.
All of these circuits draw on a power supply based on an oversized custom Rotel-designed and precision-manufactured toroidal power transformer that, in turn, feeds precise rectifiers, tight-tolerance voltage regulators, and advanced Slit-Foil low-ESR storage capacitors.
Conclusion
As we've seen in the past Rotel is again focused on build parts and quality over quirky buzzwords.  All three separates would be a considerable addition to an audioholics listening room and are currently shipping. So make sure if you're in the market for a new amp or CD player to check one of the 1572 series components from Rotel out.  Please comment on your experiences in the related forum thread below if you own Rotel components or plan on getting one of these in the near future.
Confused about what AV Gear to buy or how to set it up? Join our Exclusive Audioholics E-Book Membership Program!
Recent Forum Posts:
Mikado463 posts on October 27, 2017 13:04
Verdinut, post: 1217664, member: 80194
IMO, with a good universal Blu-ray player, most audiophiles don't need to have a separate CD player which won't play SACDs, DVD-As and won't perform any better and costs as much or more than a good OPPO player.
I hear 'ya, I have an Oppo 205 in my HT set up and it's a winner, when and if my Cary 306 dies in my 2 ch rig I would probably replace it with another Oppo !
Verdinut posts on October 27, 2017 11:31
IMO, with a good universal Blu-ray player, most audiophiles don't need to have a separate CD player which won't play SACDs, DVD-As and won't perform any better and costs as much or more than a good OPPO player.
Mikado463 posts on October 27, 2017 08:45
Their CD players continue the tradition of excellent performance for the $$
PENG posts on October 27, 2017 08:34
bluewizard, post: 1217420, member: 83944
From the Website -

Continuous Power Output: 120W/Ch (All channels driven, 8?)

From the Specs Sheet -

Continuous Power Output (20Hz – 20kHz, < 0.03%, 8 ohms): 120 watts/channel

From the body of the text -

"The power output, conservatively rated at a robust 120
watts per channel into 8 ohms, is substantial as it is a continuous
"both channels driven simultaneously" rating fully in keeping
with real-world requirements…"

I think that makes it pretty clear.

Steve/bluewizard
As far as I am concerned, those specs are great and better numbers would most likely make no difference to humans with normal hearing. One can say the same about the higher mid range AVRs (my AVR-4308 did almost 190 WX2 at the same 0.03% THD+N) though. Aside from that, I find the modern Rotel gear ugly, but that's 100% subjective. I do still own one, but don't find them an attractive option any more.
everettT posts on October 27, 2017 07:37
Still not clear. From the article it says both channels driven. From the spec sheet it doesn't state all channels driven, just says channels. I'm not knocking the product, just was pointing out. It would be incredibly if ACD was 120w with the low distortion numbers. From the body below it also states
both channels driven simultaneously" rating fully in keeping
with real-world requirements

So I'm still not sure..


bluewizard, post: 1217420, member: 83944
From the Website -

Continuous Power Output: 120W/Ch (All channels driven, 8?)

From the Specs Sheet -

Continuous Power Output (20Hz – 20kHz, < 0.03%, 8 ohms): 120 watts/channel

From the body of the text -

"The power output, conservatively rated at a robust 120
watts per channel into 8 ohms, is substantial as it is a continuous
"both channels driven simultaneously" rating fully in keeping
with real-world requirements…"

I think that makes it pretty clear.

Steve/bluewizard
Post Reply