Rotel 14 Series A14/A12 Integrated Amplifiers & CD Player Preview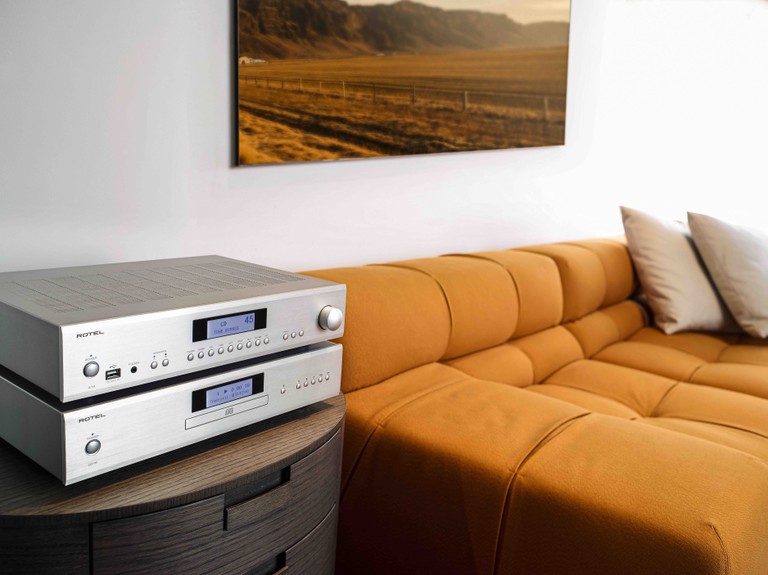 Rotel 14 Series Integrated Amplifiers & CD Player
Summary
Executive Overview
Rotel, has just introduced their new 14 series of integrated amplifiers and CD player to continue their legacy of offering high performance affordable audio that made them famous nearly a half century ago.  Rotel says that its latest products, which will be available in early October, incorporate a choice of inputs, as well as its newest industrial designs, and its latest control capabilities. 
"Stereo playback is enjoying a renaissance, particularly among younger people. These new Rotel components offer everything anyone needs today—USB for PC and iOS, Bluetooth and phono are among the connection options. Most importantly they look fantastic," notes Doug Henderson, president of the B&W Group.
"Rotel's painstaking attention to detail has resulted in a range of exceptional Hi-Fi components with beautiful clean cosmetics and intuitive controls for all the current sources. Whether it is classic vinyl or streaming high-resolution digital files from your phone, the 14 Series will deliver stunning realism."
The initial launch of the line will feature the following three products:
A14 Integrated Amplifier:

The flagship of the product line, Rotel says the A14 produces 80 watts per channel into 8 ohms, and it incorporate features such as a Rotel-manufactured torodal transformer, and slit-foil capacitors to help the amp drive a variety of speaker loads. The A14 also incorporates AKM 32-bit/768kHz DACs to support its digital coax, optical and PC-USB inputs. Other inputs include analog RCA, a moving magnet phono input, and it also offers Bluetooth with aptX compatibility. MSRP is $1,299.
Key Features:
Bluetooth with aptX
iOS/Android control App
AKM 32 bit / 768 kHz DAC
PC-USB with DSD support
Signal sensing power control
Inputs:  Analog—Aux (2), CD, Tuner, Phono (MM)
Digital:  Coax (2), Optical (2), PC-USB (PCM 32 bit/384 kHz) with DSD (1X/2X), Apple iOS USB, Bluetooth aptX
A12 Integrated Amplifier:
The competitively priced A12 offers many of the same features as its big brother A14 Integrated Amplifier, including the toroidal-based power section. Rotel rates the amplifier section in the A12 to produce 60 watts into 8 ohms, and like the A14 the A12 also offers a choice of analog and digital inputs, as well as Bluetooth with aptX compatibility. MSRP: $899
Key Features:
 60 watts per channel
Bluetooth with aptX
Wolfson high performance DAC
PC-USB 24 bit / 192 kHz
4 line graphic display
Inputs:  Analog—Aux (2), CD, Tuner, Phono (MM)
Digital:  Coax (2), Optical (2), PC-USB (24 bit/192 kHz), Apple iOS USB, Bluetooth with aptX
CD14 CD Player:
Paying close attention to the design of the CD14 CD Player's power supply, Rotel says it designed the disc player to operate with clean, ripple-free voltage and current to both its analog and digital circuits through its inclusion of independent power supplies. Sharing the same industrial design as the 14 Series integrated amplifiers, the CD player also incorporates Wolfson 24-bit/192kHz DACs, a precision CD mechanism, coax digital and analog outputs and iOS control options when connected to a companion 14 Series integrated amplifier.  MSRP: $599
Key Features:
Precision CD mechanism
Wolfson high performance 24 bit / 192 kHz DAC
Independent digital / analogue power supplies
iO /Android control APP (requires connection to A14).
Disc metadata display
Coaxial digital and analogue output
We love it when audio centric companies like Rotel still take two-channel audio seriously.  It seems quite evident to us that Rotel is doing just  that with these new 14 Series products.  Let us know what you think about them in our related forum thread and if you plan on buying them. 

Unless otherwise indicated, this is a preview article for the featured product. A formal review may or may not follow in the future.