Core Audio Kratos MKII Fully Digital Amplifier Preview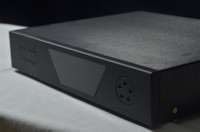 The Kratos MKII fully digital (A.K.A direct digital) amplifier breaks the mold from the typical amps we see in the high end audio marketplace. It's designed to have no "digital to analog conversion, no analog to digital conversion, no analog to triangle wave conversion, no analog to PWM conversion, no DSP, no sample rate conversion, and no switching power supplies." At 100wpc it should have enough power to drive most any speaker, and with an MSRP of $2,250, most audiophiles would consider it more than affordable. The Kratos can be customized for optimal performance with your speakers. Read on for a full analysis.
The Core Audio Technology Kratos MKII offers a true high-end direct digital amplifier solution for those audiophiles rooted firmly in the digital domain. Read on for a full run down.