Emotiva XPA-200 Stereo Power Amplifier Preview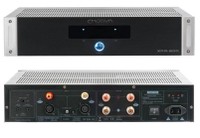 It's difficult being the middle child, just ask Jan Brady. Stuck between the high value UPA-200 and the monstrous XPA-2 amplifiers; the XPA-200 seems to get lost in Emotiva's plethora of offerings. Rated to deliver 150 watts into an 8 ohm load and 240 watts into a 4 ohm load (both at <1% THD), and priced at $499, does Emotiva's midgrade stereo amplifier deliver a compelling value, or is it worth overlooking in favor of its superlative siblings? Keep reading to see our take.
Review: The 150 watt Emotiva XPA-200 Stereo Power Amplifier is stuck between it's 2 siblings;the massive XPA-2 and high-value UPA-200. Read our XPA-200 preview to get the scoop on this new amp.