Pass Labs Concept Amplifiers Preview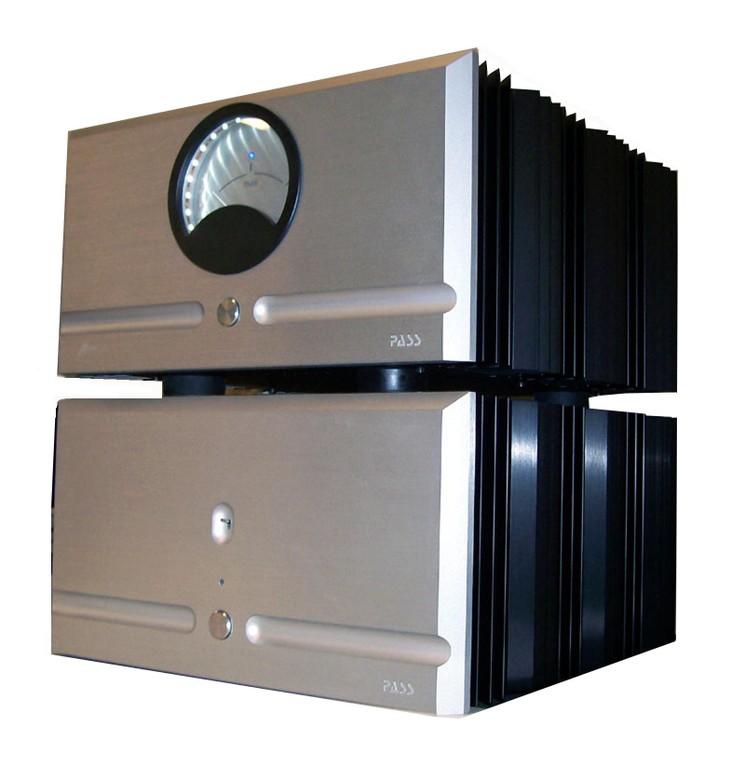 Pass Labs Concept Amplifiers
Summary
Push-pull bias
Small model: 200 watts

Large model: 300 watts (600-watt peak) into 8 ohms
Single-ended Class A bias

Executive Overview
Pass Labs' new Concept Amplifiers are high-bias, Class A, monoblock models employing the company's acclaimed Ultra-Symmetry circuit. Originally designed by Nelson Pass for use at his own retreat, they were shown in "concept" form at the 2010 CES — however, demand from dealers & distributors has turned them into actual products for shipment later this year.
They represent Pass Labs' maximum design effort, and are like large versions of the company's flagship XA200.5 Amplifier, notable for its high output capacity, power and stability. Like the XA200.5, they deliver superb music without straining, and possess twice as much chassis, power supply, output stage and dissipation capacity.
The Concept Amps are available in large and smaller models. The large amp delivers about 300 watts, and is equivalent to two XA200.5-size chassis per side (four for stereo). The smaller model delivers about 200 watts, and is equivalent to two XA160.5 Amp chassis per side (four for stereo). Each includes a separate power supply.
The Concept Amps feature the same output stage topology as the XA200.5 with twice as much heat sink, more output devices (currently 144), and a push-pull bias up to 300 watts (600-watt peak) into 8 ohms. New bias hardware increases the Concept Amps' single-ended Class A bias from the XA200.5 Amp's 5 watts to over 300. The Concept Amps' front end circuits are also biased higher, with the JFET input stage bias triple that for the XA200.5 Amp, and the voltage amplification stage bias quintuple that of the XA200.5.
The Concept Amps' gain circuits operate with less feedback and degeneration than previous designs to deliver a more relaxed liquid quality while maintaining high power and control into difficult loads.
Suggested prices for the Concept Amps are a whopping $70,000/pair (USMSRP) for the large model and approximately $45,000/pair (USMSRP) for the smaller model.
Recent pics forthcoming...
For more information please visit www.passlabs.com.

Unless otherwise indicated, this is a preview article for the featured product. A formal review may or may not follow in the future.
emorphien posts on January 06, 2011 20:09
Interesting, just read up on those TLS Guy.
TLS Guy posts on January 06, 2011 13:07
its phillip, post: 779547
$45,000-70,000? :x
This highlights the whole problem of making a rock solid stable class A solid state amp of over 100 watts.
I will say it again, if you want a bullet proof class A amp without all the problems, and their are big problems with the pass approach, then buy a Quad 909. Although the output triples are biased class AB, the performance is determined by the low power class A amp, in Peter Walker's brilliant feed forward design. No one has ever poked holes in Peter's math, nor his results and measurements of these wonderful amps. There is absolutely zero crossover distortion, with no error at all at the zero crossing. So they are truly class A performance. I can personally vouch for that.
For people using separates in superior systems, a Quad 909 should be a no brainer at least for the mains.
I have used them for going on forty years now and would never part with my "current dumpers".
its phillip posts on January 06, 2011 12:57
Ah, that explains it then
gene posts on January 06, 2011 12:53
$45,000-70,000? :x
I believe they soak the output devices in kosher chicken fat blessed by a Rabi before assembling the amp. It's a rather time consuming and expensive process so that may partially explain the higher than usual price tag
its phillip posts on January 06, 2011 12:42
$45,000-70,000? :x
Post Reply
Confused about what AV Gear to buy or how to set it up? Join our Exclusive Audioholics E-Book Membership Program!