Mark Levinson № 536 Monaural Power Amplifier Preview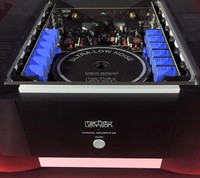 At CES 2015, Mark Levinson announced the № 536 Monaural Power Amplifier. This is a completely new design from the ground up from their new engineering facility. The No. 536 is slated to deliver 400W into 8 Ohms, 800W into 4 Ohms, and stable into 2 Ohm loads, and promises to drive just about any speaker to its potential. It's a fully differential design from input to output to take advantage of superior noise immunity and lower distortion compared to unbalanced designs. The amp is slated for release in the fall at an MSRP of $15,000. Read on for all the details.
The Mark Levinson No 536 is a fully balanced monoblock amplifier slated to deliver 400W (8 ohms), 800W (4 ohms), stable into 2 ohms loads with a massive power supply and hurricane binding posts.