Emotiva XPA-200 Stereo Power Amplifier Preview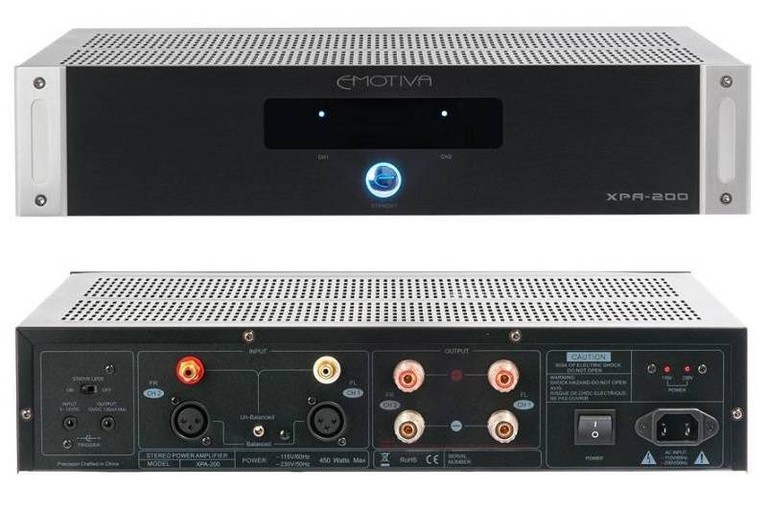 Front And Rear View Of The Emotiva XPA-200
Summary
Topology: Fully discrete, dual differential, high current, short signal path Class A/B
Number of Channels: 2
Power Output (rated power; THD < 1%): 150 watts / channel; into 8 Ohms; both channels driven.
240 watts / channel; into 4 ohms both channels driven)
Rated Power Bandwidth (at rated power; 8 Ohm load): 20 Hz to 20 kHz + /- 0.045 dB
Minimum Recommended Load Impedance (each channel): 4 ohms (which equals one 4 ohm load or two paralleled 8 ohm loads per channel)
Frequency Response: 10 Hz to 80 kHz (+ 0 / - 1 dB)
THD + noise: < 0.02%
Signal to Noise Ratio (8 Ohm load): > 89 dB at 1 watt (A-weighted); > 110 dB at rated power (A-weighted)
Damping Factor (8 Ohm load): > 500
Speaker Output Connections: Full-sized 5-way binding posts; one pair per channel x 2
Power Supply: 90,000 uF of storage capacitance; 360 VA heavy duty toroidal transformer
Input sensitivity (for rated power; 8 Ohm load): 1100 mV
Gain: 29 dB
Input Connections: Unbalanced (RCA); one per channel
Input Impedance: 47 kOhms
Trigger Input: 5 - 20 V (AC or DC); <10 mA input current required
Trigger Output: 12 VDC; can drive any load up to 50 mA
Power Requirements: 115 VAC or 230 VAC +/- 10% @ 50 / 60 Hz (automatically detected and switched)
Front Panel Controls and Indicators: Standby; push button (changes color to indicate Standby or On); Status LEDs (one per channel); blue for normal operation; red to indicate a fault (may be disabled by rear panel Status LED switch)
Rear Panel Controls: AC Power switch; rocker switch (switches AC mains power); Status LEDs switch; small slide switch on left rear (disables front panel Status LEDs and dims Standby button halo lighting); Input selector; toggle switch (selects between balanced and unbalanced inputs)
Protection: The XPA-200 is protected against excessive operating temperature, shorted speaker connections, ground faults, and other common fault conditions.
Size: unboxed: 17" wide x 3.875" high x 19" deep
boxed: 21 3/4" wide x 8 1/2" high x 22 1/4" deep
Weight: 31 lbs (37 lbs boxed)
It's difficult being the middle child, just ask Jan Brady. Stuck between the high value UPA-200 and the monstrous XPA-2 amplifiers;  the XPA-200 seems to get lost in Emotiva's plethora of offerings. Rated to deliver 150 watts into an 8 ohm load and 240 watts into a 4 ohm load (both at <1% THD), and priced at $499, does Emotiva's midgrade stereo amplifier deliver a compelling value, or is it worth overlooking in favor of its superlative siblings?
The Basics
The exterior of the XPA-200 is standard fare for Emotiva: a black metal case with silver cheeks, a couple of LEDs to indicate channel status, and a power button that turns amber in standby mode and blue when turned on. At 17"Wx3.875"Hx19"D and 31 pounds, the XPA-200 is much easier to fit into a cabinet than the much taller and heavier XPA-2.  Of course, it is important to note that not all cabinets can support the 19" depth of the XPA-200, so make sure you've got room for the amplifier and its' associated cabling before jumping head first.

In terms of fit and finish, the XPA-200 is nothing extraordinary; the case itself is relatively unassuming, albeit solid. I do feel that the relatively large and well-spaced binding posts are a nice touch, especially for folks who utilize certain banana plugs, specifically some of the locking plugs with long metal barrels that could potentially cause a short when tightly spaced. The RCA jacks also appear to be of good quality, and are unlikely to be ripped out by a tight gripping interconnect.
Performance
The XPA-200 was once described by Dan Laufman of Emotiva as being the UPA-2 on steroids. With a larger transformer and more secondary capacitance, that description seems relatively apt. Fortunately, Emotiva tests their amplifiers with an APX585 Audio Precision Analyzer (same model that Audioholics uses) and publishes the test results so one can see what their amplifiers are capable of before purchasing.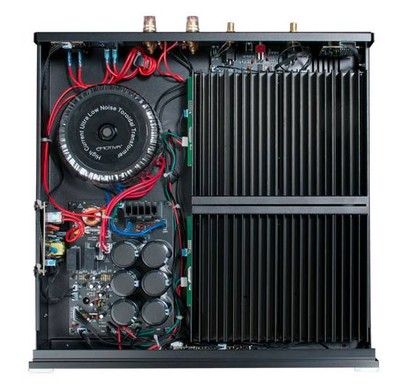 The innards of the Emotiva XPA-200, which are reminiscent of the old UPA-2.


Comparing with the less costly UPA-200, the XPA-200's performance is interestingly a bit of a mixed bag. As one might expect from the specs, the XPA-200 isn't really capable of delivering much more clean output into an 8 ohm load than the UPA-200; distortion for both in the 1kHz sweep begins rising rapidly beyond the 100W mark. Moving to a 4 ohm load, the XPA-200 starts to slightly separate itself from its sibling, being capable of putting out a bit over 200W with <0.1% THD+N, while the UPA-200 falls shy of the mark. Into both 8 and 4 ohm loads, one might also note that the XPA-200 is a bit less noisy, and that it delivers flatter top end extension.

With respect to its bigger brother, the XPA-200 is by and large clearly outperformed, as one might reasonably expect. One area that may be of interest to some however is that the XPA-200 is specified to have 29dB of gain versus the above average 32dB of the XPA-2. Depending on your setup, (using high sensitivity loudspeakers) it may actually be advantageous to opt for the middle child.

One final thing I would note: I would express some disappointment at Emotiva's choice to rate output on the XPA-200 at <1% THD; the XPA-2 and UPA-200 rate output into 0.1% and 0.05% THD respectively. I would suspect this is done to provide a bit of differentiation, but I would opine that this method may tend to raise more questions than it answers. There is no shame in rating the XPA-200 as a 100W/200W amp into 8 and 4 ohms respectively with less than 0.1% THD and explaining the real differences between the XPA-200 and UPA-200.

Results of a 1kHz sine sweep into 8 and 4 ohm loads for the XPA-200.
In Use
There's not really a lot to say here: the XPA-200 appears to be a good amplifier free from noise, hum, and significant amounts of distortion when operated as by a sane person. Driving speakers which spend a fair amount of time around the 4 ohm mark in the audio band, even at higher levels, the XPA-200 stays quite cool in my cabinet (which is reasonably well ventilated, but nothing extraordinary); the only heat I felt after a couple hours of use was a bit of warmth over the transformer. In contrast, my receiver (an Onkyo TX-SR707) which was driving the other three channels gets quite warm to the touch, even with the aid of a fan.
Conclusion
You have to feel bad for the Emotiva XPA-200: it's a good amplifier that tends to get overshadowed by its siblings. It can't match the power of the mighty XPA-2 or the price of the UPA-200. In spite of that, the XPA-200 fills an important niche in the lineup: for those that can't accommodate the big XPA-2 or don't want a high gain amplifier, but want a bit better performance than what the UPA-200 can provide into more difficult loads, the XPA-200 could be right up your alley. Happy listening!

Unless otherwise indicated, this is a preview article for the featured product. A formal review may or may not follow in the future.