Emotiva XPR-1 Mono-block Reference Power Amplifier Preview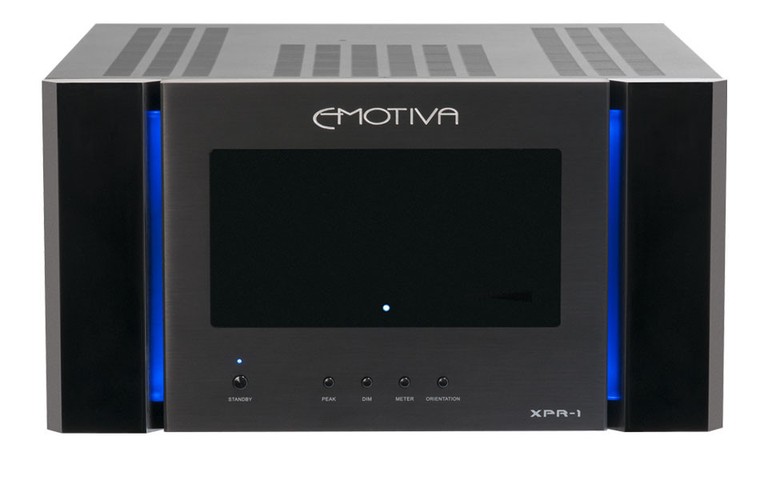 Damn...
Summary
Fully balanced, discrete, quad differential class A/B power amplifier
Class H power supply topology
1000 watts at 8 ohms over 20-20kHz, +/- 0.1 dB, <0.1% THD
1750 watts at 4 ohms over 20-20kHz, +/- 0.1 dB, <0.1% THD
Frequency response: 5Hz – 80kHz, +0/-3 dB
THD + noise: < 0.0025%
SNR (8 ohms): > 118 dB at rated power (A-weighted)
SNR (8 ohms): > 93 dB at 1 watt power (A-weighted)
Damping Factor: > 1000
Power Supply: 2.5 kVA toroidal transformer, 240,000 uF capacitance
Gain: 29 dB
Input Sensitivity (8 ohm): 3.5 V
Input Impediance: 100 k Ohms (unbalanced), 51 k Ohms (balanced)
W x H x D: 17" x 9.5" 19.5"
Weight: 99 pounds
Executive Overview
Update: 5/3/13:  Check out our full review of the Emotiva XPR-1 Monoblock Amplifier with Measurements
The quest of the audioholic for uncompromising sound quality, to find sonic Nirvana, is a difficult one fraught with great cost and difficult decisions.  When the requisite equipment to truly take the journey often costs more than purchasing a new vehicle or the down payment on a moderate home, it is difficult to justify the costs for the majority of us with ordinary means, so we compromise.  It is truly a rarity to find equipment that can come truly close to the goal without the substantial price tag, but exceptions do exist.  Emotiva seems to consistently produce these types of exceptions.
The latest in a series of reference quality amplifiers, the Emotiva XPR-1, while hardly inexpensive in an absolute sense, comes in at a price just north of a four-figures.  This is substantially less than most other amplifiers that boast similar specifications, which often approach, and some cross, the five-figure mark.
Clocking in at 99 pounds per channel, and it is only a single channel, the XPR-1 is a monster of an amplifier.  The XPR-1 sports the same 30 pound, 2.5 kVA transformer, 240,000 uF capacitor bank, and thirty six 250 watt output transistors as the XPR-2, just with one less input channel and providing nearly twice the power output per channel.  The two halves of the XPR-1 feature mirrored differential gain stages that eliminate opamps from the signal path when running from balanced inputs.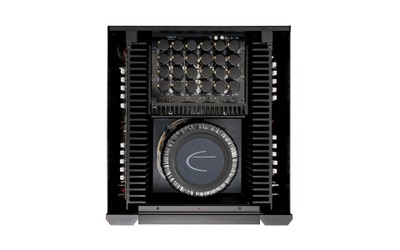 Emotiva XPR-1 Internal View
One the inside, the XPR-1 is a balanced, differential class A/B amplifier with a triple Darlington output stage and a class H modification to the power supply topology, which is said to increase power efficiency.  The power supply capacitor bank is comprised of a large number of smaller devices utilizing 24 x 10,000 uF capacitors.  The advantage of using a larger number of smaller capacitors is said to be in improved transient response with shorter charge/discharge cycle times.  Emotiva states that high quality electronic components are used throughout the internal circuitry of the XPR-1 including precision metal film resistors, low ESR film capacitors, and multi-layer glass epoxy printed circuit boards.
The internal circuitry is controlled with an ARM-7 microprocessor that monitors the XPR-1 to ensure operational stability and provide protection against common electrical fault and thermal issues such as over-temperature, shorted speaker connections, and ground fault problems.  The status of the protection and other circuitry is reported by dimmable front mounted LEDs that can be oriented to read left/right/vertical with level metering for VU and peak current with hold and release functionality.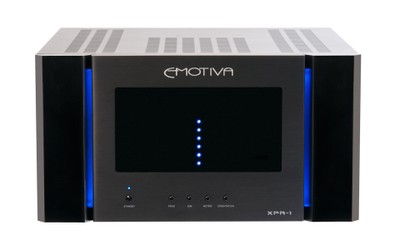 Emotiva XPR-1 Front View
To fuel this engine of audio, Emotiva recommends a dedicated 20 amp circuit for the XPR-1, and because you will need at least two XPR-1s, what that really means is two dedicated circuits to actually hit the rated 1kwatt power into an 8 ohm load, which is a draw of 1500 watts for each amplifier.  Of course you can still run both amps off one dedicated 20A line and probably never come close to drawing full power with both channels driven for real program material. The XPR-1 supports 115/230 VAC at 50-60 Hz operation and auto switches between the two voltages.  So, power mongers will want to install a dedicated 220V line to really unleash the big dog. 
Inside the chassis, there are three large aluminum heat sinks arranged in an H pattern forming compartments that separate the output transistors, the transformer, and the capacitor bank.  The two primary legs of the heat sink H run the full length of the chassis and appear to function as an internal reinforcing frame with attachments to the front and rear plates.
The faceplate of the XPR-1 is formed from multiple 1 inch machined billet aluminum sections that are laser embossed and hand polished.  In addition to the LED meter display, the faceplate includes vertical accent lights and several buttons to operate the meter display for setting peak, dim, meter, and orientation along with a soft touch stand-by button with in-rush current limiting circuitry and an operation indicator LED.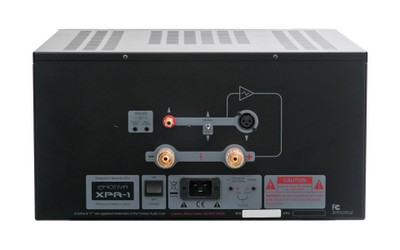 Emotiva XPR-1 Backview

At the rear, the XPR-1 features user selectable balanced XLR and unbalanced RCA inputs that are set with a toggle switch.  The unbalanced RCA input is constructed of machined, gold plated solid brass.  The custom manufactured Emotiva speaker terminals are heavy duty gold plated binding posts with clear acrylic insulators that can accept heavy gauge bare wires, spade lugs, or banana plugs and Emotiva recommends using at least 10 gauge speaker wire or lower to minimize resistive heat losses.  The XPR-1 also includes a 12V trigger input and output, IEC detachable power cord terminal, a rocker power switch, and an input voltage indicator LED showing the 115/230V operation state.
So why does anyone need all of this power?  It is not really about producing high volume; it is about effortless control and dynamics.  It is about the ability of an amplifier to have the strength to pry every last detail free from a recording and hold it out on display for all to hear.
Think about it, a five channel surround system built on XPR-1 amplifiers would weigh a quarter ton.  It would also require six dedicated 20-amp circuits between the amps and the other gear.  At that point, in addition to having an electrician over to install the circuits, it would also be advisable to hire a Structural Engineer to evaluate the ability of your floor, walls, and foundation to locally support that kind of load.  Go even more gung-ho and a Pro Logic IIz setup would push a half-ton and possibly require a main service upgrade beyond the standard 200 amp line that the electric company typically runs to residential.  Sweet.
But, all of that is just the audioholic in me dreaming.
Stay tuned for our formal review with bench test measurements.  We are looking forward in hearing how a pair of Emotiva XPR-1 amplifiers will drive the $50k/pair of Status Acoustics 8T Reference speakers in the Audioholics Showcase home theater room.

Unless otherwise indicated, this is a preview article for the featured product. A formal review may or may not follow in the future.