D-Sonic M2 & M3 Class D Amplifiers Preview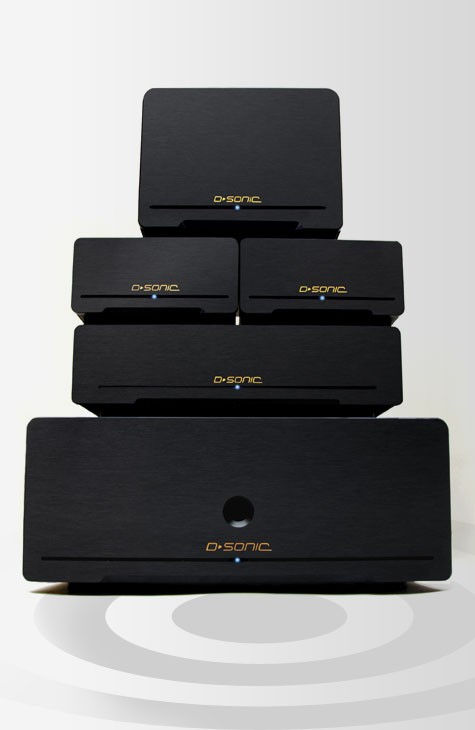 Meet the D-Sonic family of Class D amplifiers.
Summary
Mono Amplifiers:
Dimensions: 7.25"W x 15"D x 4"H
Weight: 9.0 – 11.5 lbs depending on power module

Stereo Amplifiers:
Dimensions: 14.25"W x 15"D x 4"H
Weight: 19.0 – 24 lbs depending on power module

Three Channel Amplifiers:
Dimensions: 9.25"W x 15.6"D x 8.25"H
Weight: 24 – 28 lbs depending on power modules

Four - Seven Channel Amplifiers:
Dimensions: 18.25"W x 15.6"D x 8.25"H
Weight: 50 – 58 lbs depending on power modules
Second 20A power cord optional for M3-5400-7 only
D-Sonic may not be a company a lot of Audioholics' readers are familiar with: debuting in 2006, they're focused on building high quality, albeit affordable Class D amplification based on B&O's ICE modules (utilized in their M2 series) as well as more advanced designs (utilized in their M3 line). As noted in our recent article about amplifier classes, Class D amplification, while not necessarily easy to get right, boasts a major advantage over the rest of the field: efficiency. As such, when we read that D-Sonic was offering amplifiers delivering up to 2.4kW into a 4 ohm load, as well as claiming stability into <2 ohm loads, let's just say our interest was piqued.

So what do these guys offer exactly? The core of D-Sonic's offerings boils down to four separate amplifier modules, neatly spelled out below:
From there, you can get a single channel of amplification all the way up to seven channels, using any combination of amplifier modules you wish. Of course, D-Sonic does offer several "standards". The M3 series includes two mono amplifiers using 600W and 1,500W modules; three stereo amplifiers using 400W, 600W, and 1,500W modules; as well as two five channel and three seven channel amplifiers using a mix of 400W, 800W, and 1,500W modules. The M2 series offers 250W and 500W channels of ICEpower technology. In terms of cost, the entry level monoblock will set you back $975 plus shipping, while the top level seven channel amplifier runs $3,975. Considering the amount of power on tap here, that's not too shabby in our books.

Of course, there's more than impressive output numbers to like here; build quality is described as top notch as well. All amplifiers utilize a powder coated 14 gauge steel chassis and a brushed, anodized, aluminum billet face, which presumably helps to add a bit of heft as well as a classy, albeit understated look. Mil spec silver/teflon wiring is used internally, and medical grade filters are used to remove RFI/EMI from the AC power as well as the internal circuitry, which should please the audiophile crowd. In addition, all channels are noted to be true mono, only sharing grounding and the AC power supply to keep crosstalk to a minimum. Last but not least, you get an attractive set of five way binding posts, gold plated RCA jacks, and balanced XLR inputs for connectivity.
Front and rear view of D-Sonic's stereo amplifier chassis.

It's also worth noting that while D-Sonic's amplifiers are rated to deliver a considerable amount of power, they are still well protected in case of abuse/accidents. The circuitry is noted to be bullet-proof against shorts as well as thermal issues, though we'd expect thermal issues to be minimal thanks to the Class D topology. In addition, all D-Sonic amplifiers utilize "wave optimized" soft clipping circuitry, which looks to gently compress the waveform as the limits are reached as opposed to hard clipping which as the name suggests, clips the peak and generates considerable levels of distortion that can put your speaker's tweeters at significant risk of destruction.

So what's the story about actually buying one of these amplifiers? Like many Internet direct companies, D-Sonic does offer a 30 day trial period for their products (which can be extended at their discretion); however, it's important to note that the buyer must pay shipping both ways, as well as a 10% restocking charge. Presuming you opt to keep your new amplifier, you're covered by a three year parts and labor warranty, which isn't too shabby when compared with the A/V receiver market.


Summary
1,500W of power out of a cool running Class D amplifier that's stable down to 2 ohms? Yes, please. Add in rugged construction, bullet-proof circuitry, as well as affordable pricing, and we'd figure that D-Sonic has some pretty compelling products on their hands. Yes, they are a small company, so the 30 day trial has some caveats (i.e. return shipping plus a restocking fee). However, given what we're seeing, we'd be willing to bet they don't get a lot of returns. Anybody interested in a super-efficient, high-powered amplifier? Sound off on our forums.
In the meantime we are gearing up to do a full fledged review with measurements of the D-Sonic M3-3000S 1.5 kwatt two-channel power amplifier and will be reporting our results soon.  Stay tuned...
For more information about D-Sonic, visit their website: http://www.d-sonic.net/
Unless otherwise indicated, this is a preview article for the featured product. A formal review may or may not follow in the future.