IQ Audio M300 MonoBlock Amplifier Review
IQ Audio M300 MonoBlock Amplifier Review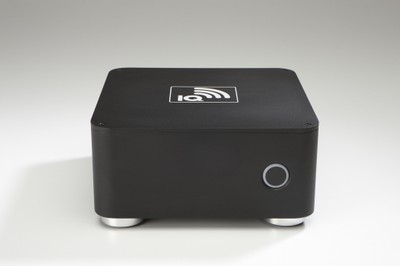 Power Output
8-ohms – 150-watts ( maximum power output 250-watts )
4-ohms – 300-watts ( maximum power output 400-watts )
All ratings based on FTC test protocol
All rating based on continuous sine wave power / true RMS power
Less then 0.02% distortion at any frequency, 20hz to 20Khz
Frequency Response
Power Supply
Universal switch mode
Fully protected
Compliant in all countries
Audio Input / Input Impedance
Balanced (XLR) – 100K Ohms
Unbalanced (RCA) – 100K Ohms
Audio Output
Audio Gain
Features
12V Trigger
12V pass through
LED Indicator
Normal Operation – Blue LED
Dimensions
Weight – 7 lbs
Height – 3.25 inches
Width – 7.75 inches
Depth – 7.75 inches
Pros
Excellent performance and fidelity
Efficient design
Small lightweight form factor
Cons
Torque binding posts limit speaker termination options
We've all heard the phrase "good things come in small packages" when receiving an unexpectedly small Christmas present as a child.  Sometimes this would ring true while other times it often wouldn't.  At least that has been my experience growing up, since I always wanted large bulky audio gear.  The small stuff either wasn't very good or easily available, unless it was a Walkman or a dreaded cube speaker system.  When IQ Audio contacted me to review their new M300 Class D MonoBlock audio amplifier I was intrigued, until I went to the product page on their website and saw the pint size casing.  I mean, what can one expect from a 7lb box measuring 3" x 7" x 7"?  I'm thinking flea watt amplifier power but their website spec claimed otherwise and they went to great lengths to explain their 150 watt @ 8 ohm and 300 watt @ 4 ohm rating was at full bandwidth.  Many Class D amplifiers are quietly rated at 1kHz to give the illusion of high power but tend to be very limited at driving low impedance loads over the full bandwidth.  This often isn't revealed by most of the AV press since they typically only power test amplifiers at 1kHz.  I was dying to get this amp on my test bench, Audioholics style, and find out if this small package could really be a good thing or not.  Continue reading this review to find out the answer.
Design Overview
The IQ M300 was designed to be a compact, impeccably-built, audiophile-grade amplifier able to deliver real FTC rated power, all at a reasonably affordable price point.  IQ Audio claimed they also wanted a very quiet amplifier with a real black background. The M300 is said to achieve 40uV to 50uV micro-volts total noise which we will validate in the measurements portion of this review.
In speaking with company CEO Bruce Weisberg, he told me they used as design references, two of their favorite solid-state amplifiers from Spectral and Pass Labs. Their goal was to try to achieve maximum resolution while maintaining musicality.  The reference speakers they tested the M300 on were Quad electrostatics, Bruce's personal long-time favorite.
Input Stage
The M300 utilizes a micro controlled input buffer stage. This section controls the start up of the amplifier, and allows for control over the amplifier and feature set. This buffer section is said to achieve high common mode rejection for excellent noise immunity to increase dynamic range.  The balanced and un-balanced inputs have 100K input impedances making the M300 very compatible with both tube and solid-state preamps.
The microprocessor allows 12V remote start up and shut down, without the use of energy wasting secondary transformers. In fact, the power supply meets all Energy Star requirements. 
Power Supply
To supply the rated 300 watts of FTC-rated power would require a hefty 10-12-pound transformer. Rather than using a conventional linear power supply which can inject hum or buzz on sensitive equipment, IQ Audio instead opted for a power supply based upon the efficient zero-voltage, zero-current switching technology, which IQ Audio claims yields ultra-fast response while greatly reducing radiated and conductive electromagnetic interference and high frequency noise on the DC power supply.
In the IQ design, the transistors turn on and off at zero-voltage and zero-current, reducing power supply stress, reducing the amount of filtering and shielding required, reducing heat, and lowering RF interference. Keeping RF noise and EMI interference low in a power supply was a fundamental goal. IQ Audio believes this contributes significantly to the transparent reproduction and increased dynamic range from the M300 amplifier.
In other conventional switching power supplies, the power transistor turns on and off with a lot of voltage present. This stresses the power supply and creates the need for greater filtering, shielding, etc. By integrating the power supply with the Class-D section IQ Audio engineering was able to shorten the electrical paths.
The Class-D Output Section
The IQ M300 Class D section is a self-oscillating design. Special attention was paid to the feedback control loops, which includes the Class D output filter. The goal was to maximize loop gain with utter stability.
The Class-D circuit runs at approximately 500Khz, and IQ Audio uses the fastest switching devices to achieve optimal results.  As you will see in our detailed measurements, the M300's frequency response is independent of the impedance load, and the amplifier is stable with reactive loads and loads down to 2 ohms.
 IQ Audio M300 Top View with cover removed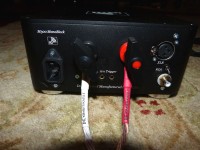 IQ Audio M300 Backview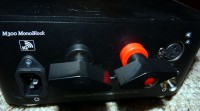 The M300 comes with heavy duty 14AWG detachable power cord with ferrite beads attached to both ends, presumably a necessity to pass CE radiated emissions due to the high switching frequency of the Class D operation.  It sports a hospital grade 3-prong plug with a sticker claiming "grounding reliability can only be achieved when this equipment is connected to a receptacle marked hospital grade".  Sounds serious, but I had no grounding issues plugged into my ordinary 15 amp household outlets.
Torque binding posts are used for the speaker connection terminals (same ones on the Pass Labs X350.5 amplifier we've recently reviewed).  I'm not a big fan of this connection type since I typically prefer banana terminations, but luckily I had some Kimber 8TC cables on hand with spade terminations that made a very firm connection to the M300 terminals once I tightened them down.  The M300 has both balanced and unbalanced input connections and 12v triggers.  The chassis is not your run-of-the-mill thin sheet metal found on AV receivers.  It's significantly thicker giving the unit a very rugged build quality.  Potential owners should be particularly proud of the fact that this amplifier is fully designed and manufactured in the USA as you can see stamped on the back panel.  The CE mark is on the bottom of the unit and its rated power consumption (I assume a max rating) is 500 watts.
Confused about what AV Gear to buy or how to set it up? Join our Exclusive Audioholics E-Book Membership Program!
See also:
Recent Forum Posts:
jinjuku posts on March 07, 2014 08:40
Lets create another thread as this one is really about the amplifier reviewed.
cutedaddy posts on March 07, 2014 07:35
More on UcD technology by Bruno Putzeys of Hypex, the Netherlands, with a proprietary solution or two implemented to solve traditional class-D drawbacks:
Hypex Electronics BV - UcD
cutedaddy posts on March 04, 2014 06:04
@jinjuku and @haraldo

Thanks for your replies, i am honored.

Whether Hypex's UcD and NCore modules are overhyped i wouldn't know. That's why i would like to see a Class-D comparative testing article, really putting the measurements in perspective, on a nice comparative spreadsheet. Relevant measurements that is, but we can leave that to Gene, or someone else serious about testing.

As far as i can find, there are no serious (meaning "objective") reviews that doubt the claims Hypex is making about it's own modules, but, on the contrary, several that confirm the stated claims. In other words, Putzeys is NOT overconfident as far as i can judge.

Sure there's more class-D contenders, and sure class-D existed before Putzeys. Carver e.a. are great contributors to audio development. However, the UcD module originally patented by Philips was patented because it was a leap forward. Since, Putzeys has left Philips to join Hypex and has registered a whole number of new patents making even the Philips UcD obsolete by comparison. So yeah, Putzeys is a step ahead IMO.

About Channel Islands Audio: they have a lot to say about Bruno's modules, but the bottom line in my view is: they are USING THESE MODULES for their own products. Why? I'll tell you three good reasons why: 1. The modules are so good; 2. The modules carry a patent CIA would like to own, but they don't; 3. The modules are very competitively priced. So much so, CIA can make a huge profit. Of course they will have to uphold that they do a lot 'in house', or else what would be the justification of their pricing?

To me, Channel Islands Audio are too much involved to give any objective comment on the NCore. If it's nothing at all, why do they use it in the first place? If it's not a bother to do all these 'upgrades' in house, why don't they do their complete amplifier in house, but use Hypex modules instead? They don't have the right to speak AFAIC, i have yet to see ABX-tested any accomplishment completely their own.

The Hypex modules measure unrivaled and do very well in blind listening trials as well. Output impedance (=cone control)? Industry lowest. Completely discreet signal path, no IC's, who else has that? Regulators measure unrivaled as well. Gain structure, I/O buffering, plenty other features no one else handles so well. Please show me wrong, always curious to learn more.
gene posts on February 28, 2014 10:03
haraldo, post: 1014760
Thx Gene for a great review (as always)

You write:
At 4 ohms, I measured a whopping 371 watts (1% THD+N) and 317 watts (1% THD+N).

Do you mean?
At 4 ohms, I measured a whopping 371 watts (1% THD+N) and 317 watts (0.1% THD+N).
Yes, let me fix that. Thanks.
conanb posts on February 28, 2014 01:45
Audioholics should review one of the D-Sonic class D amps.
Post Reply