Marantz PM5005 Integrated Amp & CD5005 CD Player Preview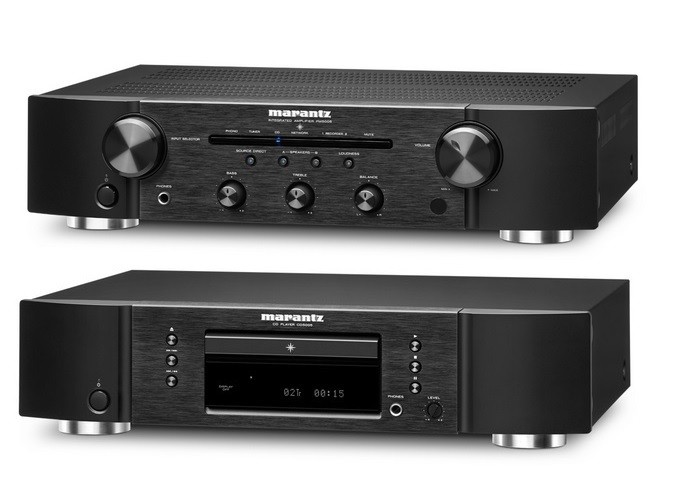 Meet Marantz's new PM5005 integrated amplifier & CD5005 CD Player.
Summary
PM5005
Power Output (8 / 4 Ohm RMS): 40 W / 55 W
Frequency Response: 10 Hz - 50 kHz
Total Harmonic Distortion: 0.05%
Signal to Noise Ratio: MM: 83 dB
Signal to Noise Ratio: High level: 102 dB (2V input)
Maximum Dimensions (W x D x H): 17.32" x 14.57" x 4.13"

CD5005
CD Compatibility: CD, CD-R/RW, WMA, MP3
D/A Conversion: Multi-bit, Delta-Sigma
Frequency Response: 20 Hz - 20 kHz
Signal to Noise Ratio: 110 dB
Total Harmonic Distortion: 0.002%
Channel Separation: 98 dB
Maximum Dimensions (W x D x H): 17.32" x 13.31" x 4.13"
Executive Overview
Compared with the breakneck pace of advancement in the world of A/V receivers, the rate of progress in the world of high end integrated amplifiers and CD players is downright glacial. Where an A/V receiver from a decade ago would be considered an antiquated relic, an integrated amplifier from that time period isn't likely to be much different in terms of feature set than much of what's on the market today. Marantz's new entry level integrated amplifier & CD player combo, the PM5005 ($499) and CD5005 ($399), are fine examples of this trend. These aren't state of the art devices with wireless networking, sophisticated auto-calibration systems, etc. Case in point, talking points on Marantz's press release include an all metal chassis and front panel, as well as a new, more elegant knob design.
The ho-hum PM5004 (above) and the opulent PM5005 (below) showing off its new knobs.

So is that it? Marantz released a new integrated amplifier and CD player to showcase some new knobs? Not quite. For starters, the PM5005 does feature some updates over its predecessor, including a new remote, as well as a new low-power standby mode. Power gets a mild boost, now rated at 40W/55W into 8 and 4 ohm loads respectively, up from 35W/45W. Marantz has also implemented a current feedback architecture, something they claim is generally reserved for more expensive models. Per their release "This technology provides very fast and accurate signal handling." We'd guess this means a bump in slew rate, such as what was seen on the recently announced SR5009. Other than that, most of the specifications appear practically identical to the outgoing PM5004, including frequency response (10Hz-50kHz) and signal to noise ratio (102dB high level inputs, 83dB phono).
Rear panel of the Marantz PM5005.

What surprises does Marantz have in store with the CD5005? Like the PM5005, the remote has been updated, and a power sipping standby mode has been added. The CD5005 also upgrades two important details over its predecessor. The Cirrus Logic CS4398 used in the step-up CD6005 is on board, as well as a new CD transport mechanism which is claimed to be "extra-reliable." Again, the specifications are largely similar to the outgoing CD5004, with frequency response (20Hz-20kHz), dynamic range (100dB), and signal to noise ratio (110dB) being identical. The only noteworthy change is a drop in channel separation, down to 98dB from 110dB, though we'd consider either figure sufficient.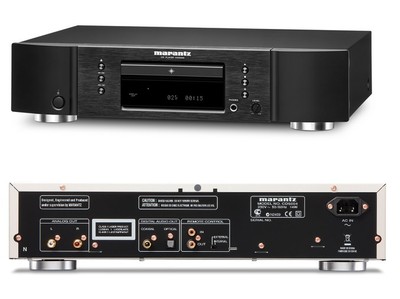 The Marantz CD5005 front and rear.

Summary
Suffice it to say the release of the PM5005 and CD5005 by Marantz aren't likely to change the audiophile world. Of course, that shouldn't be a big shock: really if Marantz had let the PM5004/CD5004 combo go another five years, nobody would have noticed. Integrated amplifiers and CD players just don't need to be changed like underwear. Nonetheless, Marantz's latest and greatest look to deliver a mild performance upgrade over their predecessors, which is always nice. If that's not enough, you can always sit back and admire the elegant new knob design.
Confused about what AV Gear to buy or how to set it up? Join our Exclusive Audioholics E-Book Membership Program!
See also:
Recent Forum Posts: