Niles Audio Introduces Five New Amplifiers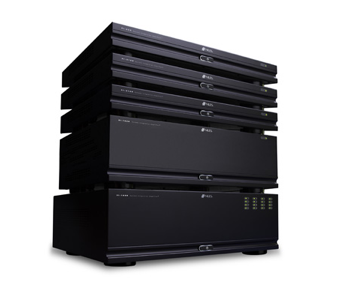 Summary
| | | | | | |
| --- | --- | --- | --- | --- | --- |
| | # of Channels | 8 ohms | 4 ohms | Bridged | Dimensions |
| SI-250 | 2 | 50W | 100W | 225W | 438cm W x 56cm H x 344cm D |
| SI-2100 | 2 | 100W | 220W | 400W | 438cm W x 56cm H x 344cm D |
| SI-2150 | 2 | 150W | 270W | 550W | 438cm W x 56cm H x 344cm D |
| SI-1230 | 12 | 30W | Not Specified | 80W | 438cm W x 145cm H x 411cm D |
| SI-1652 | 16 | 50W | Not Specified | 100W | 438cm W x 145cm H x 411cm D |
Executive Overview
Niles Audio recently announced the launch of five new integration amplifiers that they claim provide the "ideal solution for every application." While that may be going a bit too far, the SI-1230 Series 2 and SI-1650 multi-room amplifiers and the SI-250, SI-200, and SI-2150 2-channel amplifiers are sure to fit the bill for many installations.
The three new 2 channel amplifiers (SI-250, SI-2100, and SI-2150) use oversized heat sinks to eliminate the need for cooling fans, which is great when not installed in a rack. Each amplifier can be operated in stereo or bridge mode and can be hooked up to 8 ohm or 4 ohm loads. When operating in stereo mode there is independent level control for each channel. There is one set of stereo analog inputs and one set of outputs for cascading multiple amps. The power ratings for each 2 channel amplifier are in the table below. Each amplifier has the same measurements at 438cm W x 56cm H x 344cm D and require a single rack space.
| | | | |
| --- | --- | --- | --- |
|   | 8 ohms | 4 ohms | bridged |
| SI-250 | 50W | 100W | 225W |
| SI-2100 | 100W | 220W | 400W |
| SI-2150 | 150W | 270W | 550W |
2-channel Amplifier Wattage Breakdown
The SI-1230 Series 2 is an updated version of the SI-1230. It is a fully configurable 12-channel amplifier rated at 30wpc (80w bridged). Using Niles' BusMatrix selector, each channel can be set to left bus, right bus, left plus right bus, or the channel's dedicated input. The SI-1650 includes all of the features of the SI-1230 but ups the amplifier channels and audio inputs to 16. It is more powerful as well at 50wpc (100w bridged) and features web browser control. The SI-1650 also includes high pass and low pass filters for use with Niles' passive subwoofers such as the new GSS10 in-ground subwoofer. Both amplifiers measure 438cm W x 145cm H x 411cm D and require three rack bays.
All of the amplifiers come with a two-year limited warranty, removable power cord and rack mount ears. They also features a 12V trigger input and output, manual power switch on the front panel, and auto-sensing RCA inputs.
Conclusion
There is nothing particularly ground breaking about these amplifiers, but then again, most custom installers don't want surprises when on the job site. All of the new amps are certainly robust in terms of configuration and we are sure many installers will be happy to see the new models.

Unless otherwise indicated, this is a preview article for the featured product. A formal review may or may not follow in the future.