Emotiva UPA-500 Five Channel Power Amplifier Review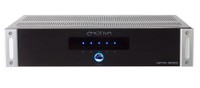 Riddle me this. What's affordable, lightweight, powerful and comes in a little black box? The UPA-500 and it's a new five channel amplifier from Emotiva with a price tag under $400. While it may NOT be a perfect amplifier, it comes as close to perfection for a product beyond its price class. The UPA-500 delivers clean, low noise, meaty amplification that will surely bring new life to a whimpering department store A/V receiver. It's honestly rated and has no issues driving low impedance loads while remaining cool in operation even under the most strenuous test conditions on the bench. If you're looking for a step up in sound quality and power on the cheap, I can't think of a better option on the market. Highly recommended!
The Emotiva UPA-500 is a five channel amplifier that offers solid performance and value. At under $400 it's in a class of its own.