Parasound Halo A 51 Amplifier Review
Parasound Halo A 51 Amplifier Review
by
Ken Stein
—
October 19, 2004

Contributors: Steven DellaSala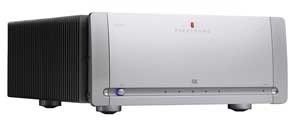 Parasound Halo A 51 Amplifier
Product Name: Halo A 51 Amplifier
Manufacturer: Parasound
Performance Rating:
Value Rating:
Review Date: October 19, 2004 19:00
MSRP: $ 4000
Circuitry designed by legendary John Curl
THX Ultra 2 certified
High bias Class A/AB operation
Balanced inputs with discrete circuits and XLR connectors
Direct Coupled - no capacitors or inductors in signal path
Complementary MOSFET driver stage and JFET input stage
40 beta-matched 15 amp, 60 MHz bipolar output transistors
2.2 kVA encapsulated toroid power transformer with independent secondary windings for each channel; 164,000 µF power supply filter capacitance
DC Servo and relay protection circuits
AC present, channel status, high temperature indicators
Gold-plated RCA input jacks, loop output jacks
Heavy-duty 24k gold-plated 5-way speaker binding posts
Auto turn-on by 12v trigger or audio signal, 12v trigger out
Rear panel gain controls; ground lift switch
4U Chassis; carry handles; rack mounting adapter included
Parasound's 10 years parts, 5 years labor warranty

Continuous Power Output: 250 watts RMS x 5, 20 Hz - 20 kHz, 8 ohms, all channels driven; 400 watts RMS x 5, 20 Hz - 20 kHz, 4 ohms, all channels driven
Current capacity: 60 amperes peak per channel
Power bandwidth: 5 Hz - 100 kHz, +0/-3 dB at 1 watt
Total harmonic distortion: < 0.2 % at full power
IM distortion: < 0.04 %
Slew rate: >130 V/µsecond
Dynamic headroom: > 1.5 dB
Interchannel crosstalk: > 78 dB at 1 kHz; > 63 dB at 20 kHz
Input sensitivity: 1 V for 28.28 V, THX Reference Level
Input impedance: 47 kW unbalanced; 66 kW balanced
S/N ratio: > 112 dB, input shorted, IHF A-weighted
Damping factor: > 1100 at 20 Hz
Voltage: 110V - 120V
Dimensions: 17-1/4" w x 7-5/8" h x 20" d, 7" h without feet
Net weight: 80 lbs
Pros
Bridgeable Channels
Balanced and Unbalanced Inputs
Diversified features
Exceptional Build Quality
Multiple "power on" options
Cons
Two amplifiers required for 7-channel audio (A 21 and A 51)
Increased cost associated with two amplifiers
Parasound Halo A 51 Introduction
At first look the Parasound Halo A 21 and A 51 are appealing and robust amplifiers accented by brushed metal finish and a "Halo" aqua blue light around the power button. But an amplifier is not just about cosmetics especially when considering that most Audio Enthusiasts seem more interested in sound quality and features. The A 21 and A 51 amplifiers are both loaded with usable features above and beyond most other amplifiers in today's market.
The understated look of the A 21 / A 51s subtle yet empowered front panel implies a need for a space aged protective shell that contains a powerful yet precious cargo. For example the "P" on the top of the front face glows red to indicate that the unit has AC power as does the "Halo" insignia around the power button which accents the power button with its soft blue glow. Once the power is turned on the soft blue changes to a brighter blue after all circuitry has been initialized. In the center bottom of the front face are the two indicators that verify proper functionality of each channel by glowing with a different shade of blue. On the right bottom is another indicator that glows red if the unit overheats with a redundancy portrayal from the "Halo" insignia that also switches to red.
Confused about what AV Gear to buy or how to set it up? Join our Exclusive Audioholics E-Book Membership Program!