Emotiva MPS-1 Seven Channel Amplifier Review
Emotiva MPS-1 Seven Channel Amplifier Review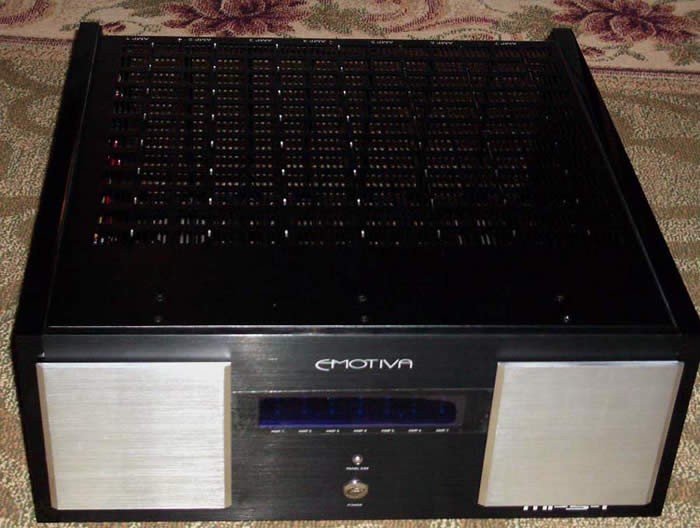 Emotiva MPS-1 Amplifier
Audiophile quality, modular power amplifier.
True card cage design can accommodate up to seven 200 watt (@8 ohms) mono block power modules - power modules glide in and out on Nylon rails
200 watt power modules feature independent 350VA, low noise toroid power transformers w/ high speed rectifiers and 48,000uF of storage per channel for a 336,000uF total, across seven independent channels
High efficiency Class H power amplifier design, minimizes power losses and allows cool operation
Complementary, discrete power amplifier design incorporating high current, high speed, Toshiba power devices
Truly transparent, integrated soft clip circuitry
Balanced XLR and RCA inputs
Channel status indicators for standby, operate, and fault
THD less than .015%, 20Hz-20kHz with 80kHz measurement bandwidth
DC offset, less than 1mv, servo controlled.
Completely Stable into 2 ohm loads
200 watts/8 ohms - 300 watts/4 ohms - 400 watts/2 ohms *minimum* - seven channels driven, mains limited
Frequency response 20Hz-20kHz +/- 0.1 dB, or 10Hz-100Khz +/- 3dB
Signal to Noise Ratio - 100dB, un-weighted
Crosstalk between ANY channels -greater than 120dB

Input impedance - 20k ohms.
Fully protected from all fault conditions with ultra quiet, module mounted, fan assisted cooling for severe duty cycle applications
Soft start circuitry. Silent turn on/off - No audible transients
Signal sensing auto turn on or remote trigger. Soft touch power switch
All aluminum capacitors are premium quality, low ESR, 105°C rated for high reliability and performance.
Doubled sided, plate through, glass epoxy, FR4 PCB's used throughout with 2 ounce poured copper on all power sections and ground planes
Modules are designed for field replacement with the removal of four screws
5RU chassis with floating multi-element, milled aluminum faceplate. Indirect cobalt blue illumination of all controls and main panel
Black lacquered, piano finished wood side panels are included, as are milled aluminum rack ears for professional installations
Massive, multi element milled aluminum faceplate with "floating" wing detail - indirect, cobalt blue panel illumination with panel dimmer
Power consumption during standby - 3 watts or 60 watts at idle
IEC power inlet, 120/230 VAC user configurable on modules
5 year warranty
Weight - 115 lbs.
Dims: (HxWxD) 7 11/16" x 18 7/16" x 18 13/16"
Pros
Excellent Performance & Fidelity
Very efficient
Attractive styling
Cons
Big and Heavy
Didn't quite hit power spec
Emotiva MPS-1 Introduction

The Emotiva MPS-1 sports some very unusual attributes for a product in its price class. Close inspection of the PCB boards of the amplifier modules revealed doubled sided, plate through, glass epoxy, FR4 PCBs used throughout with 2 ounce poured copper on all power sections and ground planes. You can never have enough copper for power and ground and it's nice to see Emotiva spared no expense and did it right. The choice of all 105 degree C rated capacitors is a rarity for consumer audio products at any price point, but the Emotiva flaunts them both in their power supply and individual bypass caps sprinkled throughout the entire design. 1% metal film resistors were also used though out this design. I found it refreshing for a company to use such tight tolerance and robust parts in their design which, in my opinion, speaks volumes for their sense of pride in design. Another costly feature implemented is the active anti-clipping circuitry which is basically inactive in all but the most demanding operating conditions. This is a very thoughtful feature that, although garnering a slight penalty in measured performance (particularly SNR and distortion), it yields invaluable protection for overload conditions which typically fry the tweeters in loudspeakers. Once an amp runs out of headroom it enters a mode commonly referred to as "clipping". When an amplifier clips it essentially sends a square wave response or DC voltage to the speaker which after only a few short cycles can fry the tweeters voice coil or burn out series inductors in the crossover sections. The MPS-1 doesn't allow this to occur since it not only limits the output signal when overdriven, but also smoothes out the waveform to prevent the dreaded square wave response of clipping. The neat thing about the soft clipping circuit is how unobtrusive it is under normal listening conditions. This is a feature I wish more companies would execute this intelligently in their designs.
Editorial Note on the MPS-1 Amplifier Design
The MPS-1 utilizes a class H design. Similar to class G, but potentially more efficient, it modulates the power supply rail voltage just slightly higher than the output signal, keeping the voltage across the transistors small and the output transistors cool. This results in a very efficient and cool running design, commonly referred to as a'tracking amp' because the power supply tracks the input voltage and supplies the correct output current. The modulating power supply rail voltage is created by similar circuitry that you would find in a simple power amplifier. In terms of complexity, this type of amplifier could be thought of as multiple power amplifiers driving a class AB amplifier and is therefore fairly complex and expensive to properly manufacture and execute.

The amp has four high current complementary output power BJTs per channel. Paralleling multiple BJTs is a good method of ensuring amplifier output impedance is low enough to deliver high current while driving low impedance loads. It's also an effective way of minimizing frequency response variations which can occur when driving highly reactive speaker loads or exotic cabling.

Confused about what AV Gear to buy or how to set it up? Join our Exclusive Audioholics E-Book Membership Program!