Rotel Revives Its High-End Michi Brand With 3 New Flagship Components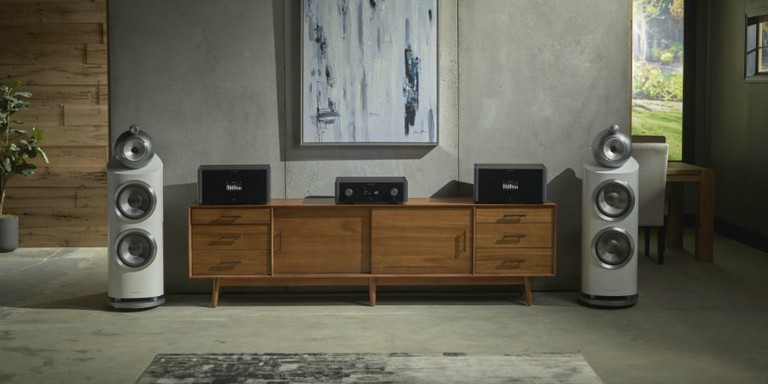 Summary
Michi P5 Control Amplifier (stereo preamplifier)
Line Level Frequency Response: 10Hz - 100kHz (±0.3dB)
Digital Inputs: 20Hz - 20kHz (±0.3dB)
THD (20Hz–20kHz): <0.002%
Dimensions (W × H × D): 19" × 6" × 17.75"
Weight: 50.5 lbs
Michi S5 Stereo Amplifier
Continuous Power Output: 500 Watts/Channel (8Ω); 800 Watts/Channel (4Ω)
Frequency Response: 20Hz - 20kHz (+0dB, -0.15dB); 10Hz - 100kHz (+0dB, -0.4dB)
THD: <0.008%
Dimensions (W X H X D): 19" × 9.375" × 18.25"
Weight: 132.1 lbs
Michi M8 Monoblock Amplifier
Continuous Power Output: 1,080 Watts/Channel (8Ω); 1,800 Watts/Channel (4Ω)
Frequency Response: 20Hz - 20kHz (+0dB, -0.15dB); 10Hz - 100kHz (+0dB, -0.5dB)
THD: 0.018%
Dimensions (W X H X D): 19" × 9.375" × 18.25"
Weight: 130.3 lbs
Executive Overview
The Japanese A/V manufacturer Rotel has been building high-value audio electronics since the 1960s. In the early 1990s, the brand launched a high-end series of pricier components called Michi (Japanese for "path"), which was designed to compete with the best of the best in the audio industry. The Michi series was retired just a few years later, but now it's back with three all-new, flagship-level components. The Michi P5 Control Amplifier ($4K), S5 Stereo Amplifier ($7K), and M8 Monoblock Amplifier ($7K) promise superb build quality, elegant design, and unshakeable performance.
Rotel says that its new Michi series represents "the pinnacle of over 55 years of audio engineering excellence via an entirely new, no compromise, and revolutionary system architecture designed to provide huge, effortless, continuous reliable power with total accuracy, musicality and ultra-low noise."
The new Michi range was reportedly in development for three years, during which the engineering team conducted painstaking listening sessions to aid in component selection. The in-house manufacturing facility where Rotel builds all three Michi products also builds the custom-designed, oversized toroidal transformers used in their power supplies. Peter Kao, Managing Director of Rotel – and 3rd generation member of the company's founding family, had this to say in an interview with SoundStage! Australia:
The original Michi products launched in the early 1990's and set a new standard for audio in the global marketplace receiving numerous awards and still held with high regard. The relaunch of the Michi brand is a fitting tribute to the history and heritage of Rotel and celebration of this family-owned and 3rd generation family-operated Hi-Fi audio business. (The new) Michi products have been designed leveraging the core strengths of Rotel such as custom designed and in-house built toroidal transformers, massive slit foil capacitors and exceptional audiophile grade components. The core DNA of Rotel's 58 year history has been retained but the technology and engineering is new, allowing these products to achieve the level of performance required to proudly wear the Michi logo.
— Peter Kao Managing Director of Rotel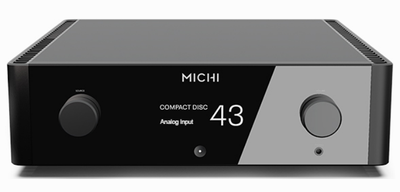 The Michi P5 Control Amplifier is a stereo preamp with both analog and digital source inputs. The DAC section employs dual AKM 32-bit DAC chips, and is capable of processing MQA files and streams, in addition to DSD, and PCM up to 32 bits/384 kHz. Digital inputs include USB, coaxial, optical, and bluetooth. Analog inputs include both balanced (XLR) and unbalanced (RCA) line-level inputs, plus a phono input that can accommodate both moving-magnet and moving-coil phono cartridges. RS232 and Ethernet connections make automation and control system integration a cinch. The Class-A analog preamplifier circuit is "supported by an array of 17 independent voltage regulators driven from 2 custom designed and factory built toroidal transformers with low ESR smoothing capacitors to deliver ripple-free current," according to Rotel.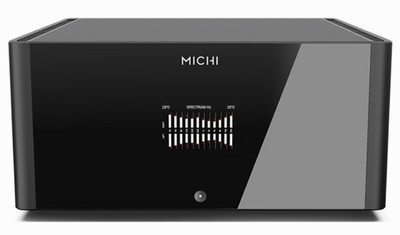 The Michi S5 Stereo Power Amplifier is a chunky Class AB design delivering 500 watts into 8-ohm loads and 800 watts into 4 ohms. A true dual-monoblock design, the S5 utilizes a pair of custom 2,200 Volt Amp toroidal transformers, each encased in its own epoxy-filled enclosure to minimize vibration and noise. The amp has an impressive 188,000µF of capacitance on tap, thanks to a bank of four patented slit foil, high efficiency, low ESR bulk storage capacitors. This design allows to S5 to deliver "exceptional bass energy while maintaining precise detail and control to 32 high current output transistors ensuring effortless accuracy of the timing and rhythm under even the most difficult of load conditions." The amp's elegant front panel is equipped with a color display that can show a peak power meter or spectrum analyzer. Around back you'll find both RCA and XLR inputs, and custom, high-current, 5-way rhodium-plated binding posts.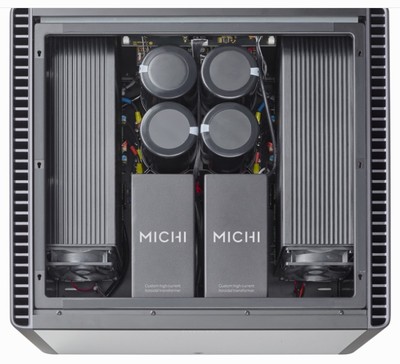 How Many Watts You Say?!?
If for some reason your system should require even more power, you'll want to go with a pair of Michi M8 Monoblock Amplifiers. For the hefty price of $14,000/pair, you'll be treated to an equally hefty 1,080 watts into 8 ohms, or 1,800 watts into 4-ohm loads. Either way, Rotel claims that the design architecture used in these new amps "ensures a smooth, accurate, and relaxed delivery of the audio to even the most demanding loudspeakers while maintaining critical energy, rhythm and timing."
Only time will tell if this new incarnation of the Michi brand will have what it takes to survive in the long run. There is no shortage of competition in the word of luxury audio, where established brands like Mark Levinson and McIntosh enjoy a great deal of name recognition and customer loyalty. Will Rotel's existing customers move up-market to become Michi owners, or will Rotel have to carve out a new niche by luring customers away from other luxury audio manufacturers?

Confused about what AV Gear to buy or how to set it up? Join our Exclusive Audioholics E-Book Membership Program!