Naim Uniti Atom Headphone Edition Review: The Future of Streaming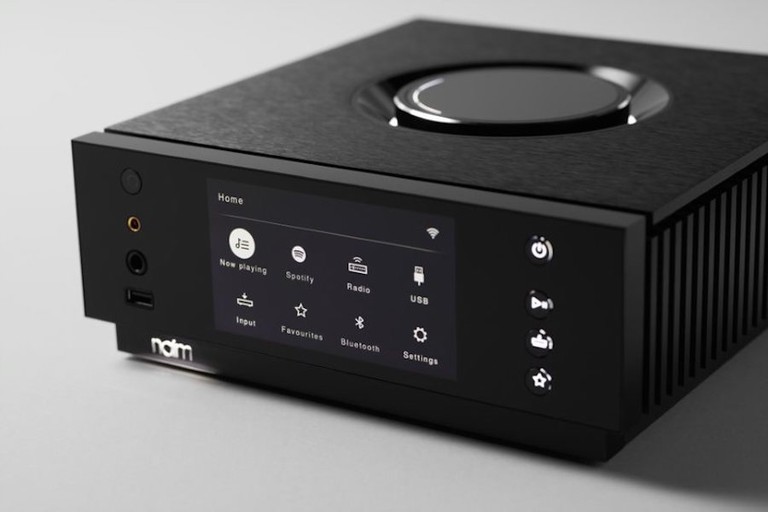 Naim Audio Uniti Atom Headphone Edition
Summary
Product Name:

Uniti Atom Headphone Edition

Manufacturer:

Naim

Review Date:

May 11, 2021 07:45

MSRP: $3290
First Impression:

Gotta Have It!
AUDIO INPUTS

Digital: 2x Optical S/PDIF up to 96kHz
Coaxial RCA (up to 24bit/192kHz, DoP 64Fs)
Analogue: 1 x Stereo RCA pair
USB: 2x USB 2.0 (Type A connector)
Streaming: Apple AirPlay 2, Chromecast Built-in, UPnPTM, Spotify® Connect, TIDAL, Roon Ready, Bluetooth, Internet Radio, Qobuz

AUDIO OUTPUTS
Balanced XLR Preamp output
RCA Preamp output
HEADPHONE OUTPUTS
4.4mm Pentaconn (balanced) 4 pin XLR (balanced) 6.35mm (1⁄4 inch) jack (unbalanced)
1.5W RMS per channel into 16ohms
Suitable for headphones from 16ohms and up
CONNECTIVITY
Network: Ethernet (10/100Mbps)
Wi-Fi (802.11 b/g/n/ac with internal antenna)
Multiroom: Sync up to five Naim Streaming products and control via the Naim App
Audio Formats
WAV, FLAC and AIFF – up to 24bit/384kHz ALAC (Apple Lossless) – up to 24bit/384kHz MP3 – up to 48kHz, 320kbit (16 bit)
AAC – up to 48kHz, 320kbit (16bit)
OGG and WMA – up to 48kHz (16bit)
DSD- 64 and 128Fs
Bluetooth - SBC, AAC, aptX HD

Dimensions
(HxWxD): 95 mm x 245 mm x 265 mm Weight: 7kg
Executive Overview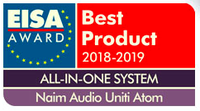 Naim has released another entrant in its Uniti line, the Uniti Atom Headphone Edition (HE) that features the same wireless streaming architecture and exterior design as the original Uniti Atom but with reworked power supply, amplification and outputs optimized to power-up your high-end headphones. The all-in-one component covers amp/DAC/pre-amp/digital streamer duty, but the real magic is in how it integrates your sources both wireless and hard-wired into a groundbreaking experience that has already earned the OG Uniti Atom a 2018 EISA Award for Best All-In-One System. As the name suggests, Uniti Atom HE unifies digital steaming through your local and Internet connected network with connected sources into a user-experience that's elevated to a fine art.
Once connected to your household Wi-Fi, Uniti Atom HE seamlessly integrates with your existing household tech, UpNP, AirPlay2, Roon, Chromecast and streaming music services, into a truly luxury listening experience. Navigating a multitude of connected sources and streams could easily devolve into an unruly mess of complexity. But instead, Uniti Atom HE pushes the tech out of your way so you can just hear the music. This is how a digital media player should work!
Design and Build
The esthetic design is typical Naim, a demonstration in discreet, gadget-lust evoking beauty. Uniti Atom HE shares the design DNA and wireless architecture ecosystem of Naim's Uniti line and Mu-So 2nd Gen. From the signature volume dial on top to the lighting over the "naim" mark on the lower left side, the system carries a look of understated class. But when that full-color front panel display lights up showing cover-art from your favorite song, the esthetic borders on attention-grabbing ostentation. But we could all use a little more ostentation in our lives these days.
Naim's new all-in-one headphone amp may look nearly identical to the original Uniti Atom on the outside. But Uniti Atom HE has been reconfigured on the inside specifically to meet the demands of high-end headphones. A new power supply and unique hybrid Class-A (A/B) amplifier is designed to deliver pure sonic power to your headphones from 16-ohm all the way up to whatever you can throw at it.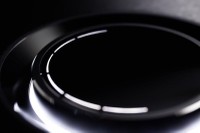 At 9.6" wide (245-mm) it's about half the width of most home audio components, with the same base footprint as many dedicated headphone amplifiers and DACs. But Uniti Atom HE is tall at 3.7-inches (95-mm) high, making room for its display screen. The system carries a surprising heft at 15-lbs (7KG). Like any other amplifier, don't plan on placing anything on top of it. Amps need space above to breathe and dissipate heat. But Uniti Atom HE gives you another reason to keep it clear from above, because you'll want access to the volume control that has become part of Naim's signature.
The all-black component with a brushed aluminum hood brings elegance to ruggedness with its solid black metal heat sinks across both sides. The display is front and center with four backlit push-button controls to the right side. On top of Uniti Atom HE you'll find that volume control ensconced in diffused back-lighting, it's truly a work of art-meets-engineering. Control of the extra-wide knob is a light touch as it rotates with a satisfying sense of balance and consistency all the way around. You'll find no discernible click or scrape with this volume control. Rotation feels effortless, as if it's suspended on air while sequential LEDs light up around the edge to indicate volume level.
Hardware Inside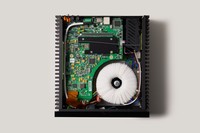 At the heart of Uniti Atom HE is Class-A amplification. Strip away the apps and streaming media options, slick interface and gorgeous design, this box still has to roll up its sleeves and power your headphones. Uniti Atom HE does so with 1.5 watts-per-channel into 16-ohms from its Class-A amplifiers with unique Class A/B features to smooth-out certain loads. As Naim describes it:
"It is a class-A amplifier that runs into class-AB when the going gets exciting. When it's being used as a line output amplifier it is pure class-A. When driving, say 600Ω at full volume the headphone amplifier will remain in class-A too. 300Ω at full volume the headphone amplifier will remain in class-A for all except the last few dB. As the impedance of the headphones drops then the point at which it slides out of class-A gets lower. Dropping to 32Ω it will be pure class-A until approximately 3.2mW and then seamlessly and transparently glide into class-AB for the remaining top 25dB. Remember, music is generally recorded around -20dB so for all the musical nuances it can be still considered class-A."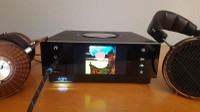 The result is a stunning, muscular depth and signal-purity with enough power to get the best out of any headphone. I had the opportunity to test it switching between the highly efficient Focal Stellia at only 35-ohms and a more demanding pair of Audeze LCD-3 (110-ohm), planar magnetic headphones. I was treated to a highly linear and transparent listening experience. Naim engineers maintain signal purity from digital or analog source to headphone jack, with results you can hear. Outside the digital/analog conversion there is no other digital processing (DSP) hood-winkery being applied to your signal. Despite this, it brings a sonic quality that lends forgiveness to low-bit digital music, such as Internet radio stations that can run well below 320-kbps. Although it's apparent you're missing resolution, your mind forgives as you're treated to a pleasantly warm and smooth sound signature that seems to remove the rough edges.
However, the true beauty of Uniti Atom HE is how it unfurls a world of wireless music options before you. You have only to place it in your listening area, plug it into AC, connect to Wi-Fi, plug-in your headphones and you may never go looking for another source. Of course the back-panel of Uniti Atom HE keeps a firm foothold in terra firma with in/outs to let you hard-wire to your heart's content. But if you're the sort of audiophile that sneers at the thought of digital audio signals transmitted wireless, Uniti Atom HE may not be your best fit, because you'll miss out on the real strength of this device. That said, Uniti Atom HE has your wires covered!
Rear panel Connections

For networking it has a 10/100Mbps ethernet port, USB for playback of thumb drives or a USB-HDD. Traditional digital audio inputs include dual-optical S/PDIF and a coaxial input, as well as a set of stereo RCA connectors. For external amplification you have balanced XLR and unbalanced RCA pre-outs. Uniti Atom HE can be flexible in its roles as amp/pre-amp, with a DAC capable of decoding up to 32-bit/384kHz. One minor quirk with Uniti Atom HE's back panel, is that this is where the XLR headphone-out is located. The quarter-inch headphone jack is located in the front panel, exactly where you'd expect it to be. It's an interesting choice but may have to do with proximity, because the XLR headphone jack is located right next to the XLR pre-outs for its fully balanced trinity.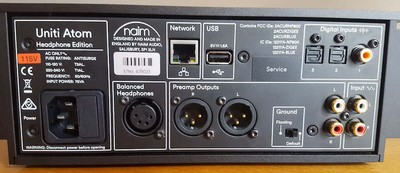 Uniti Atom HE can be integrated with your existing sound system in several different ways. Available unbalanced RCA inputs (Analogue 1) let you connect an analog device or an external DAC to use it as a dedicated headphone-amp/streamer, but there are no XLR preamp inputs. Using an external DAC would seem an unlikely integration choice because Naim's DAC implementation is one of the best you're likely to hear. But I found myself using the Analogue 1 input from an external DAC to connect to my PC's digital out via USB. Unfortunately, Uniti Atom HE lacks a USB-B input. That's the USB-type that's commonly used to connect to a computer to an external DAC. But Uniti Atom HE has alternatives for direct computer connection in optical and coax inputs, provided your computer has the outputs. Also missing from the original Uniti Atom is the original system's HDMI input, you won't find HDMI on Uniti Atom HE. But since the system is designed as a headphone rig, it's not likely to be missed in most configurations.
Allow Me To Recommend...

An obvious choice when introducing a Uniti Atom HE into your home is to use it as a dedicated streamer/pre-amp and DAC that turns your main speaker-system's amplifier or AV receiver into a digital streaming powerhouse. For this configuration Naim has you covered with balanced XLR outputs or standard RCA preamp outs to help you fill a room with sound. However, what I'd personally recommend when introducing Uniti Atom HE into your home: First, find a place for it within reach of your favorite comfortable seating area. Even If  it's a long way to your main A/V system, that's no problem for its balanced XLR outs. This keeps Uniti Atom HE well within reach of your headphone cable while simultaneously allowing you to reach out from your seat and give that volume knob a manual turn from time to time so you can feel the tactile artistry with your new device. Your welcome!
User Experience / Naim App and Controls

Legendary science fiction author & scientist Arthur C. Clarke once wrote:
"Any sufficiently advanced technology should be indistinguishable from magic." - Arthur C. Clarke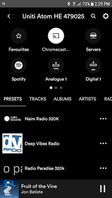 How is the Uniti system's streaming architecture like magic? When even an advanced technology just works intuitively, we cease thinking of it as technology at all, it just becomes part of our lifestyle. Once upon a time the chair was a technology, now it's just a chair because we never have think about using one. Unless of course, you're using one of those complicated office chairs with levers mounted everywhere. Naim has accomplished the same technology-to-lifestyle transformation in how it unifies disparate streaming music technologies into a single, intuitive user-experience. The award-winning system invites you to explore more music from different sources. Spending time with Uniti Atom HE has broadened my own musical horizons. From power-on to switching sources everything flows effortlessly. You won't find yourself having to toggle modes to switch from an optical source to an available stream, it just plays your selected stream no matter what it's already doing. Even switching music streams seems to work out timing and buffering in record time, keeping you from second-guessing your Wi-Fi connection.
It's obvious that a lot of work went into the Naim app that controls this and other Wi-Fi-aware Naim systems you may already own. The layout of the app carries the design consistency found on the front panel display. These controls speak an intuitive icon-based language accompanied by short descriptors to help you get into the flow of your new device. Once the app finds the device on your network, just select your Uniti Atom HE and the app automatically powers the system on, it's the little things like this that makes the system a pleasure to operate. From the app you have total control of the system from volume, input to music selection. From inside the Naim app you can control your Qobuz, Tidal & Spotify accounts, or select Chromecast and the Naim app will launch the native app for you. Wireless ecosystem compatibility includes UPnP, AirPlay 2, Roon Ready and features Chromecast built-in. It also has a long, dynamic assortment of Internet radio stations available for streaming. Naim has even curated a collection of hi-fi quality Internet streaming radio stations that stream at up-to 1Mbs, 44.1kHz/16-bit.
Front Panel Navigation

When navigating from the front panel of Uniti Atom HE, you may be in for a surprise the first time you try to touch the screen directly. Despite the large bright icons, ideally spaced to beckon your fingertips, it's not a touch-screen. Neither screen nor the volume dial on top are touch controlled. It's a minor disappointment but most of us will control the system via the Naim app on a touch-screen phone. While playing a digital stream, the display will default to a full-screen rendition of the album cover art or Internet radio station's logo. While it's not a touch screen, it does have the next-best thing. Like the original Uniti Atom, the new HE model uses a motion sensor. So, if you simply wave a hand near the device while playing music it will switch to a secondary display. This display will minimize the cover art to make way for available stream/song data. I found the real-time bitrate/frequency reading of that secondary display a terrific convenience as it informed me of exactly what I was hearing from Internet radio and locally stored music files. After about ten seconds the screen will flip back to its primary display.
Remote

One consolation for the lack of touch-screens is that Naim didn't go cheap on the included remote control. The glossy black remote with backlit keys is another demonstration in design excellence. The remote has as simple and intuitive a layout as the front panel menu system. It even has its own motion detection so that when you pick it up the backlit buttons jump to life.
Chromecast Built-In


When I first cracked open the manual for initial setup I skimmed past the part that read Chromecast Built-In. Then I promptly forgot about it. But I must admit, that was when I didn't appreciate the full power of casting to a high-end audio device. Once I realized the potential in allowing apps to direct audio streams to Uniti Atom HE, the light-bulb turned on, doors were opened and my listening habits permanently altered. There are just so many available apps that are Chromecastable, it opens a world of audio outside the Naim app itself. Casting to Uniti Atom HE has got me listening to more Soundcloud, despite its horrible bit-rate. In Soundcloud you'll find a world of DIY artists you won't find anywhere else. I've even discovered that the podcast app on my phone is also castable. Chromecast is fast becoming a standard in streaming audio services of every kind and I had no idea this rabbit hole awaited discovery.
Chromecasting from the app puts you in control of Uniti Atom HE from any subscription music or audio service that features it. This means you're not reliant on hardware or Naim app compatibility. If you're using Spotify or Tidal, it's nice to have the option of using the music service's native app rather than the Naim app's rendition of those services. Control of the stream from a casted third-party app performs the same complete two-way communication with the hardware as the Naim app. You can switch song/playlist while the in-app volume control acts as the system's master volume.
No MQA

If you're a Tidal user, for better or worse, Uniti Atom HE won't perform the second MQA unfolding. So, when streaming Tidal's limited library of Master files you get Tidal's hi-fi quality stream at 16-bit/44.1kHz. MQA is a controversial (questionably) "hi-res" audio format that Naim has decided to forego. Many of us will appreciate this decision but the truth is, Uniti Atom HE doesn't need it.
We've recently learned that Naim is currently testing Tidal Connect implementation and plans to have it ready to deploy via firmware update for Uniti Atom HE this coming summer 2021. Once deployed, inside the song selection screen in your Tidal app, you'll see the new remote connection option alongside Chromecast. The advantage to using Tidal Connect is it provides access to a higher resolution stream from Tidal's Master files. While Tidal Connect will not perform the second MQA unfolding over Uniti Atom HE, it will playback Tidal Master files at up-to 24-bit/96-kHz, rather than Chromecast's limit of 16-bit/44.1-kHz.
Conclusion

There's no way to soften it, Naim Uniti Atom HE is a premium product at a premium price. Retailing at $3,290—it's not cheap! But for the price you're getting luxury-tier quality in hardware, design and sound quality built to keep pace with the best headphones made today. Naim is a sister company to Focal, both owned by VerVent Audio Group. Uniti Atom HE may be considered a successor of sorts to the Focal Arche headphone amp that's been discontinued. But Uniti Atom HE promises more than just an upgrade from Arche, it introduces a whole new level of functionality in music streaming.
Naim's wireless network hardware features a groundbreaking streaming media system that has set the bar for others to follow.
It's difficult to put your finger on exactly what systems Uniti Atom HE is directly competing with, because it provides so many functions in one box. A high-end media streamer, headphone amp, DAC, preamp with the flexibility to operate as one or all in conjunction with your existing home audio system is a rarity. You can find these features in separate components for much less, even if the cost adds up when buying separates. But if you already own any of Naim's network-aware equipment, Uniti Atom HE becomes an obvious choice. With different Naim devices in your house, the Naim app becomes a force multiplier that puts separate room controls into the palm of your hand.
Naim's entire family of wireless network hardware features a groundbreaking streaming media system that has set the bar for others to follow. You can be assured that in Uniti Atom HE, you're not getting stuck with a software version 1.0. Naim's streaming architecture has already had time to grow and improve and will continue to evolve into the future. Naim has proved once again that it has one foot in today's Internet streaming technology with the other firmly planted in innovative amplifier topology, and it's a great combination in audio today. But what I personally love best about Uniti Atom HE are the little details in usability that pushes the Internet streaming technology out of the way and simply encourages my love of musical exploration and discovery every time I turn it on.
Confused about what AV Gear to buy or how to set it up? Join our Exclusive Audioholics E-Book Membership Program!
Recent Forum Posts:
lovinthehd posts on May 15, 2021 16:55
Paul Lane, post: 1483558, member: 69114
At $3800 and no MQA all I can say is no way..

Actually no MQA wouldn't be a bad thing F*ck MQA too.
Paul Lane posts on May 15, 2021 16:49
At $3800 and no MQA all I can say is no way..
lovinthehd posts on May 12, 2021 18:36
I can't imagine wanting anything from Naim.
Big-Q posts on May 12, 2021 12:36
At the end of the day, Naim makes ugly equipment in my opinion. Plus, that volume knob on the top is the dumbest thing there is.
buckchester posts on May 12, 2021 08:18
I'm sorry if this sounds harsh, but all of your headphone related articles come across as marketing. Why doesn't this website have the same level of objectivity for headphone related products as it does for its speaker reviews?
Post Reply